---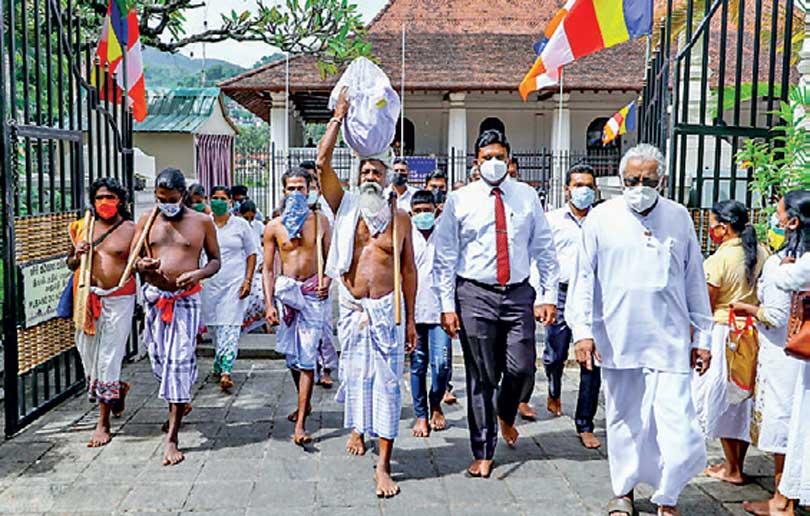 By J.A.L.Jayasinghe and Shane Seneviratne
The Vedda Community yesterday performed the traditional ritual of offering honey to the Sacred Tooth Relic in Kandy Sri Dalada Maligawa.

A group of about 12 indigenous people from Dambana led by its leader Uruwarige Wannila Aththo visited Sri Daladamaligawa last morning before the first Randoli Perehera in the Kandy Esala festival and offered a pot of Honey to the Sacred Tooth Relic.

Addressing the ceremony Vannila Etttho said the offering of honey to the Sacred Tooth Relic was an age-old tradition performed by his community since the time of ancient Sinhala kings. However, he expressed concern about finding fresh honey to perform the ritual in the future.

"The ongoing wanton destruction of forests that has been going on unchecked and the haphazard use of chemicals endangered the bee population with extinction," he said.
"It is with great difficulty that we find beehives in the forests. The ongoing environmental pollution and the destruction of fauna and flora would bring ruin to mankind as well," he said.
"Meanwhile, we also have lost the few age-old fights enjoyed by us to use the forest resources due to converting forests to commercialised use. Issues related to exploitation of forest resources may be ironed out with planning and proper management of which the Vedda community has centuries of experience," he said.

He said the mankind was facing the threat of terminal diseases and epidemics due to the unkindness to the environment and that the treat of CORONA was just one example.
Badulla District Secretary and Government Agent Damayanthi Paranagama and Diyawadana Nilame Nilanga Dela were also present at the occasion.