---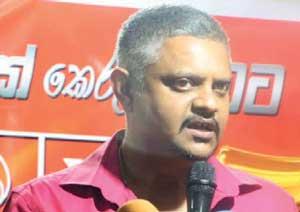 By Kusal Chamath
Sri Lanka Podujana Peramuna (SLPP) Kegalle District Leader Kanaka Herath contesting the upcoming general election said the SLPP would give priority to uplifting the national economy based on agriculture and local industries which were ruined by the open economy.

He told the media that the national economy based on agriculture, cash crops and local industries was ruined by the open economy introduced in 1977 and pointed out that manufacture of motorcars, bicycles, radio components and vehicle tyres were flourishing before 1977, but all these industries collapsed and government resorted to imports.

"Today we import even needles, brooms, nylon ropes, kites, and national flags, incense sticks and toys almost in unlimited quantities. Every inch of land is capable of producing food items we need and yield mineral wealth. The need of the hour is to adopt radical remedial measures managing our plentiful resources. The policy of the present government is to depend on local production economy. The open economic has brought us to economic ruin and social chaos," Mr. Herath said.