---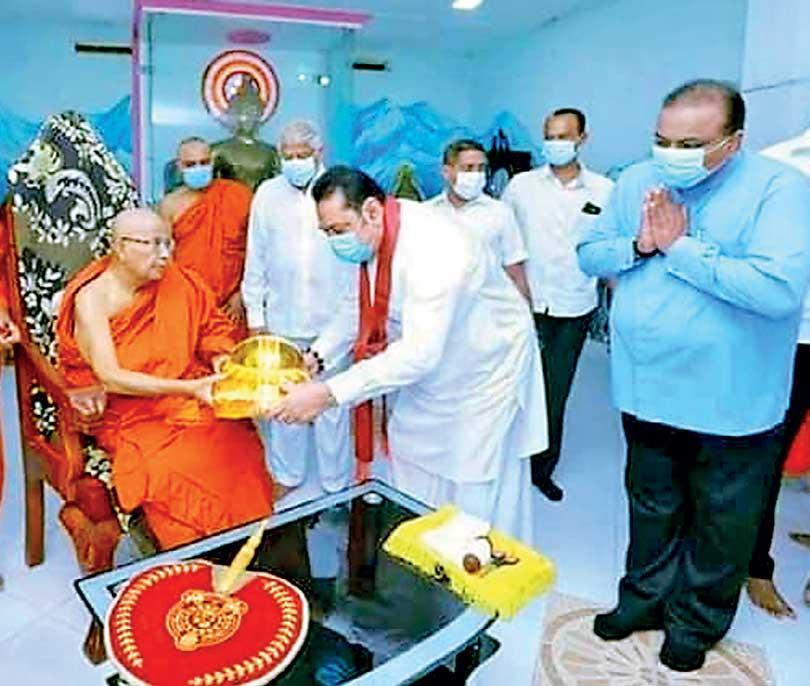 By H. M. Dharmapala - Dehiwala
Prime Minister Mahinda Rajapaksa said the President and the Cabinet has been able to manage all affairs in the country quite efficiently and that the machinery of the country's administration was functioning smoothly at this crucial juncture without a parliament.

After meeting the Mahanayake of the Sri Lanka Amarapura Chapter and Chief Incumbent of the Mount Lavinia Dharmapalarama Ven. Kotugoda Dhammawasa Thera, he told the media that the public expected to elect a well functioning parliament after a general election and not to reconvene the old parliament which was now defunct.
The Prime Minister pointed out that the reopening of schools and universities was not possible due to the prevailing situation and the curfew in force in the Western province. He stressed the need to take a deliberate decision in this regard with particular attention on providing adequate protection to school children.
"About 30 percent of the state institutions and 50 percent of the private sector institutions are now functioning. Health authorities, the security forces and the police are rendering a dedicated service to bring the situation back to normal soon. It is a relief that the health situation in the country has improved to a certain extent.
Steps have been taken to resolve the issues affecting the naval base. Several individuals and organizations have gone to court to have the general election postponed. However the government would protect the democratic rights of the people" the Prime Ministers said.

He further said that the government considered the hardships faced by water and electricity consumers and provided them relief despite economic constraints.

Former Minister and Secretary of the Sri Lanka Amarapura Sasanarakshaka Dayaka Sabha R. A. D. Sirisena, Dehiwala- Mount Lavinia former Mayor Dhanasiri Amaratunga and several local government representatives were present at the occasion.
After meeting the Mahanayake of the Sri Lanka Amarapura Chapter and Chief Incumbent of the Mount Lavinia Dharmapalarama Ven. Kotugoda Dhammawasa Thera, he told the media that the public expected to elect a well functioning parliament after a general election and not to reconvene the old parliament which was now defunct