---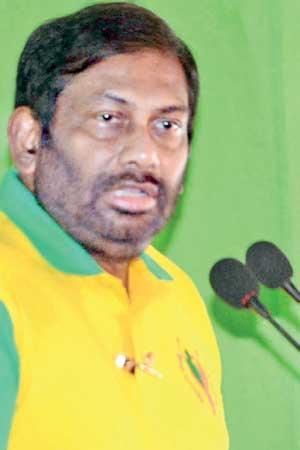 By Yohan Perera
Social Empowerment and Primary Industries Minister Daya Gamage yesterday said he was yet to get any redress for the harassment he underwent during the last regime as a result of Enterprises of Underutilized Assets Act No.43 of 2011.

Minister Gamage revealed this at a ceremony organized by his ministry to distribute Samurdi relief in Ampara last evening,

"Those who led the former government turned hostile and harassed me in many ways. They took over the Sevanagala Plantations through the Enterprises of Underutilized Assets Act. They took over everything leaving me to settle the debts. However, the machinery and vehicles of Sevanagala Plantations are under the name of Daya Group of Companies," the Minister said.

" I would have accepted a top cabinet post in the Rajapaksa government. But chose to be with the UNP. I said I would topple the previous regime within three years when they took over Sevanagala. Thereafter I accepted the post of National Organizer in the UNP and changed the direction of the country. However, I am still to get redress from the present regime," he added.

Referring to Samurdi relief, Minister Gamage said his intention was to transform the Samurdi recipients from dependents to financially-empowered individuals. "Some Samurdi officers get the recipients to work in their gardens and paddy fields and they are being treated like slaves as a result of such acts," he said.

"My father died when I was six, and lost my mother when I was eight. Then my uncle who used to look after us passed away when I was doing my GCE O/L. We came to Ampara with a mere Rs.70 in our hands and started a small business. Today I own 42 business enterprises and provide employment to thousands. I want the Samurdi recipients to follow the example of my life to see success in their lives," the Minister said.
Those who led the former government turned hostile and harassed me in many ways. They took over the Sevanagala Plantations through the Enterprises of Underutilized Assets Act
I would have accepted a top cabinet post in the Rajapaksa govt. But chose to be with the UNP