---
By Sandun A. Jayasekera
Prime Minister Ranil Wickremesinghe will act in the same way he acted on April 21st, to bring the country back to normalcy if there was any untoward incident at a time when the country is without a political authority to give commands to security establishments following President Maithripala Sirisena's trip to China, Minister Lakshman Kiriella said yesterday.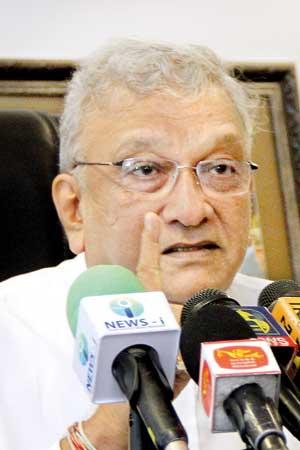 Mr. Kiriella said that Prime Minister Wickremesinghe acted swiftly and patiently to deploy the Police and armed forces to strategic positions preventing any backlash and to provide assistance to families of those killed and injured following the Easter Sunday carnage. "There was no one in charge of the Defence Ministry and Law and Order Ministry on that day as President Sirisena was away in Singapore. There was no minister to act on behalf of him either. Therefore, the Prime Minister as the second in command took powers into his hands and acted like a true statesman by doing everything possible to mitigate the damage and pacify the nation before President Sirisena returned home. He will do the same if there was a similar situation (which I pray will not) in the absence of the head of State," Minister Kiriella stressed.
Minister Kiriella said President Sirisena has not appointed a Defence or Law and Order Minister to act on his behalf in his absence this time too. He said that the Prime Minister had to face many a road block in his efforts to mitigate the damage caused to the nation after the Easter Sunday massacre, as the armed forces commanders allegedly did not respond to his requests to attend to the emergency National Security Council (NSC) meeting to discuss the situation at that time. "When they did not come, he went to the Defence Ministry and held the NSC meeting there and issued the necessary orders that saved the nation from any further disasters," Minister Kiriella said.
Pics by Pradeep Dilrukshana.