---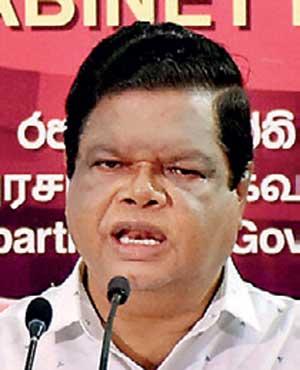 By Sandun A Jayasekera
The Police will refrain from arresting protesters at public venues unless there is an extreme situation that would lead to serious violation of law and order causing public unrest but all those involved would be referred to a spell of quarantine, Cabinet spokesman and Minister Bandula Gunawardana said yesterday.

Expressing the government's remorse for the police attack and the arrest of 53 Frontline Socialist Party (FSP) members for their protest staged at the Town Hall round about on Wednesday against the police killing of the Black American George Floyd, Minister Gunawardana said the incident was discussed widely at the cabinet meeting on the same day and President Gotabaya Rajapaksa or any member of the cabinet did not approve the police action.
Addressing the weekly cabinet news briefing yesterday, Minister Gunawardana said the Police started arresting protesters after they attacked the Police and added it was a reaction to the attack on Police
by protesters.

"The first stone was thrown by the members of the FSP. The Police acted in self defence and arrested them. However, there will be no arrests hereafter if and when the protest is peaceful and does not disrupt the public life and law and order. We don't act like the yahapalana government. The Police did not want to attack protesters but only to disperse them," Minister Gunawardana stressed.

Under the yahapalana government, trade union members, politicians and university students in particular were subjected to brutal baton charges, tear gas attacks and water cannon onslaughts regularly and many of them ended up in hospital, he said.