---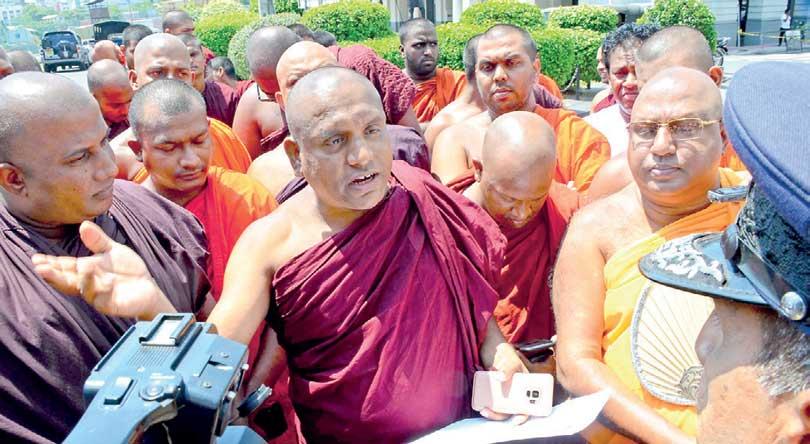 Monks speaks with the policemen outside Police Head Quarters before going to hand over the petition asking for the arrest of Minister Rishad Bathiudeen and Governor Eastern Province M. L. A. M. Hizbullah.
Pic by Waruna Wanniarachchi
By Yohan Perera

A group of monks who are members of various organizations yesterday handed over a letter to Acting IGP C. D. Wickramasinghe calling the Police to arrest Minister Rishad Bathiudeen and Governor Eastern Province M. L. A. M. Hizbullah immediately. They said Police and the security forces should take over the country if they were not allowed to take
necessary action.

The Ravana Balaya, Sihala Ravaya and Sihalaye Api organizations said these two politicians should be arrested in order to bring back normalcy in the country.

Convener of the Ravana Balaya Ven. Ittakande Sadhatissa Thera said all politicians who were supporting terrorists should also be arrested in order to create peace.

They said not to put the blame on recent violence in the North Western Province on the Sinhala people and not to arrest Sinhalese youth. They said certain politicians who were behind this violence to divert the charges made against them. The monks said they could not meet the IGP as he was out. However, he said the Police had assured that the IGP would meet them on another day. Ven. Magalkande Suddathha Thera said Minister Mangala Samarawera should also be arrested for making statements which create unrest among religious and ethnic groups.
All politicians who were supporting terrorists should also be arrested in order to create peace