---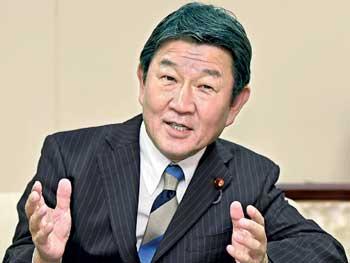 By Yohan Perera
The Japanese Foreign Minister Motegi Toshimistu had discussed with Sri Lankan authorities on transferring of Japanese technology to Sri Lanka while pledging his country's support for reconciliation in Sri Lanka during his recent visit, A spokesman for Mr. Toshimistu said on Friday.

The Japanese Foreign Minister's media Spokesperson Kaifu Atshushi told journalists that Sri Lankan current leaders including President Gotabaya Rajapaksa, Prime Minister Mahinda Rajapaksa and Minister of Foreign Affairs Dinesh Gunawardene had expressed the importance of transferring Japanese technology and expertise to Sri Lanka during Mr. Toshimistu's recent visit to Sri Lanka.

He said both parties discussed the expediting of current Japan funded projects in Sri Lanka such as the East Colombo Container Terminal in Colombo Port and the Bandaranaike International Airport expansion project. The Japanese Minister had visited the project sites during the visit.

Mr. Toshimistu had also inquired about the reconciliation process and President Rajapaksa had informed him that he intends developing infrastructure facilities in the conflict affected areas so that people in that part of the country could benefit. Accordingly Japan had pledged its full support for the reconciliation process," Mr. Atshushi said.
Also the Japanese Foreign Affairs Minister had requested Sri Lanka's support to realize the 'Free and open Indo Pacific' foreign policy of Japan. Mr. Toshimistu in fact decided to visit Sri Lanka to brief the new leaders of Sri Lanka about the importance of this policy" Mr. Atshushi said.

Both countries have also focused on the North Korea issue where the Japanese Minister had requested for Sri Lanka's support in implementing the UN Security Council resolution on
North Korea.
" Both parties also discussed the China US trade war but did not go into a detailed discussion" Mr. Atshushi said.