---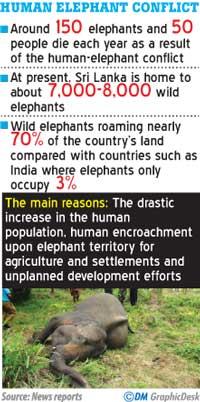 By K.G.Karunaratne
Wildlife Conservators in the Polonnaruwa wildlife zone expressed concern about the human elephant conflict in the area that has been increasing in alarming proportions every year. Asst. Director of Wildlife Conservation W.G.Kirthi Chandraratne said clearing of forests for development activities in human settlements had resulted in this situation.

He pointed out that the human elephant conflict had been a major issue affecting several areas of the country with Dimbulagala and Welikanda areas in the Polonnaruwa district being the most affected.

Wildlife Conservators said 13 people in the Dimbulagala division had been killed by wild elephants while 19 wild elephants had either been shot dead or killed by other means in the Welikanda division. A total of 19 wild elephants and three villagers had died in the human elephant conflict. They said 192 houses in Dimbulagala division and 135 houses in the Welikanda division had been destroyed by marauding herds.

"Human –Elephant conflict that resulted in the death of hundreds of wild elephants and villagers has been gathering momentum. Opening of forests for development activities resulted in the loss of natural habitats of wild elephants. Illegal clearing of land by squatters has worsened the situation" He said.
13 people in the Dimbulagala division had been killed by wild elephants while 19 wild elephants had either been shot dead or killed by other means