---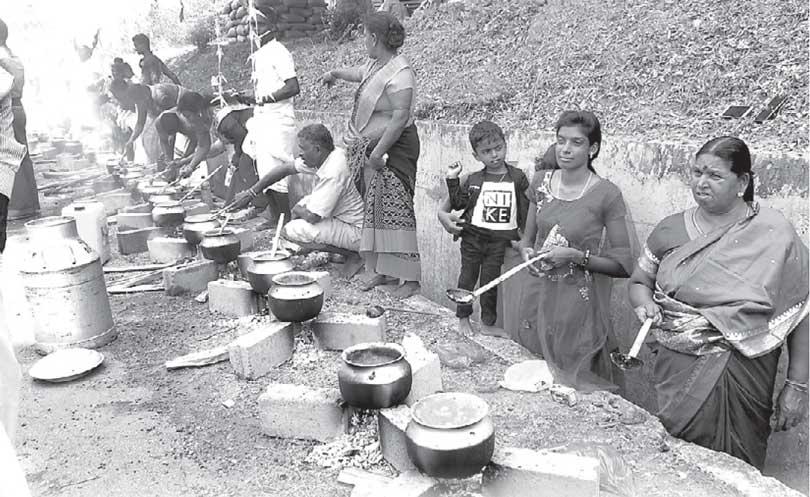 By Romesh Madushanka
A group of Hindu devotees cooked food in a makeshift kitchen near Niravi Kovil situated within the premises of Gurukanda ancient Buddhist temple in Mullaithivu to be offered to their deities as part of their religious observances. Despite the court order not to have any religious ceremony within the temple premises, the devotees held religious observances. However the Chief Incumbent of Gurukanda Buddhist temple Ven. Colombo Medhalankara Thera had fallen sick. They cooked food on 150 fireplaces in the open kitchen. Leaders of Tamil National Alliance MP Mavei Senadiraja, former North Western Provincial Councillor S. Sivamohan, and former Chief Minister of the Northern Province C.V. Vigneswaran and political representatives participated in the Deva Pooja held in Gurukanda Vihare premises on Saturday.

There is a court case regarding the ownership of this Buddhist temple. The Commissioner General of Archaeology had named the temple premises as an archaeological site. Members of Dayaka Committee of Gurukanda said that the Police Officers of Mullaithivu Police were only looking at the Deva Pooja by installing 150 hearths and kindling the fire in Vihare premises and Police did not do anything about this.

Gurukanda Rajamaha Vihare is considered as the first temple which the tooth relic of the Buddha was enshrined .
There is a court case regarding the ownership of this Buddhist temple. The Commissioner General of Archaeology had named the temple premises as an archaeological site