---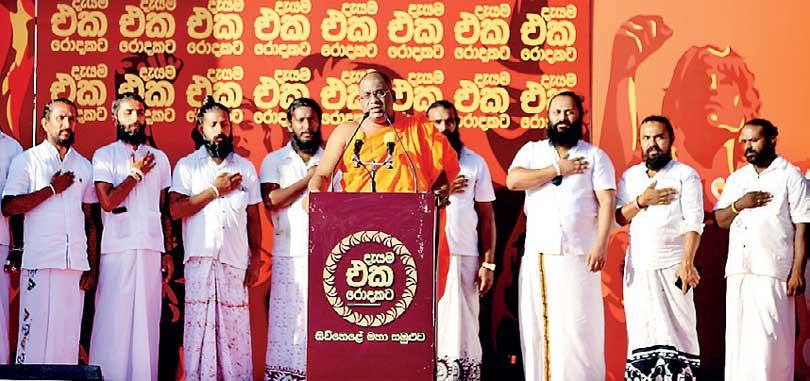 By Chaturanga Samarawickrama
It was very hard to find a minister or a Member of Parliament, who had not been accused of any kind of offence, Bodu Bala Sena (BBS) General Secretary Ven. Galagoda Aththe Gnanasara Thera said on Sunday.

"It is like looking for a mustard seed from a home where no one has died," he said.

He said this while addressing people during the forum 'Siv Hele Maha Samuluwa' at Bogambara Grounds in Kandy.

"Our country and people have faced many critical situations until now. We lost about 30,000 youths from 1970 to 1971. About 60,000 youth lost their lives in 1988 and 1989. About 27,600 were lost during the conflict with the LTTE from 1983 to 2009. Now we have Islamic terrorism instead of the LTTE and they are ready to unleash terror in this land," Ven. Gnanasara Thera said.

"We should take responsibility for all of these losses. Therefore, our programme and our ambition should be not to select a politician as the leader. That person should be the leader who conquers the nation but not to gain victories for political parties," he said.

Ven. Gnanasara Thera pledged to build a Sinhala Parliament that would enable the Sinhala people to decide on policies and laws as they wished, which in his view, was essential to rejuvenate the country.

"Democracy has not necessarily worked for us. We now have a situation in Sri Lanka where there is no clear demarcation of power. Even if there were a true leader, he would find no difficulty in putting in place a strong set of policies and laws to build and protect this country. We have the competence to change that. To build a fence around the country, people have to take weapons and that was how Buddhist monks build courage.

"We have freedom only if we take over the democracy that we should have in parliament.

In the Thera's view, Buddhist monks should get united to win the country and for that they should build a Sinhala Parliament. "If we can get 7,000 out of the 10,000 temples we have on our side and they work to gather votes, it will not be as difficult as people imagine," he said. "Buddhist monks should get rid of divisions among Nikayas and should get united as one. Zahran Hashim did not look for any when he carried out the suicide attacks.

"If we start our programme after a Dhamma Sangayana we should have the ability to straighten out this country," the Ven. Thera said.

"That should start from the temples in the villages, people will listen to us and we will be building a one Sinhala Government in which all can thrive," he said.
We should take responsibility for all of these losses. Therefore, our programme and our ambition should be not to select a politician as the leader