---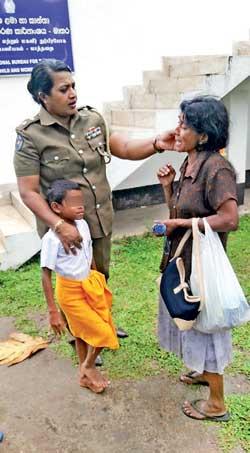 BY KRISHAN JEEWAKA JAYARUK
An individual who harassed his tenyear- old son was arrested by the Child and Women's Bureau of the Matara police. The suspect had beaten the child and chased him away from home compelling him to spend the night in the verandah.
One morning the suspect who was staying indoors prevented the child from taking his school uniform and school bag to attend school. The half naked child was on his way to a friend's house when a resident of the area referred him to the Matara Division Child and Women's Bureau. A Buddhist monk had given him a towel to dress himself up. After providing the child with meals, OIC Child and Women's Bureau IP Varuni Keshala Bogahawatta initiated investigations and arrested the child's father.
Investigations revealed that the suspect had assaulted his mother causing her injuries and she was admitted to hospital. Police initiated further investigations to arrest the child's mother who had deserted the family. The child's elder sister was taken charge of by the police for protection. A senior police official said the 42-year-old suspect was an accused in a murder case and that the two children would be produced in court and entrusted to the care of a guardian on court order. IP Varuni Bogahawatta and Sergeant 35788 are conducting further investigations.