---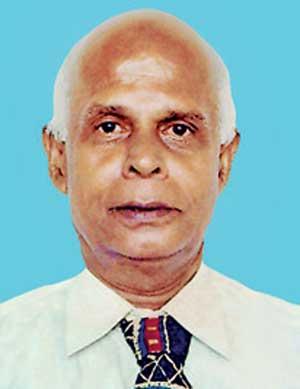 The well- known and veteran journalist Karunarathne Wijenayake passed away yesterday after about 50 years of loyal, honest and committed service to what he saw as more than a profession but a vocation. He was 77.
In 1991, he joined Wijeya Newspapers Ltd and specialised in courts reporting for the daily 'Lankadeepa' and was so excellent in his work and knowledge of the law that he went on to become the legal coordinator or consultant.
Mr.Wijenayake, affectionately known to colleagues and friends as Wije, started his journalism career in 1971 at the Sirilaka Newspaper. In 1976 he moved to the Independent Newspapers Ltd where he worked for the mass-circulation Sunday newspaper the 'Riviresa' and its sister daily paper the 'Dawasa'. After that group closed down in 1991 Wije moved to the mid-week 'Lankadeepa'.

He joined the daily 'Lankadeepa' when it started and worked with dedication till his retirement in 2017.
Besides journalism, he was also involved in the cultural field. He played the role of an ascetic-- characterised by severe self-discipline and abstention from all forms of indulgence, typically for religious reasons--in Ananda Tilakaratna's street drama 'Sakuntala' and also acted in the film 'Roosa Kekulu'.

Karunarathne Wijenayake was born in the village of Hakuruwela at Weeraketiya. He was the loving husband of Srima and the father of four children. His elder daughter Wijendri Wijenayake Abegunawardena also worked for sometime at Wijeya Newspapers Ltd. His eldest son Suranga played under 19 cricket for his school team, represented the Sri Lanka 'A' team and is now a provincial coach for Sri Lanka Cricket.

His body will lie at the Mahinda Funeral Parlour in Mount Lavinia from 9 am today (Friday) and the funeral will take place at Mount Lavinia cemetery tomorrow (Saturday) at 5 pm.

Farewell Wije, may hosts of devas sing thee to thy sleep.