---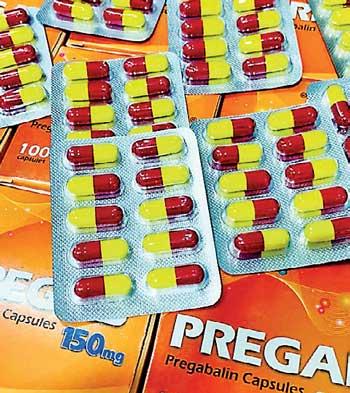 By Kurulu Koojana Kariyakarawana
A large stock of pharmaceutical drugs that are commonly being abused by addicts as an intoxicant was seized by Excise and National Medicines Regulatory Authority (NMRA) officials in a joint raid carried out in Colombo on Monday.

Officials of the Excise Department flying squad Bureau of Special Operations (BSO) with information raided a pharmacy in Maradana with the backing of NMRA officials and took a person into custody for selling such medicines without a permit.

According to Excise Department sources, the 30-yar-old suspect who works as a part time employee of the pharmacy had been selling these pharmaceutical drugs outside the premises especially targeting school children in the vicinity.

Excise sleuths managed to find 2,180 Pregabalin 150mg capsules which were in 21 boxes each containing 100 capsules from the suspect's residence.

Chief Food and Drug Inspector of NMRA Amith Perera told the Daily Mirror the seized type of drug Pregabalin or popularly known among the users as Gabba is a pharmaceutical drug that is commonly abused either by Heroin addicts in the absence of it or fresh users such as schoolchildren or youths.

"Pregabalin is a common pain management agent given for neuropathic pains such as those who are suffering from cancer, diabetics, AIDS or Herpes as well as post surgery patients". He said if a person with no ailment or strong pain had taken these medicines the aftermath would have been severe intoxication.

Preliminary investigations revealed that the suspect had most of his buyers from a leading boys' school in the area. The Excise handed over the suspect to NMRA for further inquiries.

OIC Excise BSO Chief Inspector P. N. Hemantha with Excise Inspector Amila Senanayake, Excise Guards Bandara, Dinesh, Damith and Chandana carried out the raid on the instructions of Excise Commissioner Wasantha Dissanayake and Excise Superintendent Channa Weerakkody.

The NMRA produced the suspect before the Maligakanda Magistrate's Court yesterday and was released on a fine of Rs.20,000.
Pregabalin is a common pain management agent given for neuropathic pains such as those who are suffering from cancer, diabetics, AIDS or Herpes as well as post surgery patients He said if a person with no ailment or strong pain had taken these medicines the aftermath would have been severe intoxication