---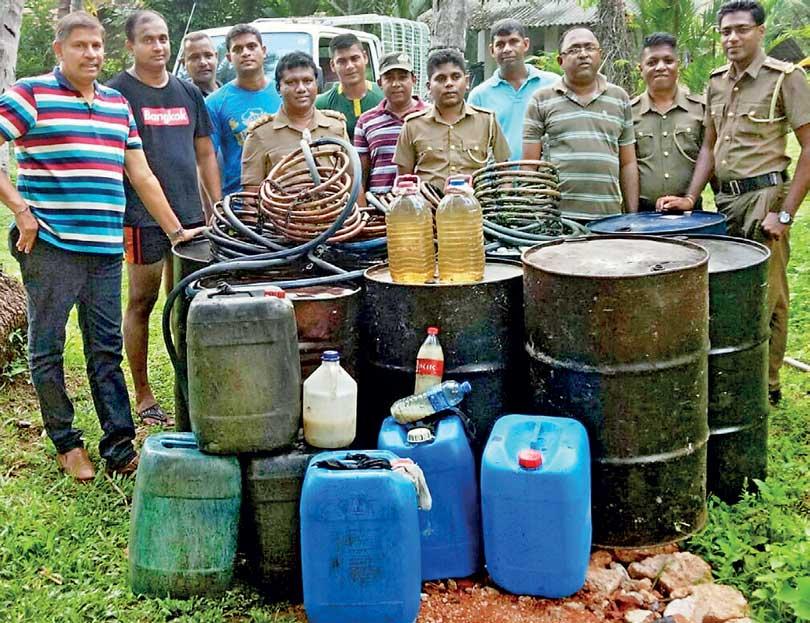 By Kurulu Koojana Kariyakarawana
A large volume of illicit liquor worth over Rs.500,000 was seized by Excise Department officials after raiding a major scale moonshine distilling plant in Kandana on Wednesday.
The department's flying squad Excise Bureau of Special Operations (BSO) from Colombo on information raided a secret spot and arrested two men who were engaged in brewing illicit spirits.

Spokesman to Excise Department Deputy Commissioner Kapila Kumarasinghe told Daily Mirror, among the seized items were over 500 litres of Kasippu, over 2100 litres of Goda (semi-brewed alcoholic beverage), 12 large barrels, copper coils and other utensils used for distilling process.

The sleuths learnt the suspects had been carrying out the illicit business for a long time under the nose of the area's law enforcement authorities. They had reportedly distributed the illicit spirits in the neighbouring areas of Peliyagoda, Kiribathgoda, Kelaniya and Wattala.

OIC Colombo Excise BSO Chief Inspector P. N. Hemantha with Excise Inspector S. Yapa and the team are conducting investigations on the instructions of Excise Commissioner (Legal) Wasantha Dissanayake and Excise Superintendent Colombo Channa Weerakkody.

The apprehended suspects were released on Excise bail and had been ordered to appear in the Wattala Magistrate's Courts on June 13.
Among the seized items were over 500 liters of Kasippu, over 2100 litres of Goda (semi-brewed alcoholic beverage), 12 large barrels, copper coils and other utensils