---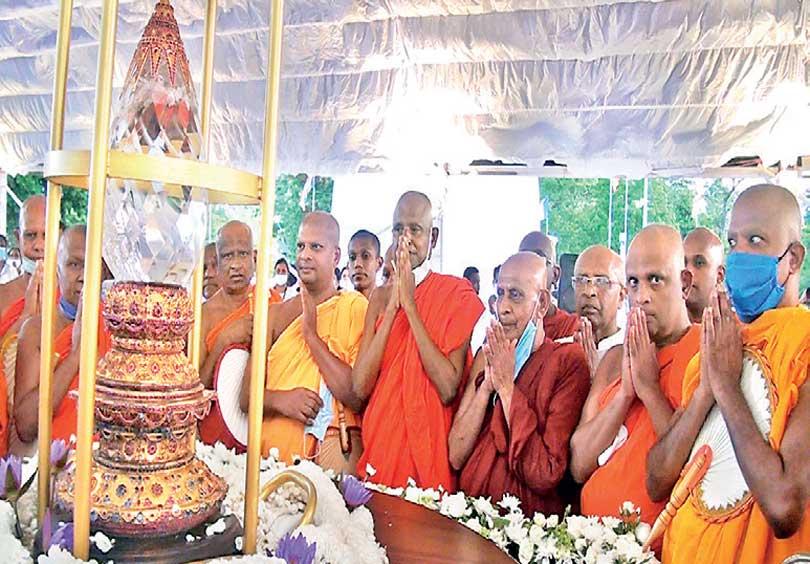 By Dayaratne Embogama
The 80-year-old Chuda Manikya (Crest Gem) on the pinnacle of the Ruwanweliseya Cheithiya in Anuradhapura was enshrined in a shrine room in the Ruwanweliseya temple on Thursday night (18). It had been placed in the Maha Vihara for the public to pay homage after being replaced with a new Chuda Manikya last Novemeber.
The old Chuda Manikya was taken in a motorcade to the Ruwanweliseya ground and enshrined in the specially built shrine.

Addressing the religious ceremony, the Chief Incumbent of the Ruwanweliseya temple Ven. Pallegama Hemarathana Thera said the Chuda Manikya, donated by the Myanmar Government to adorn the pinnacle on June 17, 1940 after restoration of the Cheihitya had been subject to signs of decay.

Ven.Thera said it was removed and replaced with a new one. He said the Old Chuda Maniyka was a priceless object that would be venerated by the Buddhists.

The Mahasangha including Anuradhapura Atamastana temples Ven. Pallegama Siriniwasa and a large gathering of devotees were present at the occasion.