---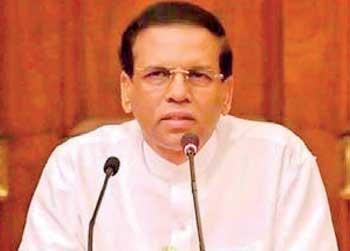 On the instructions of President Maithripala Sirisena, a decision has been taken to strengthen the drug eradication programme and broaden related projects.

Accordingly, a national drug eradication week has been announced from June 22 to July 1 and the programmes conducted in line with it will be made regular and efficient in controlling the use of drugs and raids and in the rehabilitation of drug addicts.

The laws and regulations on controlling drugs and reducing related crimes were discussed yesterday at the President's office under the patronage of Secretary to the President Udaya R. Seneviratne.

The comprehensive discussion underscored the administration of tobacco and narcotic regulations, Tax Act, protection of prisons, rehabilitation of drug addicts and concerns over reports from the Drug Analysts' Department.

The distinguished attendees included Ven. Kuppiyawatte Bodhananda Thera, Acting Inspector General of Police C.D. Wickremeratne, ministry secretaries and heads of security divisions.
SAJ
A decision has been taken to strengthen the drug eradication programme and broaden related projects