---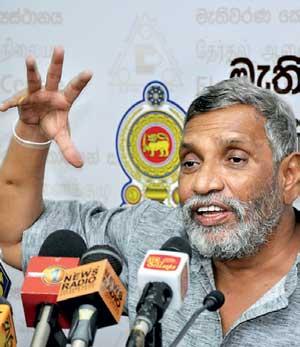 By Sandun A Jayasekera
Elections Commission (EC) Chairman Mahinda Deshapariya requested voters to bring a ballpoint pen along with them when they come to vote on August 5 for their own safety but added if a voter does not have a pen to mark the ballot paper, officials will provide one. Though the cost of the Parliamentary polls 2020 has escalated as never before as a direct result of the Covid 19 pandemic, the EC would take all efforts to maintain the cost of the election below Rs. 10 billion, Mr. Deshapriya said.

He told the media that the EC in order to ensure safety of voters, election officials and the public would have to deploy a contingent of health workers in addition to election officials at this election.

"Thousands of Medical Officers of Health (MOHs), PHIs and Family Health Nurses will be deployed on election day to make sure that voters, officials and the public strictly adhere to health guidelines and no one would transmit the virus to others or get infected from another," Mr. Deshapriya stressed.

Normally, a voter will have to follow five steps of safety measures and heath protocols between entering the polling station and leaving after casting the vote that ensures the safety of all involved in the election on August 5, he added.

In addition, the EC will also have to provide nearly 16.3 million voters and election officials numbering about 175,000 with hand sanitizing facilities, employ an additional number of officials to make sure voters wear the face masks, observe social distance in the queue, wash hands before entering the polling station etc, Mr. Deshapriya noted.

Voters must not worry if there are any mistakes or errors like wrong NIC number, misspelled name etc on the poll card as a ballot paper would be issued to the voter if the voter has the correct NIC with the name registered in the voter's list.

"There may be attempts for impersonation. We issue the guy with a ballot paper and catch him after marking the vote but before he puts it into the box and inform the police. We have no reason not to issue a ballot paper if a voter demands it," Mr. Deshapriya noted.