---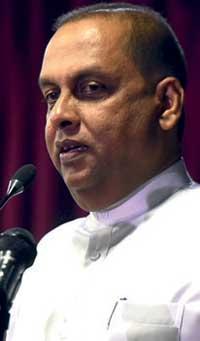 By Chaturanga Samarawickrama
Transport Minister Mahinda Amaraweera said, the National Transport Commission (NTC) had taken steps to introduce a mobile 'Passenger App' for passengers who use the Sri Lanka Transport Board and private buses by next week.

He said the decision was taken considering complaints received by the Ministry regarding the difficulties faced by passengers when using public transport.

The Minister advised the NTC to implement the App to manage the time of passengers and to prevent accidents caused by high speed, wasting time due to slow running and as well as to prevent harassment caused to passengers.

"After implementing the App, people would not need to wait for buses with doubt and the passenger will be able to see the locations of their buses to before they reach their destinations," he said.

This mobile application is about to be completed. It will be introduced to the public by next week, Minister Amaraweera added.
After implementing the App, people would not need to wait for buses with doubt and the passenger will be able to see the locations of their buses