---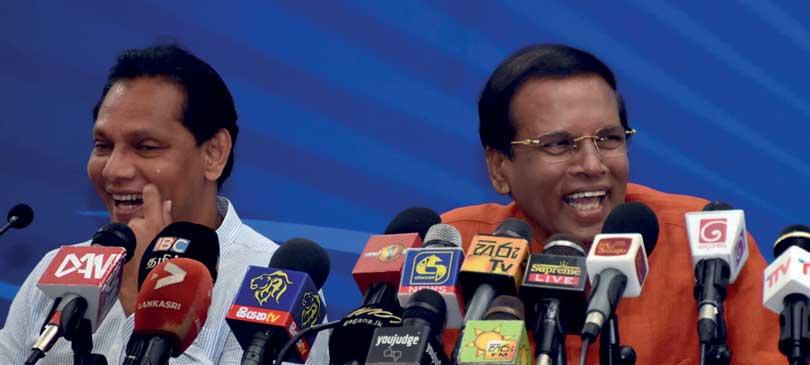 Pics by Kushan Pathiraja
By Sandun A Jayasekera
While saying that the 19th Amendmment to the Constitution brings good outcomes as well as bad outcomes, former President Maithripala Sirisena said the most damaging consequences of the 19th Amendment was to create three power bases in Sri Lanka's political system.

"The most damaging and disruptive introduction of the 19th Amendment is the creating of three power bases in the Executive President, Prime Minister and the Speaker. To aggravate the situation, each one of all three top men in the yahapalana government attempted to wield power against the other two. This calamitous situation brought the downfall of the yahapalana government," Mr. Sirisena stressed.

Addressing the media at the party office yesterday, former President Sirisena said all the good work attempted by him as President were thwarted by the yahapalana government leaders and that ultimately led him to appoint Mahinda Rajapaksa as the Prime Minister replacing Ranil Wickremesinghe in late October, 2018.

One of the main contributory factors to the clash between him and the Prime Minister during the Yahapalana rule was the power vested in the executive President and Prime Minister under the 19th A, he noted. One of the positive features of the 19th A was the establishment of independent Commissions. But sadly, the Speaker used the independent commissions for political purposes and gave orders to independent commissions, for example to the National Police Commission, Mr. Sirisena alleged.

There were instances where the Public service Commission summoned even drivers and office assistants before it, a duty expected from Ministry Secretaries.

Mr. Sirisena said for a stable government, the 19th A is an impediment and therefore a new Constitution was necessary to ensure sustainable development in the country with an assurance to protect democratic rights of the people, human rights and fundamental rights and all other rights and privileges of the people and added this could be achieved only through by forming a government under President Gotabaya Rajapaksa with a two thirds majority.