---
Reminiscences of violence keep surfacing like creepy monsters of a horror movie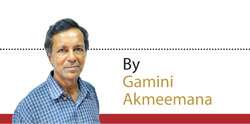 Walk Awhile in My Shoes is the real-life story of Rosemary Thuring, a Sri Lankan Burgher, who migrated to Australia but faced a lifelong struggle against a violent husband.
It is a harrowing tale of marital abuse. To my knowledge, nothing of this kind has been published here before, and it deserves to be read.
Today, stories of marital abuse are common and those abused can seek legal aid and protection. They can file charges against their abusers.
Bibliography
Thuring, Rosemary, Walk Awhile in My Shoes. Ishan Bahar, Gracewinds Advertising, Colombo

But Rosemary Thuring takes us back to a time when husbands beating their wives, wasn't thought of as a prosecutable offence, and surprisingly that wasn't only here but in Australia, too.
Her childhood was happy within her family circle, part of that close-knit Burgher community which began dwindling with the large-scale migrations, mainly to Australia, since the 1960s.

Though not well off (She says she couldn't afford to buy books), it wasn't a strained life and she was bright and vivacious at school. Receiving a bicycle as a gift, at a time when few urban girls rode bicycles, she would be taunted and stoned by Sinhalese girls as 'Lansi Karapoththa' and she would hit back with a limerick about Sinhalese stupidity.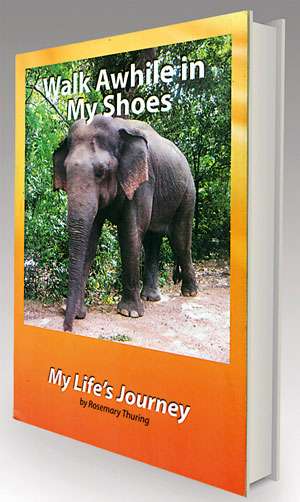 The family migrated to Australia in 1970, when she was 19.

The book is full of reminiscences and anecdotes, but the real subject keeps surfacing like the creepy monster of a horror movie.

It started when she married Errol, a Burgher telecommunications technician. It was a love affair and during courtship, there was no sign of the storms to come. They were a very good-looking couple and were compared to Fred Astaire and Ginger Rogers, at the wedding.

But her husband got into a bad mood on the wedding night itself. The first frightening act of domestic violence happened soon after when he threw an empty beer bottle at her in a rage. Thereafter, he began striking her, when he got into foul moods.

She discovered things about his family – a history of alcoholism, which her father-in-law and others males in the family too, were very abusive at home though verbally, not physically – too late.

But she stayed with him, putting up a brave, smiling face and hoping things would get better. As she writes: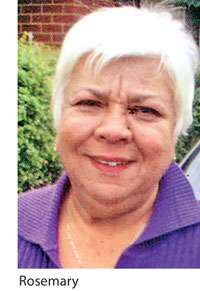 "I realised that he had an uncontrollable temper and from time to time there were other instances when he even struck me. I felt ashamed and felt there must have been something wrong I was doing and I could never let anyone know of these incidents. I felt I had married a monster."

Fortunately, she was able to remain financially independent, finding one good job after the other. There was support from her close-knit family (Mother, siblings and friends who were in Australia) though she hid this history of domestic violence from them for a long time.

The marriage resulted in three children, a boy and two girls. She writes that her husband was rude to her when he saw her breastfeeding their first child, and she gave up breastfeeding thereafter.
Instead of things improving after the birth of a child, everything goes wrong. While carpeting the house, she discovers that her husband is colour blind as well. After the birth of the second child, things get worse.

"When Errol came home, he was always in a bad mood. He drank and was violent. I copped all the blows he dealt, yet it did not worry me, as the girls were so good and I had so much to get done."
She finds escape in work and friends while doing quirky things like cooking up to seven curries a day as her husband loves curries. She cooks two dinners every day – curries for her husband, and Western food for the children. That doesn't stop him from hurling plates at the wall. He mows the lawn but does no other housework.

Adding to her problems, the youngest child, a son, proves to be a problem child, eventually diagnosed with Autism Spectrum Disorder. Related problems force her to quit her job, thereby losing her biggest anchor. The domestic violence continues. One day, she does what she hasn't dared do so far, and calls the Police. They tell her they can't do anything as it's a 'domestic situation,' and leave.
She writes:

"I was now more focused on how miserable the marriage was, I was brought up as a good Catholic and my vows were for 'better or worse,' so I told myself it was worse and I still had to stay."

As so she stayed on, opting for a divorce only after 27 years of hellish marriage. Even when her husband moved out, she took him meals as the dutiful wife. He returned and began beating the children, too. During those terrible years, she began to have nervous breakdowns, including loss of memory, once leaving her son in the car, when she ran out of fuel and waking up in a hospital and remembering nothing.

But the book has a happy ending. She slowly took control of her life, going back to work, and getting married again. It's a sad tale but also one of incredible courage and fortitude and faith in oneself.
As Rosemary Thuring says on the back page: 'Believe in yourself. Never give up!'