---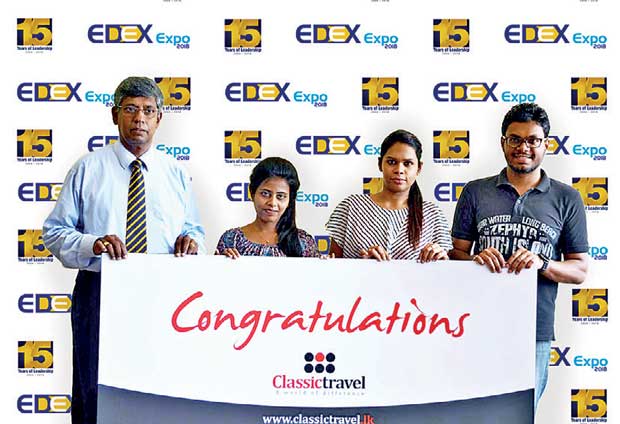 Edex Chairman Mahinda Galagedera is seen presenting the winning tickets, at the Royal College Union, Skills Centre.
EDEX not only empowers the youth in education and careers, but creates wonderful surprises for its youthful visitors.

Little did Varuni, Saranga and Ushan realise that by visiting EDEX, they would win a ticket each, to visit beautiful Malaysia. This opportunity to see the world, was made available to three lucky winners, selected through EDEX'on-line visitor registration process. The winners congregated at the EDEX Secretariat, on February 9, to receive their prizes from EDEX Chairman Mahinda Galagedera, at a special ceremony. Classic Travel partnered EDEX for this special offer. EDEX officials spoke to the winners and discovered that Malaysia was a destination not been visited by all three.

Varuni Nuwanthika, 25, is an Assistant Pharmacist, working at the Pharmaceutical Industry; having graduated in BSc. Chemistry, from the Open University.

Saranga Rajapaksha, also 25 years, is a first year student at ESOFT, and works at Sri Lanka Telecom. (SLT)

For both these young ladies, winning a ticket is a dream come true, and will be the first time they will fly out of Sri Lanka.

Ushan Olubodugama, a Senior Associate in Accounts, at WNS; is an Accounts Graduate from Royal Institute Colombo, currently studying at ACCA.

Having been abroad before, he is looking forward to the trip, to take a break from his exacting schedules.

The EDEX Expo 2018 Committee wishes the three youngsters an enjoyable journey, and wonderful new experiences and insights.