---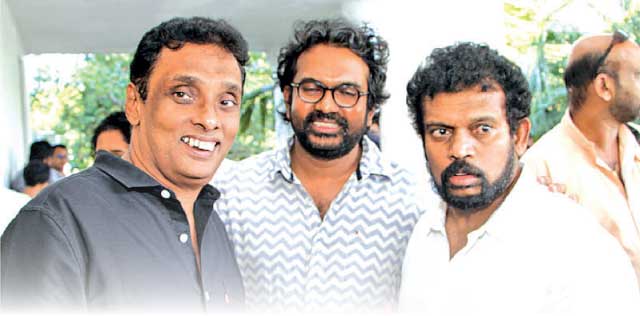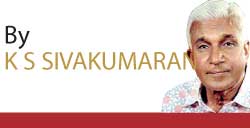 In the new wave in Sinhala cinema there emerged three social conscious new filmmakers who have also earned international recognition. They are Prasanna Vithanage, Asoka Handagama and Vimukthi Jayasundara.
All three have come together produced a three part film (this is a new venture in Lanka) titled Thundenak in Sinhala, Moovar in Thamil and Her, Him, The Other in English. This is a novel kind of film in that the creative interpretation of three minds have assembled here to depict in implicit and subtle dimensions an-anti war film. Their art of film making is commendable by international standards. Congratulations to all three of them!
The producers have succinctly introduces what the film is about and that makes my task easy. "The war between Tamil militants and Government forces of Sri Lanka lasted for three decades.
Thousands from both parties, combatants and civilians died due to the battle. The Government forces crushed the Tamil militants in May 2009. It's time to assess each other's conscience. He (annex-militant videographer for the LTTE) travels from the North in search of HER (a young widow of a government army soldier) in the South to find relief from the pain that disturbed his conscience." This part of the film is engrossing as it is directed by indomitable Prasanna Vithanage. His cinematic art should be analyzed at a different time. Vimukthi Jayasundara films the second part with diabolical questions in the He characterization. We shall continue with the story as described by the producers.
"Having been raised in a religion that has faith in reincarnation, he (a Singhala language teacher) tries to deceive his own conscience by refusing to believe the rebirth of a Tamil militant into a Sinhala family witnessed by Him with his own eyes."
There are a lot of ironies in this film which are very clear to a seasoned cinemagoer and Jyasundara brings outer reality and the innate reality of closed minds beautifully in the natural setting of the arid border villages between the Northern and North Central Provinces. His virtuosity should be analyzed later.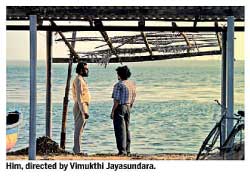 We now come to the city of Colombo with the director of this part in the film Asoka Handagama, who is also acting brilliantly in the film. We shall look at his double playing later.
Meanwhile the storyline is described as follows and it ends there.
"One's hero is the Other's traitor. But a mother will lose a son in a war. How many wars..."
In this movie that reminds us that how foolish some of us are not realizing that war is futile.
When we were born we didn't have any land. Birth is an accident when one is born in a particular community and in the next birth he might be born in a different community. The blood in our veins is all red in colour and there is no such thing as Sinhala blood or Tamil blood or Muslim blood. Cedits must be given to the cinematographers in the calibre of M D Mahindapala and the others. They are masters of the art.
The part played by Kesavarajan and others are very convincing with actualities of experience.
Thinking people from various communities must shed away their petty prejudices and think about the others as fellow human beings and empathize with them. That's the lesson I learned seeing this film.