---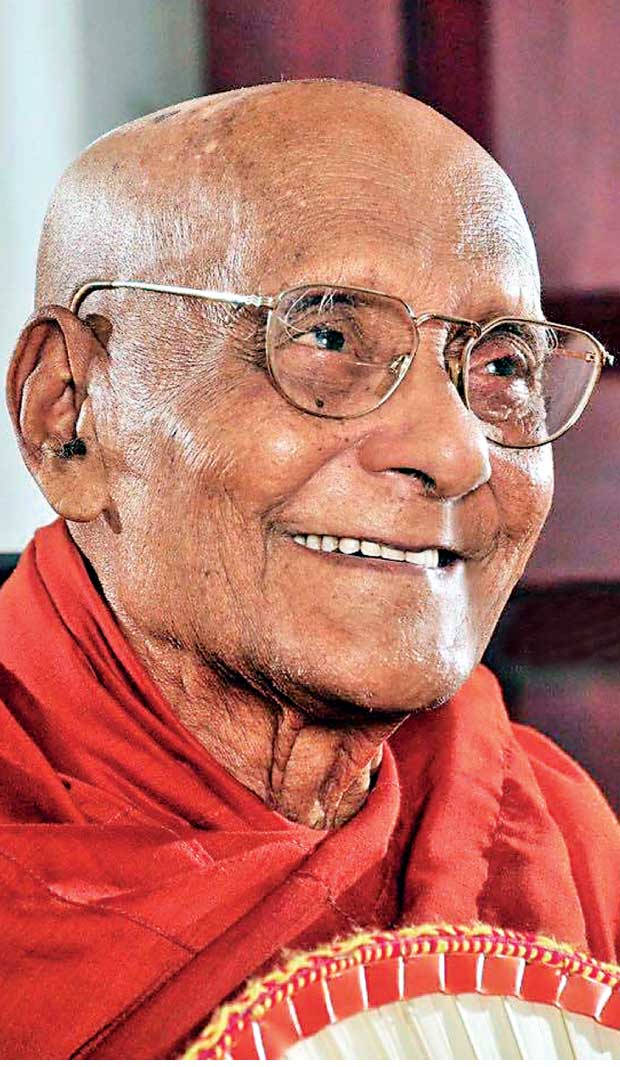 When asked of a particular letter he had received he was able to retrieve it almost immediately
With regard to knowledge of English the Mahanayaka Thera was a self made man.
By Siri Vajiraramaye Ñānasīha
My association with the most venerable Mahanayaka Thera goes back almost sixty years when I was a honorary joint secretary of the Maharagama Sasana Sevaka Society and he was a teacher at the Bhikkhu Training Centre, Maharagama – a training institute for bhikkhus started under the auspices of the Most Venerable Aggamahapandita Madihe Pannasiha Mahanayaka Thera and Venerable Ampitiye Rahula Nayaka Thera. What impressed me most was his gentle speech, his humility and his graceful smile. I venerate him also as my preceptor when I received higher admission (upasampada) in April 2015.
I have visited him on several occasions at Sri Ñānesvara Meditation Centre, Pagoda Road, Nugegoda where the Mahanayaka Thera decided to spend his days because of its quietude and serenity and again I was struck with his simple lifestyle and meticulousness. With no external assistance he maintained all correspondence himself and when asked of a particular letter he had received he was able to retrieve it almost immediately by quietly getting up from his seat and taking his correspondence file. How great a person he is to be so punctilious at the age of over one hundred years.
Most Venerable Davuldena Ñānissara Mahanayaka Thera was a great Sanskrit scholar and a poet of great repute. He started his literary life after the age of 55 and later regretted his late entry. Undoubtedly he was the greatest Sanskrit Sri Lankan poet of the 20th century and to his credit are over ten books in verse. Two of his works, namely, Svanāstava Kāvyam a satirical verse on the good qualities of dogs, the best friend of humans, and Yasodharācaritam on Queen Yasodharā, consort of Prince Siddhartha, have been translated into English by a French and a German Professor respectively. He has written over 50 eulogistic verses, all in Sanskrit. His poetic mind could be garnered from the fact that his compositions were done mostly when he was on the move. When a poetic thought occurs in his mind he would get hold of a scrap of paper and jot it down. Most Venerable Tirikunamale Ananda Mahanayaka Thera told me that many a time scraps of paper of what was written when he was travelling from his Pagoda Road resident temple to the Mahanayaka Carikarama on Wijerama Mawatha were handed to him for publishing. These were mostly eulogistic verses written when a death of a known person occurs.
Until his passing away he was the Chairman of a seven member Council for the translation of the Tripitaka. He was appointed to this position because of his deep insights regarding the Dhamma and his knowledge of the languages including Pali, Sanskrit, Sinhala and English. The titles that he has received in recognition of his vast contributions to the Buddhasasana and to the literary world will bear testimony to what a great person he was. They were 'Rajakiya Pandita, Grantha Visāradha, Sanskrutika Bhāsā Cakravartī, Sri Sumangala Vidyāvansa, Daivībhāsā Visaradha, Sadbhāsā Paramesvara, Jina Sasana Kīrti Srī, Aggamahāpandita, Ācārya, Sāstra Sūrī'. Born in 1915 the Venerable Mahanayaka Thera was the ninth in a family of eleven children. His father was Aloka Mudiyanselage Kaurala and his mother was Gajanayaka Mudiyanselage Kirimenike. The usual practice then was to have large families and to donate a son to the Sasana. With his consent, he was ordained as a novice at the village temple in Davuldena in the Badulla district. He was 12 years of age when ordained and the fact that he has been donning robes for ninety years is something remarkable. Never would a thought have arisen in his mind that one day he will become the Supreme Prelate (Uttarītara Mahānāyaka) of the Sri Lanka Amarapura Nikaya. That is the life of a monk. There are no high expectations.and when responsibilities fall on one's lap these are dutifully performed not for the sake of oneself but for the sake of the Sasana. The life and achievements of the Mahanayaka Thera is testimony of this fact.
What do we know of the siblings of Most Venerable Davuldena Mahanayaka Thera? If his parents did not ordain him, as was the tradition then in order to become an heir to the Buddhasasana, all that talent the Mahanayaka Thera displayed as a Sanskrit poet of repute would have never come into fruition. He too would have been caught in the day to day routinised sansaric process. Buddhist parents should be giving serious thought to gifting a child to the Sasana.
With regard to knowledge of English the Mahanayaka Thera was a self made man. He travelled widely and attended many international conferences and functions, both in the East and the West. He did not fail to accept invitations and his knowledge of the languages, always stood in good stead. At first he wanted to send a message and later decided to go himself and deliver his message at the 13th UN International Vesak Day celebrations held in Thailand in 2016. He would have been keen to address the international gathering when Sri Lanka hosts the 14th UN International Vesak Day in May this year. "Yamp'iccham na labhati tampi dukkham" is the Buddha's words meaning 'Not getting what one wishes is dukkha or unsatisfactory'. The Most Venerable Mahanayaka Thera left this message for us and let us all, along with him, to strive to attain Ultimate Happiness – the Bliss of Nibbana.