---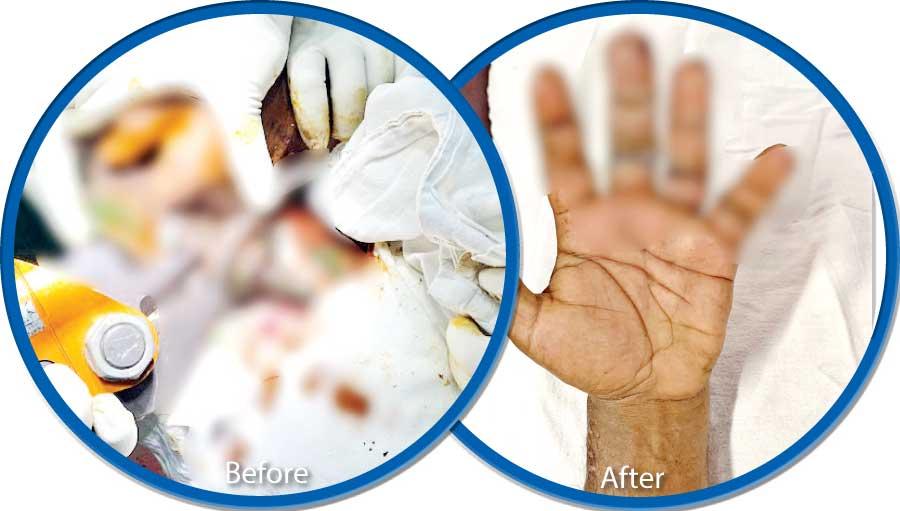 It was just another day for Plastic Surgeon Sasankaya Amila Ratnayake when he came into the Kandy General Hospital, with an array of surgeries lined up for the day.
But this could not be so, when a man was rushed into the theater 'D' with a man's hand caught inside a grinder, which was to mix coconut/dhall for making of that delicious 'wadai'.
The question for Dr. Rantnayake was to take the hand out to perform a surgery, but it could not be, as the fingers were embedded into the grinder. No doubt that the Hospital has grinders

to cut into anything, but this was a critical and skillful operation to take out the fingers embedded into the 'cutter' of the grinder. So Surgeon Ratnayake made a decision with the approval of the Hospital's Director, Dr. Ratnayake to call the Fire and Rescue Services of the Kandy Municipality. True to their efficiency, six members of the rescue unit arrived headed by Officer-in-Charge Subasinghe.
"Hydraulic grinders cut opened the meat grinder and the fingers mangled in were saved"

"The suction pressure pulled his fingers into the grinder when he attempted to clean the unit"

On the advice of Dr. Ratnayake, OIC Palitha Subasinghe acted and began to cut the grinder. They had used sensitive Hydraulic grinders. Within about 10 to 15 minutes, the Grinder cut opened and the fingers which were caught inside were saved. From that point, it was over to the surgeon Dr. Ratnayake and his team of four doctors to perform the surgery.
Dr. Ratnayake is a Medical Graduate of the University of Peradeniya and University of Perth in Western Australia. When the 'Daily Mirror' spoke to him, he said very humbly that it was part of his profession. "I saved his fingers. So he can continue with his livelihood. It would be difficult for some time, but he could overcome that in the future" he said.
The patient Faizal (36), said from his hospital bed that he was attending to his general routine and when he attempted to clean the grinder, the suction pressure pulled his fingers into the grinder. Thereafter he could not remember what happened as he was in severe pain and later he came to know he was in the hospital ward. He is a father of two children and a resident of Polannaruwa and works in Kundasale. He has been working for his present employers for about two years. He offered his profound gratitude to the medical team headed by Dr. Dr. Ratnayake.