---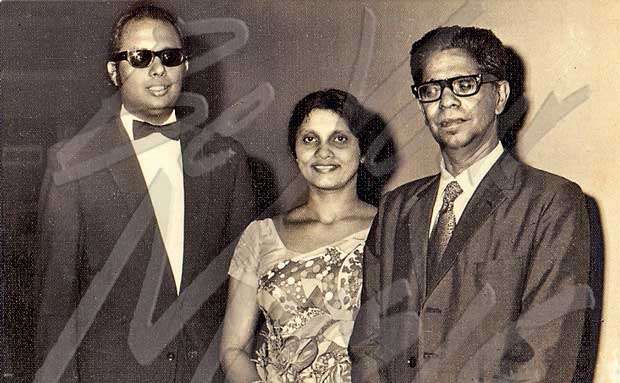 Ask any person, particularly anyone young, as to what Sooriya means to him/her, and chances are he/she will reply, "Sooriya Village!" The immediacy of the response is not unwarranted, since Sooriya Village is THE place to be at for everything. But ask him/her about the story behind Sooriya, and how it came to be, and chances are there won't be a reply. The truth, however, is that Sooriya is much more, than the Village. It has a story, one which runs parallel with the history of pop music in this country.

It all began with a man called Gerald Wickremesooriya. From an early age, Gerald loved music. He could sing. He could write. He also loved to read. And dabble in other art forms. Born in 1920 at Ambalangoda, he came under the influence of two neighbours: C. de S. Kulathilaka, folk music researcher, and Ariyapala Gurunnanse, the definitive face of the culture of masks in that part of the country. From Kulathilaka and the Gurunnanse, not surprisingly, Gerald picked up an intense love for traditional art forms: the dances, the drums, and the thovil ceremonies.

Having been educated until Ninth Grade at Dharmasoka Vidyalaya, he was sent to Colombo where, against a backdrop of increasing urbanisation and a post-war and post-independence economic boom, new and exciting vistas of art, music, and theatre were coming up. These could not have escaped him. And they did not.
He was boarded at S. Thomas' College in Mount Lavinia and, after leaving it, settled in Kollupitiya. Among his new neighbours was the redoubtable Chitrasena; another neighbour, it turned out, was Colvin R. de Silva. The Chitrasena Kalayathanaya, as popular then as it is now (though today it's situated elsewhere), was a call centre for artists in vogue at the time, from Amaradeva to Sunil Shantha to Ananda Samarakoon. Gerald, always the inquisitive lover of music, made the acquaintance of Samarakoon, and ended up in his orchestra as an esraj player.

Music, however, was not all that motivated him. He had a flair for business. While pursuing his passion for music, he soon got a job at Shaw Wallace as its Director of Plantations. The plantation sector remained another passion of his; long before Shaw Wallace, he had ventured into tea, cinnamon, paddy, and rubber at Ambalangoda and the vegetable-fruit market at Kollupitiya. These, he would sell at the Jathika Pola, held at the time at what is now the Thurstan College grounds.
While at Shaw Wallace, however, as is natural in any person's life, tragedy struck: the company underwent a process of restructuring and he had to leave. This was 1956, a tumultuous year for the country if ever there was one.

Without a job, and searching for new prospects, Gerald had a chat with the owner of the bookstore K. V. G. de Silva & Sons, who happened to be his nephew. It was, all in all, an intriguing proposition: while bookstores were being opened every year in the country, there was no bookstore for children. The market for children's books was fertile, and it needed someone who could take that first step and open a store. That someone, it transpired, was Gerald: heeding his nephew's advice, he and his wife Dulcie started the Children's Bookshop in 1959. Located at Queen Street, it became so popular that it began importing children's music. This too caught on, for a reason: Sri Lanka did not really possess a popular children's music tradition.

Soon afterwards, Gerald was offered an enticing deal: Louis Brown's, the famous record label producer, was shutting down in Sri Lanka, and it needed someone to take on its distribution. Gerald took on the task, and through the Children's Bookshop, he began importing records of Western artists popular at the time: from Tom Jones to Jim Reeves to Herb Alpert to the King himself, Elvis Presley.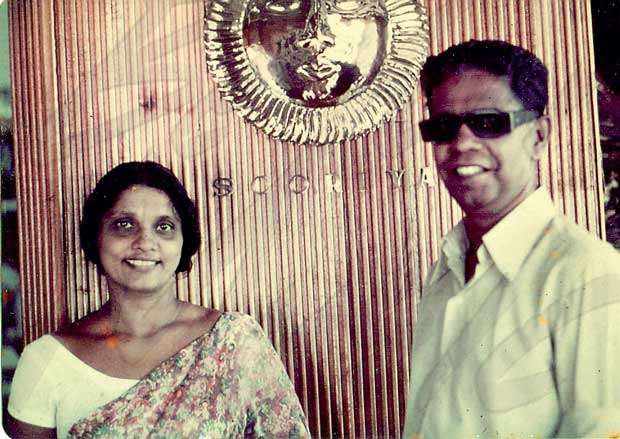 It was Elvis, ironically, who gave that much needed boost to the man's business. Somewhere in 1960 Gerald and his wife, on their way to the Store, came across a long and unusual queue at Queen Street winding up past the Central Bank. The source of the queue was not hard to trace: people had thronged at the Store to purchase a certain record. That record, it turned out, was "Wooden Heart", the irrepressible variation on "Mussi denn" that the King had immortalised in the film G. I. Blues (which, Dayan Jayatilleka once told me, became a hit at the Liberty not too far from Queen Street and the Bookshop). As Gerald's son Udena remembered for me when I recently sat down with him, "it was not just a turning point, for him it was THE turning point."

Emboldened, Gerald took the next step: establishing his own label. Sooriya. It was not the first label in the country: that distinction belongs to Philips, managed by a friend, Patrick Corea. (Patrick, to his credit, had already introduced the Moonstones.) But Sooriya was the first Local label; it was Sri Lanka's sole agent for Decca Records, yet a large portion of its work came from its local division.

Unlike Philips, moreover, Sooriya not only managed its "portfolio" of artists, but also promoted them through the Sooriya Show (presented by Vijaya Corea and "typed" by Gerald himself on his own typewriter, it was broadcast every Thursday from 9.45 to 10 p.m. on Radio Ceylon) and a series of live concerts held at Ramakrishna Hall and Navarangahala, among other venues, at regular intervals.

Udena remembers those shows even now. "We always sold more than a thousand tickets. In addition to those 1,000-plus attendees, we had another 400 gatecrashers. At the Navarangahala show we stationed a police officer called Gafoor, who was given the task of keeping these crashers away. Gafoor was feared by everyone. You didn't cross him, and if you did, it was to your peril. But it was useless. The crashers kept on coming." Some of the other venues, like the Taprobane, did not attract such a populist crowd, since they were of a different order. "Our fellows performed at the Taprobane in 1969. We had Spitfires with Dalreen and Desmond, the Dharmaratne Brothers, and M. S. Fernando. In fact that was our first live show."

When did Sooriya actually begin, though? Udena gave me a date: November 28, 1968. That's when the Moonstones signed an agreement for the label's first album with them, "More Hits by the Moonstones" (Catalogue Number CHB 001, on a 45 RPM Vinyl EP). The stand-out piece in that album, incidentally, was the "sequel of sorts" to "Mango Kalu Nande" (released earlier by Philips), "Kalu Mame".

How did the Moonstones get to know Gerald? A mutual contact: Mangala Rodrigo, a band member, who happened to be a friend of Udena's brother, Netaji. As Udena put it for me, "When Netaji told Mangala that he wanted to introduce him to my father, Mangala nervously agreed on the condition that they speak in Sinhala. The story goes that when the two met, my father came up to him and greeted him in English. Mangala must have got more nervous than ever, because he very nearly ran away. Mercifully of course, that did not prevent them from reaching an agreement."
Sooriya turned into a sensation overnight: be it a record, a radio show, or a live concert, people just came and listened and watched. The names kept on coming, from the Moonstones to Indrani Perera to Dalreen Arnolda to H. R. Jothipala

From then on there was no stopping, or puncturing, the road ahead. Sooriya turned into a sensation overnight: be it a record, a radio show, or a live concert, people just came and listened and watched. The names kept on coming, from the Moonstones to Indrani Perera to Dalreen Arnolda to H. R. Jothipala. Past friendships were revived, and they helped develop the brand even more: for instance, the Dharmaratne Brothers, who knew Gerald, were pivotal in introducing many vocalists to the world of record labels: "Durakathanaye", the song that transformed Jothipala from a playback singer to a mainstream artist, was reputedly Melroy Dharmaratne's melody.

But the definitive hit for Sooriya in those formative years was "Dilhani". Indrani Perera, then right after school, had been discovered by Annesley Malawana, and the song, which went on to sell more than 5,000 copies (the average for a Sooriya record, Udena told me, was 500), launched Indrani to instant fame. "People just loved that song. There was no real reason for it. Perhaps it was because we didn't have 'nalawili gee' apart from 'Doi Doi Doi'. Or because it was based on an actual experience: the song was about Sangabo Corea's daughter. In any case, it paved the way for a string of hits about children, many of them sung by children." Sooriya pioneered the latter kind of pop songs when, somewhere in the late sixties, it "picked up" Baby Shiromi. She influenced a whole bunch of "Babies", and her songs, from the poignantly funny "Sakalabujan" to the hilariously acerbic "Konda Namagena", found their way to practically every concert, radio show, and household.
The Sooriya story does not end there. There were other avenues crossed, opportunities picked up and made use of, landmarks achieved, personalities transformed into icons, and genres explored. Those stories, I will soon proceed with. Soon.

Images courtesy of Sooriya