---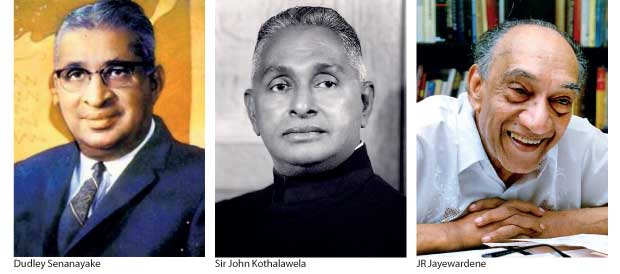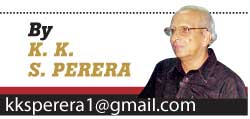 Neville J's 'Hot summer's evening at Kent', ends in a'Midsummer Night's Dream''It was on a hot summer's evening in June 1974 that the extraordinary conversation I am about to narrate took place' says, Neville Jayaweera (NJ), relating his meeting with the Prime Minister of 1953-56, Sir John Kotelawala at his Farm in Kent, England. NJ a senior CCS and the Former Chairman/Director General of SLBC, wrote in 'Ceylankan' a magazine published in Down Under in early February 2013. [later republished in Sunday Island]
Two adverse ones among many responses for last week's article on Dudley, and both accusing him of involvement in 1962 Coup, prompted me to clear the real Mr Clean of Sri Lankan politics of unjustifiable condemnations.
An assortment of rumours on Dudley Senanayake's alleged involvement in the botched coup attempt by a group of Police and Military officers in 1962 was a doing rounds during Sirimavo Bandaranaike's first [1960-64]rule.
"I say,! I know you think that Dudley was a man of great integrity. You know, there is no such thing as integrity in politics
NJ's version and his concluding remarks are fascinating reading for anybody interested in politics behind Coup d'e tat '62. However the allegation of Dudley's involvement in the aborted attempt to topple Sirimavo's regime, as related by Sir John, were based on flimsy grounds attributed to a statement by Felix Dias Bandaranaike in parliament on February 13, 1962, quoting 'hearsay' from three junior suspects, two of whom were among the four crown witness in the trial-at Bar.
Felix himself never pursued the matter further. Three other leaders made only a few passing remarks subsequently in interviews in 1979 with JRJ's biographers [all three were JRJ loyalists.] My endeavor here is to place facts exposing the schemers who fabricated the tale.
It's quite evident from the following quote, that Sir John's narration is nothing, but balderdash springing from a disgruntled political haggard.
"…Dudley's initial role was to stand under the large clock of the General Post Office opposite Queen's House, on the night of the coup, and light his pipe and Thattaya (meaning Sir Oliver) who was scheduled to stand watch on the balcony (of Queen's House) around midnight, would take that as (a signal) the coup was on and declare a State of Emergency"
'…the stories he related to me that evening, weren't certainly malicious gossip nor did I think they were false'…says poor NJ, quoting the former
play boy PM.
NJ's version and his concluding remarks are fascinating reading for anybody interested in politics behind Coup d'e tat '62
Dudley's first tenure as PM, at the invitation of Governor-General Lord Soulbury, following the tragic death of father DS, created turmoil within ruling party, with the majority of government parliamentarians, the cabinet and the UNP backing the 41-year old son over next in command and leader of the house Sir John. The PM was compelled to authorize the use of fire-power to quell the spread of 'Hartal' violence resulting in nine deaths. These incidents upset the sensitive Dudley. Consequently in October 1953 he resigned as PM, handing over the reins to his cousin, Kotelawala. NJ says, 'I was so convinced that Sir John was "telling it as it was"…I urged my one time colleague Godfrey Gunatilleke of the Marga Institute, to have Sir John's stories recorded on a tape for posterity. I believe that Gunatilleke sent one of the Marga staff,… to Kandawela, Sir John's home…, to record his stories. Those priceless tapes…, may still be languishing somewhere in Marga's archives"
The writer met Dr Godfrey Gunatilleke, Chairman emeritus, and Senior Advisor, Marga Institute who denied any knowledge of the above claim by his 'one time colleague' NJ. In fact he says, one of Marga's former Directors, a historian, advised him on another occasion that recordings of the versions of politicians on important events don't contribute anything worth restoration as they have no historical value unless scrutinized and verified. Quite an insightful opinion.
Quoting Sir John NJ says, "I say,! I know you think that Dudley was a man of great integrity. You know, there is no such thing as integrity in politics. …will you believe me when I say that Dudley and I were both ring leaders of the attempted coup of 1962 ? Here are the names of the buggers (sic) who met in my house on consecutive evenings in early January 1962 at Kandawala to plan the coup… They shared all their plans with us three! In fact even Thattaya (Oliver) was in the know"
NJ now convinced, confirms his earlier statement on Marga, 'I have placed an enormous trust in Dudley Senanayake as a model politician and Prime Minister and in fact, had given him my all within the call of duty: Sir John…also agreed even to speak into a tape recorder, provided it won't be made public except posthumously. Consequently, a few months later, when Sir John returned to Sri Lanka for his winter holiday that year, on my initiative the Marga Institute recorded his whole story on tape'
'…during that holiday…he invited my family, for breakfasts at Kandawela…There again in the presence of several invitees he…comedy of how Dudley hid under his table-cloth…, he kept everyone including foreign guests in stitches"—NJ further comments, 'Sir John's demonstration…added flavour and credibility to the whole Dudley story'
Dudley Senanayake, the Leader of the Opposition rose immediately after the Minister Felix's long speech on February 13 1962, denying any involvement in the coup and volunteered to face any inquiry as well. Even the worst critics of Dudley in the house, especially the Marxist leaders like Dr N M Perera, Dr Colvin R de Silva and P Keunamen disapproved the minister's suggestion. The trial judges rejected evidence incorporating the name of Dudley Senanayake by some accused as trash invented by coup leaders. At the trial no firm evidence surfaced in support of the theory, but the rumours continued to persist. It's surprising how Jayaweera who was in the Ceylon Civil Service at the time missed all this information and said, "It's news to me"
When the suspects were acquitted by the Privy Council in 1965, Dudley Senanayake was back in the saddle as Prime Minister; serving his third term with JRJ as second in command. However, strained relations between the two of them a year later made J R Jayewardene rush to Sir John at Kandawala on April 13, 1966 to place his grievances with the former party stalwart. Having nothing to lose and being out of politics, Sir John scrupulously dealt with the topic and spoke about the involvement of Dudley and himself in the planning of the abortive attempt. The truth is when the coup leaders met him for advice, Sir John suggested that they should involve Dudley and Sir Oliver; but to please JRJ and sling mud at his bete-noire, he would have stated that they held two final meetings at old Kitulwatte plumbago stores at Borella and also at his Kandawala house on the last two days Jan 25 & 26th 1962 chaired by Dudley. This he contradicts talking to NJ, when he asserted that both meetings were held at Kandawala and it was in early January. Then again on September 15, 1979 interviewed by the biographers of JR, he shifted the venue of both meetings to Plumbago Stores.
Sir John also related the story on January 11, 1968 to Esmond Wickremasinghe ( Lake House boss)— [K M de Siva/Howard Wriggins-Leo Cooper-pge-118.], who insisted that he put it in writing of which document, the biographers say a copy is preserved at JRJ Centre; however the writer's attempt to trace same with a very obliging staff at the centre was unsuccessful, though all documents including manuscripts on the subject are well preserved in file no. MMS 321. Sir John narrated the tale for the last time in September 1979 of course with many contradictions to JRJ biographers. There are so many conflicting and contradictory versions among the four; on each occasion Sir John told his audience that he is 'spilling the beans' for the first time!
"I say, Jayaweera! You know I have never spilled the beans to anyone like I have done to you, who the hell(sic) knew about Dudley's involvement in the attempted coup of 1962" —NJ's article
He said so in 1966, '68, '74 and again in 1979. –[Ref-J R Jayewardene of Sri Lanka, Vol. II-pp114/116]
It's no secret that both Sir John and JRJ had 'an axe to grind' with Dudley. In Sir John's case it dates back to 1952 'Premier Stakes' episode- a slanderous political pamphlet, (Kele-Pattara) published in 1952 shortly after PM, D S Senanayake's death, unfolding the scheming that 'knocked-out' Sir John from the ring with Dudley succeeding his father. It was well-known that Sir John hired a journalist to ghost write it. In that instance circumstances compelled the new PM Dudley to call for Kotelawala's resignation from the cabinet; however, the matter was amicably resolved. Later, in 1965 when Dudley became PM for the third time Sir John who had been eyeing the position of Governor-General returned to the island expecting the job. But Dudley didn't oblige and that hit the last nail in the coffin of their relationship.
'de Saram went alone to Temple Trees and surrendered, confessing that he was alone responsible
Significantly, not one amongst the coup leaders breathed a word about either Dudley's or Sir John's involvement although the authorities being suspicious of their connivance had made every effort to extract evidence and fabricate a case for prosecution.
NJ referring to the main suspect Col. F C de Saram says, 'de Saram went alone to Temple Trees and surrendered, confessing that he was alone responsible…'
De Saram who was connected to the Bandaranaike's through marriage to an Obeysekera, was a 'kinsman' of SWRD. He was surprisingly asked to call at the PM's official residence by himself on Sunday morning, while the rest of the four leaders Sydney de Zoysa (ex- DIG), Maurice de Mel, Commander of the Volunteer Force and 'Jungle' Dissanayake DIG [Royce was hiding] were arrested in their homes by the military on Saturday night itself and taken to Welikada directly.
F C de Saram the old Royalist, Barrister, Oxford Blue and former All Ceylon Cricket captain arrived at Temple Trees by 9.00 am to appear before the 'inquisition' [Bradman Weerakoon,2004,-Rendering unto Caesar-pge 104] and never thought he would be arrested. Felix Dias Bandaranaike himself a lawyer belonged to the same Obeysekara/de Saram/Bandaranaike clan. PM Sirimavo was generous enough with FC; but FC de Saram's 'blueprint' says to dispatch Felix to Army dungeon and Sirimavo to 'house arrest' with her children when he becomes overall Commander of Forces on 28th morning.
The evidence in favor of the claim, that former PM, Dudley Senanayake was involved in the conspiracy are fragile, weak and insubstantial. Apart from Sir John's unconvincing tales which are rather flimsy and malicious in nature, there were no other records available. Nor did they surface during the investigation, trial stage or even after the acquittal of all suspects. Apart from Sydney de Zoysa's and Royce de Mel's interview to JRJ's biographers in September 1980— Zoysa, according to the biographers, had stated referring to Sir John's stories, 'some of it was clearly at variance with truth'. De Mel who first declined to talk, later mentioned about a meeting held at old plumbago stores in Borella that he attended with other coup leaders, where, he said, both Sir John and Dudley participated. He recalled a statement attributed to Dudley which said, 'the coup was the only way of giving strength to the constitution'. And also he lamented that Dudley Senanayake gave the suspects no help during these dark days of imprisonment and trial like JR did, which justifies their anger.
Douglas Liyanage had made few comments, but 'in a lighter vein';–[Ref.JRJ of Sri Lanka vol II-]. But these are all unsubstantial, fragile and partial. If one has to accept the word of learned author's here, who admit that none of the other coup leaders they met ever spoke on the matter but Royce de Mel, the former Navy Commander, who lost his job following a Far Eastern cruise and Douglas Liyanage CCS. One was made GM of the Hotels Corporation and the other Permanent Secretary to the Ministry of State by none other than JRJ. According to his biographers JR had warned Sydney de Zoysa, when he tried to 'sound out JR's views on the plan. JR had sent him packing with; "Sydney, I hear some of your people are planning… don't do it". But biographers didn't comment on why JR fail to act, if he felt that a conspiracy was being hatched.
The long standing enmity between the above three families, which formed the upper layer of the UNP hierarchy, and politics of the island for over half a century, could be attributed to Mudliyar D C G Attygalle's enormous fortune, plantations and island's best plumbago mines. Each of his three daughters was given in marriage with dowries of thousands of acres. Ellen married F R Senanayake (Dudley' uncle), Alice with 2,058 acres to John Kotalawala. Snr. (Sir John's father), and Lena with 2,961 acres to T G Jayewardene (JR's uncle). Kotalawala Snr, received 1000 acres less than Senanayake and Jayewardene.
He said, both Sir John and Dudley participated. He recalled a statement attributed to Dudley which said, 'the coup was the only way of giving strength to the constitution'
The enmity started with the murder of Francis Attygalle, the only brother of Alice, Ellen and Lena and heir apparent to the remaining wealth that included all the mines; further he was managing the properties as well. After he was murdered the family fortunes went to his sisters.-Kumari Jayewardene-2007; 'Nobodies to Somebodies'-, pp:194/288
The Senanayakes took a great effort to bring the murder culprits to book, which finally ended with John Kotalawala Snr. (Sir John's father) being arrested for allegedly planning of the murder of his brother-in-law. The beginning of the enmity. Kotalawala Snr. committed suicide in jail during the trial. Close connections of Senanayakes, Kotalawalas and Jayewardenes through inter-marriages contributed to unfortunate dilemma of their politics and personal relations that lasted for generations. [Coomaraswamy, 1988]
C C Dissanayake –DIG [the 2nd suspect and Ravi Karunanayake's grandfather] had told one of his subordinates…that a large organization was behind the move to overthrow the government, that certain political leaders 'were in the know of it', and that persons even higher than that were in it…A police officer whose statement was recorded had said that he had been told by one of the leaders of the coup that Sir John Kotalawala and Mr Dudley Senanayake 'were in the know' of the plan to overthrow the government.—Felix Dias B. in the House-(White Paper-1962)
Coup leaders used Dudley Senanayake as their bait; either explicitly or implicitly to convince the reluctant second level officers who they believed wouldn't consent to a coup as something alien to established traditions in local politics. The government understood reality and put an end to the line of investigation after Felix's initial statement. Dudley's own party men grabbed the opportunity to whack the Senanayake clan to satisfy their deep-rooted animosities. Sir John's amusing demonstration and vocabulary in the presence of his guests of how Dudley hid under the table cloth as told by Neville Jayaweera was in poor taste.
'Considering that Dudley was a public figure and should be subject to public scrutiny, I confess that keeping the story secret was wrong! Hence this narrative!'—NJ. He ends the story not discussing some of what was said with the explanation 'The latter stories were trivia and gossip with no historical or national relevance.' This may well apply to those parts of the `yarn' that brought Dudley into the coup.
'Mid-summer night's Dream' or a 'Comedy of Errors' 'He lived a life of gross materiality and sensuality… Deep and unspeakable loneliness…Shorn of all the pomp and the adulation that surrounded him when he was center stage, he seemed to dread living on the edge of oblivion'—on Sir John Kotalawala- there, NJ ends.
It was the philosopher, Jean-Jacques Rousseau (18th C.), who said, "Insults are the arguments employed by those who are in the wrong."