---
Colombo University community development project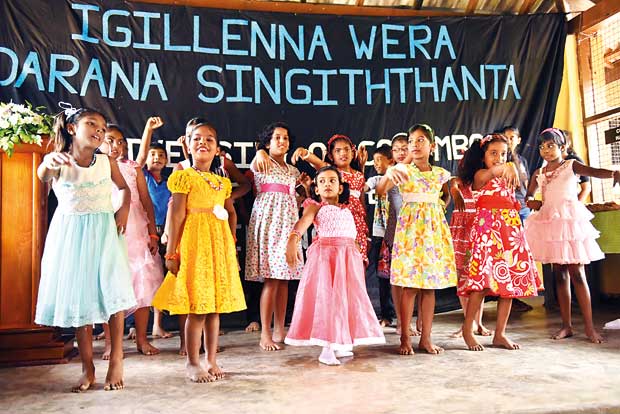 Students performing for a song
A team of university students of the Faculty of Management & Finance of University of Colombo gifted a renovated "Singithi Uyana" and a class room turned - library for Yashodara Vidyalaya in Kelaniya on October 25, under a community development project.
The opening ceremony was held in the school premises, with the participation of academic advisor of the Team Flyers - CDP - W.A.S.P. Weerathunga, project coordinator Rajistha De Alwis Senevirathne, the parents and teachers, Kelaniya - Rotary club members and the flyers team.
Dayani Rajasekara, a school teacher, welcomed the audience with a speech and reminded how hard they worked for success and the difficulties they did overcome."They first came to our school, had permission from the former principal and started renovating "Singithi Uyana"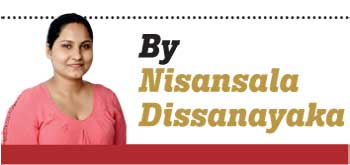 and making the most required reading room. Today is an unforgettable day for our school. Now they have shining new books to read. Today our students are fortunate to have a library, first time ever in their school history. Even though we wanted to do this early, financially we weren't stable ." she articulated.
"I have noticed that some of these university students had lunch in the evening while working here. Some worked even when they were suffering from illnesses. While they were painting the equipment in the playground, all of a sudden it started to rain and all the paint was washed away. They had to paint all over again. Finally, I asked them what was the point of painting in the pouring rain? They said it was okay and will paint again after the rain stops. We also helped them in many ways. They showed a great courage and dedication their goal regardless of obstacles." she reminded how they worked on through thick and thin.
"We are feeling very grateful for what they have done to us. True this is a project, but I must say they showed great passion and enthusiasm. Children like you are needed for this country." She thanked them profusely.
Students playing in renovated "Singithi Uyana"

Pix by Kithsiri de mel

Rashini Prabuddhika, a team member of the Management Faculty clarified how the school appeared when they first visited. A student living close to the school had informed the team about Yashodara Vidyalaya, and as they were willing to help some school in need, they willingly chose the school. The team started their project soon. "The hardest part was to raise funds, we even sold pens in buses in faraway cities like Matara, printed tickets, sold achcharu in university, and tried so hard to find sponsors until the Rotary club - Kelaniya and other sponsors offered their helping hand."
Establishing more than a century, Kelaniya Yashodara Vidyalaya has now become a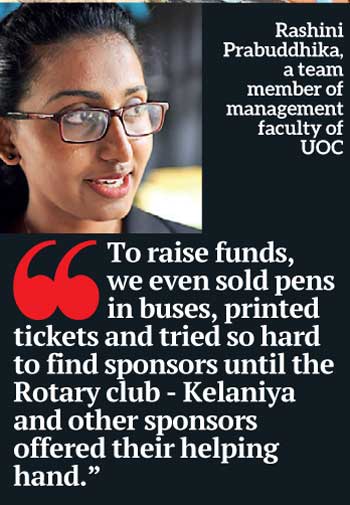 solitary Oasis for differently-abled children. A teacher in the school, B.N.S Perera told us that there are only 48 students in the school now, with four students in the special needs section. The total number of teachers in the school is around six, according to a teacher, Dayani Rajasekara. Being a school located in close proximity to Colombo, the school lacks desks and other materials. Children with different abilities anyway have to have a lot more facilities compared to other schools. They lack the tables for grade 1 and 2, and they were willing if they could have more classroom facilities. While having no facilities at all, many students have passed the Grade 5 scholarship exam.

The group was led by Saroj Rajapaksha. Navodya Fernando was the secretary while the treasurer was Geethan Wanninayaka. The team members are R.P Gomez, K.K.N.H. Kannangara, R.I.S. Nawoda, H.D.S. Niwarthana, H.J.M.C Perera, H.S.U Perera, K.P Rathnasekara, B.K.J.M Rodrigo, K.K.D.B Sachithra, B.H Sandamal, N.P Sanjeewa, S.A.M.A.S.S Senanayaka, R.M Sewwandi, P.M.K.M Somarathna. H.D.N Upekshika, D.I.H Weerasinghe, M.E.I.D Wijesiri

This renovation took place under the community development project of these first-year students, which has been implemented to enhance the soft skills of undergraduate students of Faculty of Management and Finance (FMF) at the University of Colombo. The main objective of this project is to "broaden the scope of the interaction of the students with the university community and the general public through planning and implementing a successful project to uplift and support the lives of identified groups in the society."
The flyers team with Advisors and Kelaniya Rotary Club members