---
Was the youngest minister in the 1977 cabinet
Pioneered the Mahaweli Project and resettlement
Instrumental in providing elelctricity to rural areas
Gamini Dissanayake an erudite scholar and an Exemplary politician had his education at Trinity College and worked at the Aquinas University College during the rectorship of Rev. Fr. Peter A. Pillai for a short period of time. Later he became an Attorney-at-law.

He later joined the UNP and gained experience in the field of politics. He was not known among the people at the 1970 election. It was after a six-week intensive campaign from village to village and from house to house with his wife that he was able to win by 2000 votes.

In 1977, the UNP was brought to power with a record breaking five sixths majority and Gamini was elected the first member of Nuwara Eliya-Maskeliya electorate.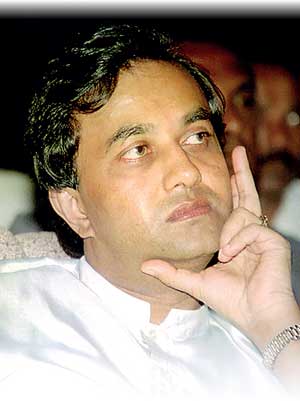 He was the youngest minister in the cabinet and was offered the Ministery of Irrigation Power and Highways. Later it was land and land development and Irrigation. It was rather unique for him at a relatively young age to have been destined to shoulder the responsibility of two ministries. Later it was changed to Mahaweli Development which undertook the accelerated Mahaweli Development Programme. His aim was to complete the multi-faceted development programme in six years. This was a mammoth task and he was determined to reach the goal with great courage and enthusiasm. To make maximum use of the hydropower potential, he constructed five reservoirs across the Mahaweli River. This paved the way to generate double the necessary electricity to people, especially to the rural folks.
Resettlement took place of nearly 28,000 families from Victoria, Kotmale, Randenigala reservoir areas

Commercial Agriculture was encouraged, and settlement schemes were introduced. Gamini Dissanayake wanted to open new vistas to the middle class. His intention was to upgrade the quality of lives of people and promote economic, social and cultural development of the Mahaweli villages. New markets were introduced to showcase agricultural products.

Resettlement took place of nearly 28,000 families from Victoria, Kotmale, Randenigala reservoir areas. More than 90 Buddhist, Hindu, Muslim, and Christian places of worship were relocated. Many lands that belonged to his kith and kin were submerged, including his ancestral home.

He was equally great in managing and developing land as well as human resource management. He also appreciated each and every gesture of his workers. He was always open for consultation and advice.

Gamini Dissanayake belonged to the unique category of politicians who had the interest of people at heart. He was kind, genuine and thoughtful. He was a dynamic politician to those who were close to him. His charisma and smile mesmerized people.

During his tenure as President of the Board of Control for Cricket in Sri Lanka [BCCSL], he brought Test status to Sri Lanka in 1981. He also took steps to develop the Asgiriya Grounds, the picturesque venue in the hill capital.

He entered to contest the Presidential polls after a great political struggle. It was a difficult period for UNP when he led the party. He was determined to bring about a solution to the ethnic issue, but he was killed barely 16 days before the presidential polls.

People of all walks of life would miss him. We lost a great personality and an inspiring leader who could have done much more for this country.

Late Premier Dudley Senanayake promised to give a new face to the Nuwara Eliya electorate in 1970, said,

"I have a great liking toward Nuwara Eliya.

I will send a lamp there, and it is your duty to light it.

Don`t worry. I will send you an illuminating lamp"

(Translated from "YUGA MEHEWARA" page 83)

Yes, as he said Gamini Dissanayake was that lamp that illuminated not only Nuwara Eliya but the whole country. He brightened the whole nation with electricity. He lit the lives of the rural people.
He needs no monument. He lives in the hearts of the people. He who rendered an immeasurable service to the nation and will be remembered today and always.

"May he attain Nibbana"

Nilanthri Perera