---

The experience of saving lives has given Wasantha a sense of pride in himself and Sri Lanka Army
---
The Sri Lankan armed forces have been under a cloud of allegations on extra-judicial killings, abductions and war crimes. Despite such allegations, there are instances that exemplify that Sri Lanka's highly trained armed forces are empathic and humane.

Altruism is one of the most highly prized qualities in society. The special qualities of people who act selflessly to try to find out what sets them apart, that they just have more empathy for others. The Daily Mirror discovered a story that needs to be shared about a former Sri Lankan Army soldier who saved four drowning South Koreans in a boat accident in Maemul Island in Tongyeong, South Gyeongsang Province in South Korea.
Pahala Gamage Chathura Wasantha hailing from Neluwa, Galle was shot when he was carrying an injured solider during the battle of Puthukkudiyirippu.
After recovering from the gun shots wounds, he legally quit the Army. With aspirations to earn more than what he earned in his motherland, he went to South Korea in 2017 which is known as the land of opportunity for Sri Lankan workers.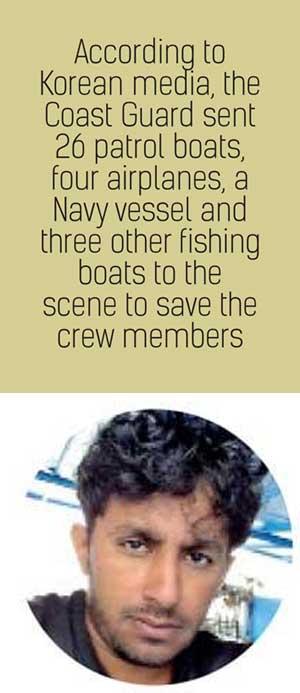 He was working in the fishery sector in Korea for the past two years. Along with him, there were four Koreans and another Sri Lankan working in the same 8.55-ton Minseong-ho vessel.
On July 08th, 2019, their sajangnim (boat owner/ head of command) was getting ready to fly to Philippines. He gave the responsibility of the boat to his associate until he was back to Korea. The sajangnim who checked the weather predictions on July 08th, 2019 instructed Wasantha and five others to not go fishing if the bad weather continued.
"We usually depart around eight in the morning. The sea seemed very rough that day as the result of strong winds and high tides. However, our new sajangnim decided that we should sail away around 10 a.m. So, we started the journey at 10," Wasantha recalled.
Despite the weather warnings that the winds would get stronger by night, they were venturing towards deeper sea for fishing on the commands of the new sajangnim.
"Suddenly, we felt that the boat hit a high tide and it started losing balance. It started overturning within around 20 seconds. Our attempts to save the boat from overturning failed. I ran to the rigifoam block and started untying it. I saw Madumal malli running into the boat deck. When I asked, he said he was going to bring life jackets. I knew he wouldn't have time to bring them and come back. Therefore, I yelled him asking not to go inside. But, he paid no heed."
The 8.55-ton Minseong-ho capsized in waters about 20 kilometers southeast of Maemul Island around 3:42 a.m. on July 09. At the time of the accident, the boat was sailing in high waves of about 2.5 meters.
"I jumped into the sea with the rigifoam block. I saw four Koreans struggling who needed help. I swam towards them and brought all of them to the rigifoam block. It was very difficult to swim in the Korean sea in frosty, cold water and trembling waves. I couldn't even reach inside the overturned boat because I couldn't hold my breath that long in the water. But, I tried to locate Madumal malli. He couldn't be found. I feel terrible for not being able to save him," Wasantha narrated the entire accident.
The four Koreans and Wasantha were floating in the sea with the help of the rigifoam block for more than an hour. As the Minseong-ho boat capsized and disconnected from radar, the Korean Coast Guard was alerted. According to Korean media, the Coast Guard sent 26 patrol boats, four airplanes, a Navy vessel and three other fishing boats to the scene to save the crew members.
Because of Wasantha's remarkable acts of bravery, lives of four people were saved. In appreciation of his act risking his life to save four drowning men, he was awarded a certificate by the Korean Coast Guard.
"It is only through good fortune that all four were rescued alive. I am still worried about the loss life of a Sri Lankan. If he listened to me, he would have been alive now. Neither Madumall malli nor four other Koreans knew to swim. I saved myself and four others thanks to the training I received from Sri Lanka Army," said Wasantha.
He believes that the pre-departure training provided by the Sri Lanka Bureau of Foreign Employment should be more suitable for daily employment in Korea and it should include swimming training.
Sailing without life jackets puts the lives of the fishermen in peril. When the Daily Mirror asked, why they were not wearing life jackets, Wasantha said their employer didn't let them wear life jackets because the employer believed wearing life jackets would make it difficult for fishermen to move comfortably and work efficiently.
Last December, a Sri Lankan migrant worker in South Korea was awarded Permanent Residency (PR) status in South Korea after saving a woman, 90, from a burning house in North Gyeongsang Province. He was also awarded the "LG Honor," an acknowledgement of his courage and sacrifice by major Korean conglomerate LG Group, plus a 30 million won reward. He became the first foreigner to receive such an award.
Sri Lankans who have Permanent Residency in Korea are now helping Wasantha to apply for PR or any sort of grant because his courage and brave act unquestionably deserve.
Helping others has a dual benefit. Not only does it provide support to those on the receiving end, it makes the helper, feel better too. Wasantha said that the experience of saving lives has given him a sense of pride in himself and Sri Lanka Army.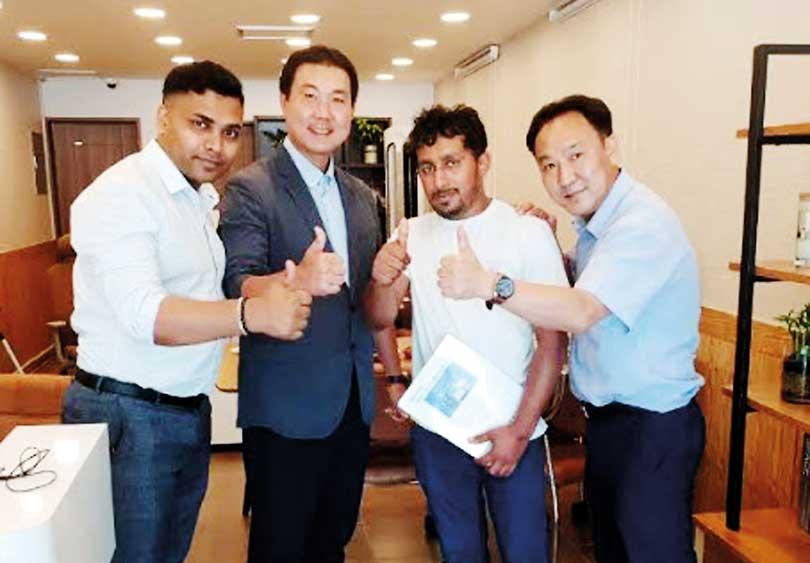 Ex-soldier Wasantha (second from right) and Indunil, a Sri Lankan with Korean PR (fourth from right) posing for a photograph with Korean officials
---