---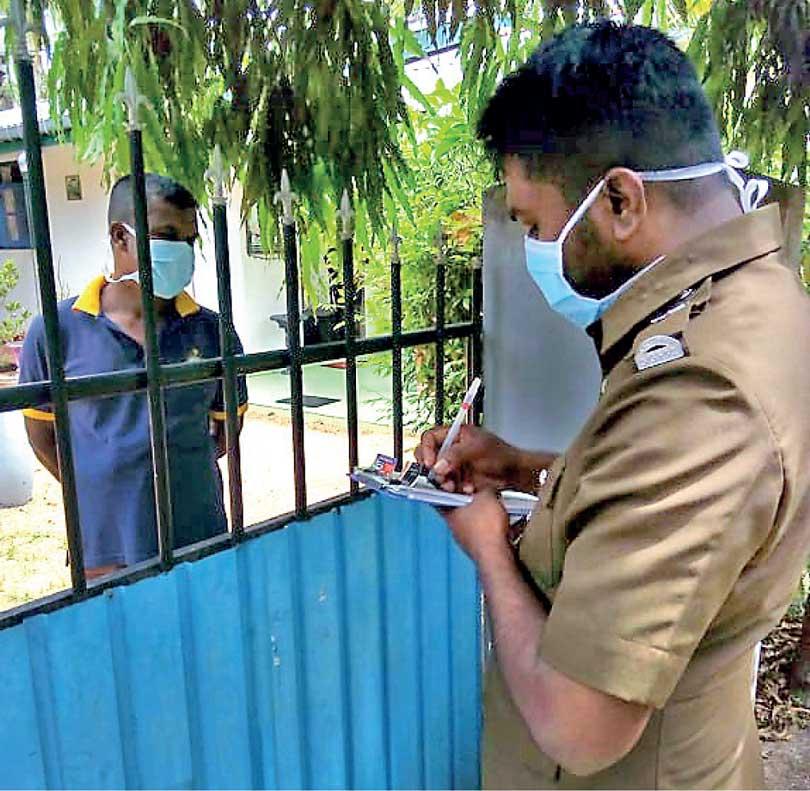 Public support is crucial at this time

The COVID-19 pandemic has snatched away scores of lives globally, with the number of positive cases increasing daily. Amid the crisis, healthcare professionals like doctors, nurses and Public Health Inspectors (PHI) are working around the clock to save lives. PHIs, who are in the forefront of public healthcare, have drawn much attention of late, as they work to contain the outbreak in Sri Lanka. But despite their yeoman service, they face many unaddressed issues and professional hardships.

Key role

The establishment of a Health Unit System in 1926 was a landmark for Sri Lanka's health sector. Within this system, PHIs have played a key role in controlling communicable diseases and environmental sanitation. Their services also cover housing, sanitation, water supply, water disposal, food safety, sanitation in medical institutes and school health work.The COVID-19 outbreak has doubled their duties.While attention has also been placed on their struggles and difficulties. These include the lack of Personal Protective Equipment (PPE) and assaults from the public. The attack on a PHI of the Rambukkana Pradeshiya Sabha on April 4 was one such incident.The rise of such incidents has highlighted that PHIs lack powers under the Quarantine Act.
Protective gear wouldn't be adequate if a mass outbreak occurred. As the outbreak is in clusters, we can manage with the PPE that we have. In case of a major outbreaks like in Italy or South Korea, the protective gears won't be enough

Quarantine Act

Quarantine law in Sri Lanka is primarily governed under the 1897 Quarantine and Prevention of Diseases Ordinance. It seeks to prevent the onset and spread of plagues and contagious or infectious diseases in Sri Lanka and also outside the country. The law gives authority to the Health Minister, Director General of Health, regional Medical Officers of Health (MOH) and PHIs to prevent the spread of such disease.

Inadequate powers

Despite this, PHIs continue to face legal hurdles in their daily activities. Speaking to Daily Mirror, PHI Union leader Upul Rohana said their officers were often confronted with legal challenges due to unspecified powers vested in them. Therefore, they demand that PHIs be given adequate powers under a separate Gazette. "There have been changes to the Ordinance from time to time.But these have not been effective. This is why we are demanding powers under a separate Gazette notice," Rohana said.

He further urged the authorities to give PHIs more time to implement preventive rather than curative health measures. "The COVID-19 situation has highlighted that authorities should give more attention to preventive rather than curative healthcare," he said. In this backdrop, Daily Mirror spoke to some PHIs to find out the struggles they face during these difficult days.

Insufficient PPE

Mattegoda PHI Manjula revealed the Homagama Pradeshiya Sabha lacked sufficient PPE, which posed them a risk. "It's risky for us to do our jobs in this manner. But we have to do our job, because it's our duty," he said. However PHIs working in the Colombo Municipal Council (CMC) had enough PPE, a CMC Inspector, discharged from hospital on May 2 after contracting COVID-19, revealed.

While acknowledging they had received PPE from the government and private donors like the Sri Lanka Red Cross Society, PHI Union President V. Dassanayake, (Colombo Chapter) warned the protective gear wouldn't be adequate if a mass outbreak occurred. "Because the outbreak was in clusters, we can manage with the PPE that we have. In case of a major outbreaks like in Italy or South Korea, the protective gears won't be enough."

No meals, no rest

"Some days, we manage the day only with a cup of tea or two. Due to the heavy workload, we miss our meals. Since shops were closed for curfew, we could not rely on them for food", said Anuruddha Koshila, a PHI from Thalawa. Meanwhile, Dassanayake said in certain areas, the PHI teams that was dispatched for duties had an hour's rest, but this was not possible in all areas due to the heavy workload.

PHI Manjula remarked vendors did not take suitable sanitary precautions. "We repeatedly advice them to wear masks, gloves and use hand sanitizer before and after every transaction. But they don't adhere to it. When they see us, they pretend doing it, but that's of no use." He said sometimes food items and groceries were transported in unsuitable and unhygienic vehicles. "Vehicles carrying groceries and food, even with a curfew pass, must adhere to public health regulations. I've seen vendors transporting groceries in trucks which are used to carry granite and sand." Manjula added in the evenings, people would gather along lonely byroads to play cards and other games, despite repeated warnings not to do so.

Public support crucial

Dassanayake complained that PHIs lacked support from the public. "Public support is crucial at this time. If people followed the law and instructions, it would be easier for us to control the COVID-19 outbreak," he said. He added people sometimes gave false information to avenge personal disputes, and this had inconvenienced PHIs, the police and security forces. "People visit our offices with various issues that do not come under our purview. Our officers are unable to carry out their duties properly due to such issues."

Transport and transfer issues

Dassanayake said in some areas, the vehicles provided to PHIs weren't adequate for their work. He pointed out Inspectors recruited after 2012 have not received their motorbikes as yet, and were faced with acute transport issues. "Since official vehicles can be only taken from the office, PHIs are inconvenienced without motorbikes. This hinders their duty." He added that PHIs who had got motorbikes in 2004, faced issues regarding repairs as most garages were closed.

"Annual transfers is another issue that we face," said Dassanayake. He said the current pandemic had halted movement between districts, and this had prevented some PHIs from reporting to work after they had been transferred from one area to another. "This has also inconvenienced the public,"he said.

Dearth of training and education

In Sri Lanka, PHIs are recruited after completing a one-and-half-year Diploma in Public Health studies. However, there is a dearth of opportunities for PHIs to further their training and education, which impedes their career progress.

PHIs are frontline workers in the fight against COVID-19, along with fellow medical professionals, the police, security forces and other essential workers.Yet, they lack support from authorities and the public. Their problems have gone unheard and unnoticed for so long. More delays in solving their problems would mean more serious public health concerns for us all.