---
A tribute to a very dearly loved and a most precious Mother whom I will never ever forget
Mrs. Monica Marion Phyllis de Alwis was 96-years-old when she was called to rest with the Lord on 6th April 2017.
She was born in Kurunegala on the 01st April 1921 to illustrious parents from a well respected conservative catholic background.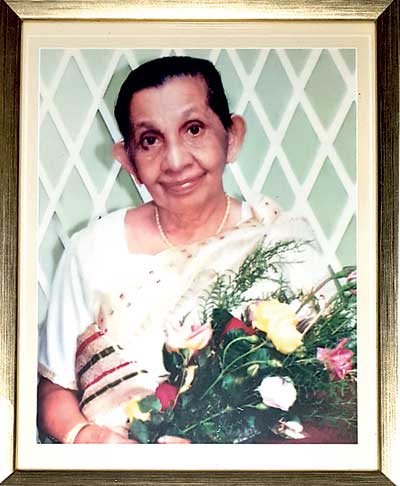 She was a daughter of late Chevaliar C.L.W.Perera, a papal knight, J.P.U.M. and Proctor S.C., the doyen of the criminal bar in Kurunegala for decades and of late Esther Perera of " Esterlyn" Kurunegala.
She was the third daughter in a family of 12 children comprising eight daughters and four sons. She along with her other sisters studied at Holy Family Convent, Kurunegala when the school was managed by European Nuns. This gave her a sound education and a good command of the English Language.
In 1944 at the age of 23 years she married Lucian de Alwis from the "Alwis Wallawwa" of Karagampitiya, Dehiwala who was a lawyer and a member of the then Judiciary.
After her marriage she came to reside at her husband's home in Dehiwala. At the time of her death, this year, she was a resident of Dehiwala for 73 long years. She was affectionately called the "Grand Old lady" of Dehiwala by the long time residents of the area who loved and respected her.
She brought forth eleven children comprising six daughters and five sons. Along with Thaththa, Amma brought up the children with love, care, kindness and understanding..
Two of her sons were doctors, the eldest of whom looked after Amma's health to the very end of her life. The other sons are professionals presently domiciled in Australia.
She hardly had any servants to look after the eleven children or assist in the household work. But with courage, determination and with her prayers and God's providence she turned herself into a courageous Lady. She met all challenges and went on to look after and provide a comfortable home to Thatha and all her children.
Amma was extremely generous like her late father and supported the poor who came to her for help. She contributed lavishly to the orphanages, elder's homes, seminaries and the needy parishes.
Amma along with Thatha believed that the family that prays together, stays together. Every evening Amma along with Thatha led the family rosary with all the children.
Amma and Thatha shared 55 years of happy married life until Thatha passed away in 1999 at the age of 88. By this time all their children were happily married and were parents themselves.
Amma was a simple and a devoted religious lady throughout her life. She was a perfect example of motherhood. She had the divine grace to be a perfect wife and a mother and we were blessed to have had a mother like Amma.
After the death of Thaththa, Amma moved to her daughter's and son-in law's home close by, which she made her home for the rest of her life. Here Amma lived happily for the last 17 years where she was looked after with love and care by them till she was called to rest with the Lord.
She spent these 17 years on earth, in silent prayer, awaiting the call from her creator for a happy and a peaceful death which the Lord granted her on 6th April 2017, quite suddenly and unexpectedly.
The hours and days Amma spent in prayer were sufficient not only for her salvation, but for the salvation of all her children, who stood by her, loved and cared for her when she most needed their love and care. That's how she spent her last days on earth.
Even in the evening of her life, Amma's greatest happiness was to see all her children and their families gather together in her house on occasions like her birthday, Christmas, Easter and other family occasions. Her 96th birthday on 01st April this year was one such occasion which was attended by many children and their families who all joined in singing 'Happy Birthday dearest Amma' little knowing that it was Amma's last birthday on earth. Five days later she was called to rest with the Lord.
She left behind eleven children, their spouses, twenty five grand children and fourteen great grand children. The large crowds from all walks of life who paid their last respects to her mortal remains at her residence and attended her burial at the family grave placed where Thaththa rests, bear ample testimony for the love and respect they all had for our beloved Amma. As we stand beside your grave, we think of you dearest Amma with tearful eyes and silent prayers.
A requiem Mass will be offered for the repose of her soul at St. Mary's Church, Dehiwala, at 10.00 a.m. on July 8, 2017 (Poya Day). Your presence and prayers are kindly solicited .
Within your grave we see your ever smiling face, the look of love and kindness which you showed us as a loving Mother till you closed your eyes. From deep within your grave, we hear your voice, the voice we loved to hear so much telling us "dear children, I am safely home resting in the arms of the Lord whom I loved, trusted and served all my life".
Rest in God's eternal care, till we meet again on our heavenly home where we will never again have to say "Good Bye" to you Amma.
Continue to guide us Amma with your love and care from heaven above as you did during your life on earth.
MAY GOD, THE ALMIGHTY FATHER GRANT YOU ETERNAL REST
Christopher Rajapakse