---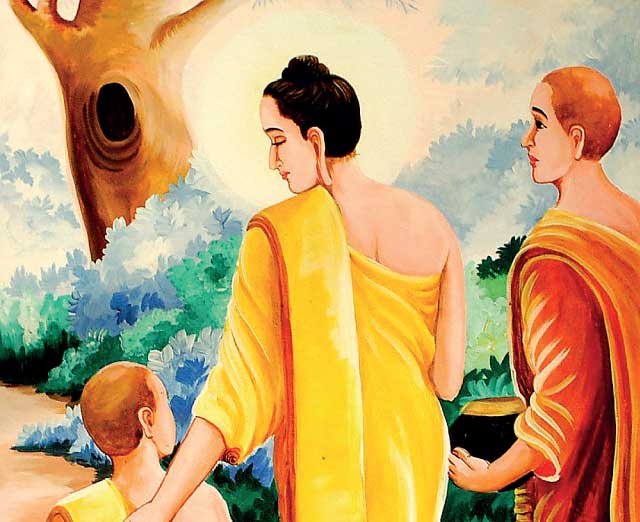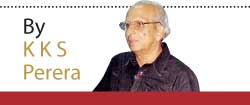 Neutralised the pride of relatives; responded to anxieties of Yasodharavo and prince Nanda - The Buddha spoke with caring to Yasodharavo, telling of her boundless virtues inherited from previous lives. She had indeed offered a great backing to him. Her pureness, devotion and gentleness had been precious to the Bodhisattva when he pursued enlightenment, the highest objective of mankind, according to Buddhist teachings. And so virtuous had she been that she favoured to become the wife of a Bodhisattva.
"The realities of mind are more important than realities of body" – William James - American Psychologist.
Psycho and neuro-pathological complications are now receiving admirable attention during scientific training, exactly what the Buddha taught 26 centuries ago. Modern medicine confesses that there is an ultimate inter-dependence of mind and body at all phases of physical ailments. Buddhist teachings however, go a step further; they add more importance to mental faculties, and state that the mind is the fore-runner of all sensations and occurrences.
King Suddhodana, was particularly concerned about meeting his son. Nine messengers carried his request to Gautama Buddha asking him to visit Kimbulwattpura. All of them became followers and stayed back at Rajagaha Nuwara. Finally, the king turned to Kaaludai, the childhood friend of Sidhuhath. Gautama Buddha left Rajagaha in a two month-voyage delivering Dhamma to inhabitants on the way, before reaching Kapilawastupura onMedin Poya day.
Gautama Buddha, putting a bit of psychology into use, focused on the immature mind of Nanda. Gautama Buddha said that he could get him any of those nymphs as his bride, on the condition that he would not leave the monastery
Gautama Buddha had to exhibit delusionary effects to neutralize the pride of his relatives using his psychic powers, Yamamaha. The following morning the Gautama Buddha's entourage were begging for alms. At that time he had to brief about his ancestry to a shocked father who responded with objections. The king and other family seniors in the kingdom received Gautama Buddha with great reverence except Yasodharavo, the mother of Rahula. She chose to remain confined to her chambers. The most passionately focused event was the meeting between Gautama Buddha and Yasodharavo that took place at Suddodhana's palace. The king sent a message to Yasodharavo who replied in the negative. Instead, she expected Gautama Buddha to visit her chamber.
A lesson in Psychotherapy
"Surely, if I am worthy of any affection or care, Sidhuhat will come and see me" – Bimbadevi
Having learned that she had turned down the request, Gautama Buddha, accompanied by his two chief disciples Sariputta and Moggallana walked into her compartment signifying his unassertive character and well-mannered regard for his former partner in samsara.
"Bimbadevi not having seen me for a long time is extremely distressed and unless you allow its natural course her heart will slash. In the event she touches me let's not prevent her," Gautama Buddha had told his disciples. She was relaxing in her room dressed in uncaring fabrics and with her hair cut. As Gautama Buddha passed the entrance of the door she was unable to hold her admiration. For a moment she failed to recall that her precious man was now a noble person. She seized his feet and wept frantically. However, seeing that the king was present, she rose. By allowing Bimbavo to spend-off her grievance in that harmless way, the enlightened one taught the world a lesson in Psychotherapy.
'Sabbe Satta Ummattaka'-Gautama Buddha said it is hard to find a being in perfect bodily health, but it is indeed far more challenging to find a person who is completely mentally well'- Roga Sutta [AnnguttaraNikaya].
Leading men in the field of psychology like Sigmund Freud, Carl Jung, Otto Rank and Adler used hypnosis as the basis for examining the cause, but gave up developing the concept of 'Free Association', another skill that Gautama Buddha practised as well. Gautama Buddha attached lot of importance to the development of cooperation and attachment between therapist and patient; quite a few modern psychologists have professed this line of treatment.
The two-way or dialog form sermonizing used by Gautama Buddha has a close parallel to today's psychiatric approach to mental patients. Buddhist psychotherapy cures mental sicknesses and enables understanding of the working of their conscious and unconscious minds. One can use it to build up his or her own mental well-being in today's stressful society. The aspects that cause mental illnesses are recognized as kleshes or mental destruction. The fundamental vision behind this method is found in Sabbasava Sutta, Satipattana Sutta, and Vattupama Sutta-[MajjimaNik.,]
Buddhist psychotherapy cures mental sicknesses and enables understanding of the working of their conscious and unconscious minds
Janapada Kalyani and the charred monkey
Buddha visited his step-brother Prince Nanda the next day at his palace. The prince was planning to get married to the most gracious woman of the time, Janapada Kalyani, the loveliest girl in the kingdom, the next day. As he was taking his leave of them, Gautama Buddha presented his bowl to Nanda. Janapada Kalyani saw the prince walking away and requested his quick return. Kalyani was highly thrilled with the prospect of her marriage. Prince Nanda expected Gautama Buddha to take back the bowl near the entrance to monastery, but the Enlightened One did not do s. Gautama Buddha had later taken him to the monastery and made the prince give up the household life.
At the monastery the prince was inspired by the arguments of the Buddha and accepted the path to renunciation. However his willpower was weak and feeble. His mind went back to the gorgeous bride to whom he had strong sensual longings, which gradually affected his health. However, Ven Nanda Thera spoke to colleagues and said, "I am discontented with leading the sacred life, friends. I am unable to bear the holy life,". This message was communicated to Gautama Buddha. Ven Nanda Thera admitted the fact, saying, "The warm and loving words and her beloved's tears enthused me deeply and continues to do so." Gautama Buddha, who with his heavenly eye, saw that Ven. Nanda, with a more strengthened mind, could grasp the Dhamma and enjoy the supreme satisfaction of insight. He thought of a little psycho-analytic therapy to retain him without disturbing his present frame of mind. The Enlightened One asked him to accompany him to the Himalayan range. Gautama Buddha took him by the hand, left Jeta Wanaya (A wood) and appeared among idols of Thawatimsa. Hundreds of pink-footed nymphs had come to minister to Sakkra,… the chronicle says.
A comparison
"What do you think, Nanda? Who is more beautiful or fairer to look at, and more appealing? Gautama Buddha then made Ven. Nanda witness a scene of a charred body of a female monkey in a Chena. Is it Kalyanie or the gorgeous celestial nymphs? Nanda had responded by saying that in comparison these nymphs his girl was like the charred body of the female monkey. Gautama Buddha, putting a bit of psychology into use, focused on the immature mind of Nanda. Gautama Buddha said that he could get him any of those nymphs as his bride, on the condition that he would not leave the monastery. "Revered Sir if you give me a guarantee I shall be content with monastic life," came the quick reply. Gautama Buddha was a physician and a surgeon of the psyche. He believed in treating the cause, not the symptoms [Nidhana], exactly what they practise in modern psychotherapy. According to Dhamma, all human chaos is basically mind related and stems from three harmful motivating factors namely, attraction Lobha, repulsion Dhosa and delusion Moha. The story of the prince had been unjustly distorted in many a script. Nanda in his excitement had come to an agreement. When he reached the monastery other monks questioned his initiation as a monk. They laughed at him and called him 'menial' and 'hireling', and he felt humiliated, embarrassed. He eventually saw his motive as the base—psychotherapy worked. Renouncing desire he gathered up his nerve. He then realised the coarseness of all compounded things. Nanda became an Arhant. It was an occasion when Gautama Buddha used his skills in psycho-therapy.
Our legendary writer, author, and intellectual Martin Wickremasinghe once said, "Psycho-analysis was not initiated by Sigmund Freud, but by a Jataka story teller"