---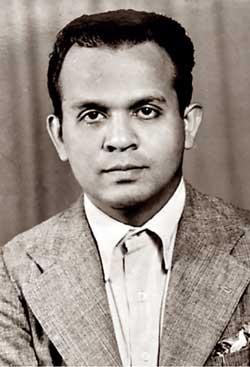 M.M.C. Wickramanayake, a legend who worked tirelessly to put Sri Lanka on the world industry map, passed away peacefully in Kandy in 2001. He died at the age of 89. July 6 marked his 108th birthday and his 19th death anniversary.

The father figure of Sri Lanka's industry and commerce Wickramanayake was among the first to recognise the potential of the garment industry, its ability to contribute to Sri Lanka's economic growth and generate direct and indirect employment.

He was a pioneer in the knitwear industry establishing Sterling Jersey Company in 1953 under the brand name 'Kosala'.

Born in Unanwitiya, he started his career in Kandy as a manager at his uncle's tobacco leaf business. His life exemplified an inspirational success story of a self-made man. As Chairman of Kosala Agencies Ltd. Wickramanayake pioneered importing re -conditioned cars to Sri Lanka in 1976. In 1978, his company became the first private permit holder to operate a private omnibus service. They operated a Kandy-Colombo luxury bus. Under his stewardship and visionary leadership the Kosala enterprise diversified into varied sectors.

He was founder director of City Stores Ltd., Silverdale Hotel Ltd., Sinhaputra Finance Ltd., Kandy Trading Company Ltd., Service Kandy Ltd., Island Tours Ltd., and Beehive Food Canning Ltd.

He was also the founder director and managing director of Kandy Ayurveda Pharmacy Ltd. from 1943 to 1987. He was the founder member of the Sri Lanka Chamber of Small Industry and its Vice President from 1963 to 1965 as well as Vice President of the Kandy Merchant Chamber from 1963 to 1973.

Wickramanayake's achievements and success never eroded his simplicity and old fashioned charm. His death left a void which the country will find difficult to fill.

May he attain Nibbana!

(S. Wickramasinghe)