---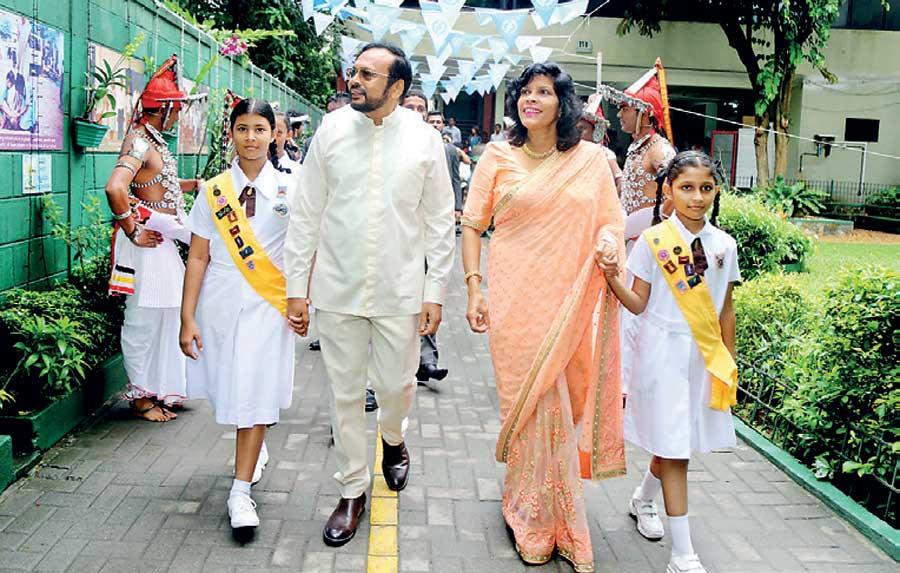 Dr. Mohan Lal Grero & Dr. Kumari Grero pictured with students
The role of education in bringing about harmony, tolerance and peace to our Nation cannot be overestimated in the current socio-political climate. The tragic events that devastated our country recently reiterate the urgent need for Sri Lankans to unite as one nation and one nationality.
Amid the chaos, Lyceum, students, staff, and parents alike, stand together as they have always done, to celebrate their similarities and their differences with equal delight on the 26th anniversary of the founding of the school.
Lyceum was established in 1993, by Dr Mohan Lal Grero and its Coordinating Principal, Dr Kumari Grero, as a not for profit organization, with the aim of giving accessibility to a good quality English medium education at the lowest possible cost to the largest possible number of Sri Lankan children. To date, the combined number of enrolled and graduated students stands at over 40,000.
Lyceum takes great pride in the knowledge that, all of these children grew up in an environment that actively propagated the teachings of peace, acceptance and non-violence handed down to us through the Tripitaka, the Bhagavad Gita, the Koran, the Bible, as well as
other philosophers such as Aristotle and Gandhi.
"Rejects division and segregation and rejoices in the richness and diversity of our collective culture and heritage"

It is a school which rejects division and segregation and rejoices in the richness and diversity of our collective culture and heritage. It is a school where children intermingle with one another, oblivious to the social constructs that divide the short-sighted and the greedy. The closer you look at these children, the more and more blurred and insubstantial, their 'differences' become. They are a beacon of hope for all of us.
Furthermore, Lyceum's message of hope is not limited to Colombo and its elite. In eight Lyceum International Schools, spread all over the Island, children of all races, religions, gender and social backgrounds are being moulded to be true Sri Lankans who are a credit to their motherland.
Lyceum is thus a learning hub that takes great pains to nurture tolerant, open-minded, far-sighted citizens with a genuine sense of national pride and an open outlook upon the world, to take the country towards a better future.
Lyceum illustrates, by example, how the Education system of the entire nation could be and should be revolutionised to bring about a meaningful change to achieve the national educational goals.
Striving for excellence in academic and co-curricular activities seems to have become the sole objectives of most schools today. Lyceum would like to declare to the Nation, that that is not enough. Human values must be actively nurtured through teaching and by example. They are not mere by-products and that we, as a Nation should pay due attention in order to fill this void that has become all too visible in current society. May Lyceum prosper ever more and stay true to its goals in the years to come!
-Udeshika de Silva