---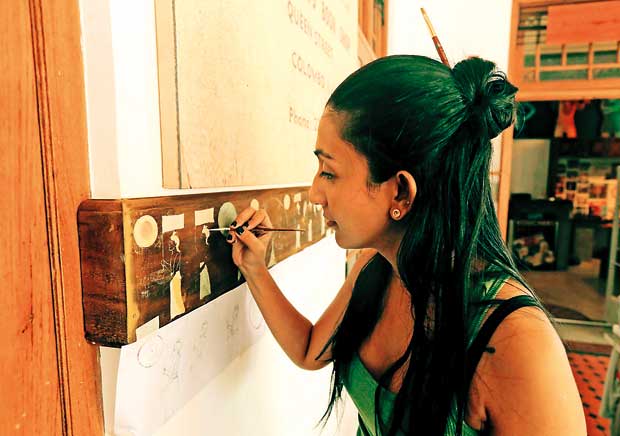 Former World Chess Champion Anatoly Karpov once wrote a book titled Chess is my life. Viktor Korchnoi who challenged him twice and lost (In Baguio City] 1978 and in Meran, 1981) also wrote a biography with the same title. Most top chess players if asked what their life is all about may very well say "Chess".
That is the way with professionals. Their lives are made of what they do. It consumes them, it gives life-breath, it empowers, generates meaning and reason to live. One can ask about childhood, adolescence, youth, middle-age and old age. One can ask about family, neighbourhood and country. One can ask other things.
All things considered, one would probably conclude that such things are incidental. Good for the historian and perhaps a sociologist or anthropologist who wants to read the particular times and landscapes through the individual, but for the person concerned, if he/she is willing to talk, it is just about the work.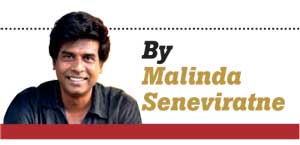 When I saw Kitty Ritig at work I didn't know if art was her life. All I knew was that she had meticulously conjured a Perahera in the heart of one of Colombo's older residential areas, Thimbirigasyaya; to be precise at a quaint restaurant on Skelton Road called Sooriya Village that is officially dedicated to art and artists of all kinds.
I saw her diligently working on a panel skirting the central part of the restaurant, interrupted by only the ornate doors of wood and glass. The panel, around five feet above the floor and maybe eight inches wide, was not there a year ago. The panel, made of wood recycled from a garage, which was turned into a studio, had been put up with the idea of depicting icons in the music industry and their greatest hits.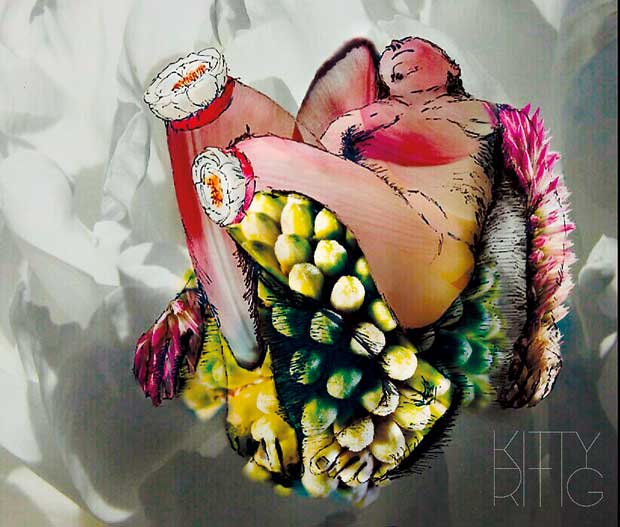 Sanchitha Wickramasooriya, the proprietor, had later decided that they should go for something more creative, something that draws from tradition but is more contemporary following the general theme of connecting past to future. And so they found a connector. Kitty Ritig.
Kitty Ritig is not high on life history. She is high on art. So let us pass on history irrelevant to art. This, then, is her Art Story.
It begins with her grandmother who was and is headstrong and independent. She was a watercolour artist in 1950s. Kitty speaks glowingly of her.
"My grandmother was an amazing teacher. She used recycling and up-cycling to spark creativity in me. She taught me to paint, collage and sculpt. She had a massive collection of fairytales, folk tales and mythical legends. She painted a vibrant and fantastic world in my head from these stories. I think as a result of all this I saw a different world even in ordinary life." Later there had been other influences. Osho, for example. She had begun reading Osho while still in school. The lifestyle and paintings of the hermit painter Rajhu was another big influence at this stage of her life.
"Then there was a time of uncertainty whether to select painting as a career or to settle for something far more secure by way of assured income. Yet the fantastic world that my grandmother had laid foundation within me would not let me settle, but always led me to art adventures."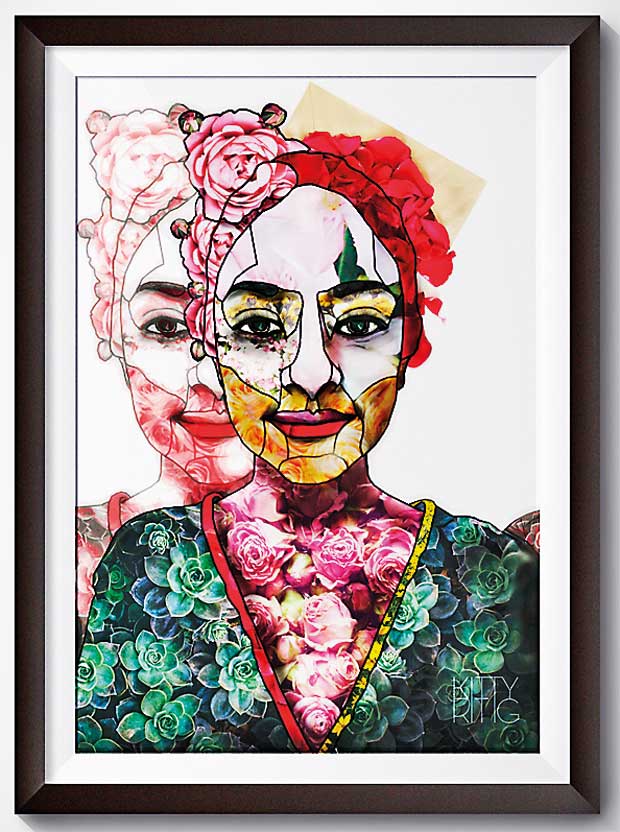 In this artistic journey, one of the turning points was the period she worked as a gallery assistant at Saatchi Gallery, Chelsea, London. Exposure to contemporary art and artists from all around the world had rejuvenated the artist within her. "Even though I practised as an artist all my life, my art education was informal until this time. So when I came to Sri Lanka I pursued other career paths. However, at some point I came to identify that my ikigai or 'reason for being' was art. And so I decided to withdraw from the world and inhabit my ikigai. My husband and my religious beliefs were my biggest influences during this period."
Her first formal art education was at the Vibhavi Academy of Fine Arts where she studied drawing and painting and started reading art history. At the same time she completed her degree at Sri Jayawardanapura University, reading English, English Literature and Methodology as writing had also been one of her earlier passions.
"I did not settle for a certain medium but experimented with many traditional media such as charcoal, oils, watercolours, collage, acrylic and ink as well as with digital applications such as Photoshop and Illustrator."
Thereafter she came out, so to speak. She came back to the 'world' in the form of art. It began with Open Brain, a biweekly event organised by Stagelessarts.com. This, she says, was her first informal exhibition. Since then she has been working as a freelance artist on various collaborative projects and commissioned works. Later she joined AMDT (Academy of Multimedia Design and Technology) Colombo as a lecturer in drawing and illustration and presently, she is studying Art History for her Masters Degree in Fine Arts at University of Kelaniya.
"Kitty Ritig hasn't exhibited her work. Yet. She has her masks and her camouflages, but her work is out there for anyone to see, admire, critique and be inspired by. She is on instagram as @kittyritig and her Facebook page as Kitty Ritig."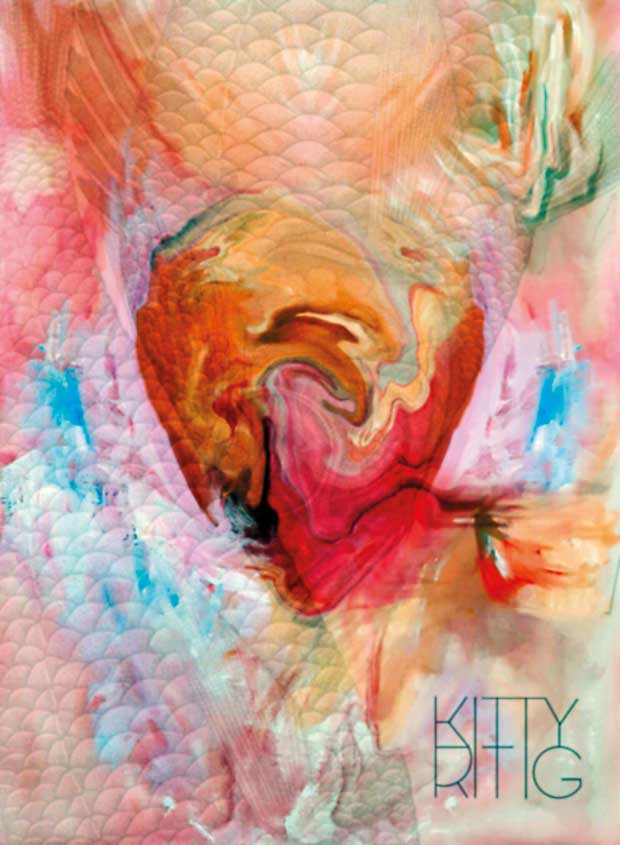 Kitty spoke about her work at Sooriya Village.
"It was Sanchitha's idea. He wanted Sri Lankan traditional art styles to be the main inspiration. I did my research before planning the painting. The transition from Central Kandyan School to the Southern School fascinated me. Today commercial artworks are critiqued through the lenses of European Academic Art Styles. But in the past we had these art schools which celebrated freedom and beauty while borrowing, merging and rising against stagnation."
"As an artist in Sri Lanka I find it is interesting to hybrid long- 'taken for granted' Sri Lankan concepts/legends/ideas with nowadays popular art genres/mediums. This is a long road. I have only just started walking and I hope to keep walking in the years to come."
Kitty Ritig hasn't exhibited her work. Yet. She has her masks and her camouflages, but her work is out there for anyone to see, admire, critique and be inspired by. She is on Instagram as @kittyritig and her Facebook page as Kitty Ritig.
She is currently based in Colombo where she lives with her husband. She believes in God and continues the sustainable lifestyle introduced by her grandmother.
"I am blessed to have good friends and not one but two families who embrace my artistic weirdness; my own family and my husband's."
She has created an identity that makes it hard for anyone to categorize or put her in a box. Kitty, after all, is pretty non-descriptive and Ritig could place her all over the world map, everywhere and nowhere in particular.
No matter. Paintings speak for themselves and that's what counts, she would probably say. The discipline that is necessary is apparent in the work itself.
Even someone who is not really a student of this art form would immediately note the skill of the artist and her ability to express herself. The blend is not just of colours and/or medium, but of metaphor.
It tells many stories, and there's something you can take with you after a gaze-brush on the canvas. If this is just a beginning, relatively speaking, one can hope for more delight, more insight and a richer gaze-experience in the coming years.