---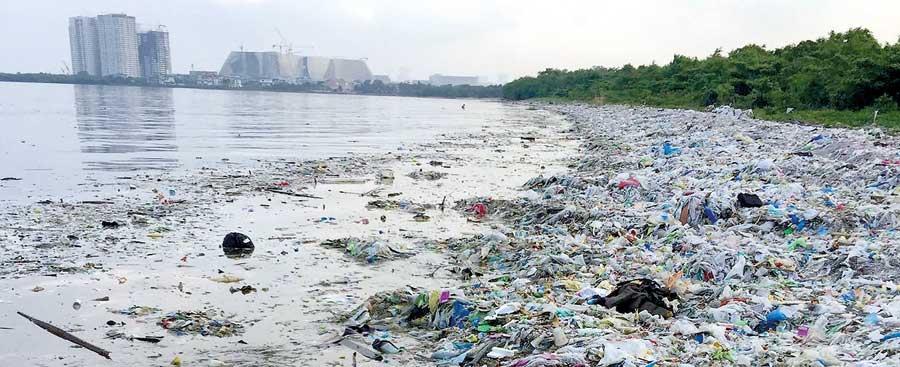 Pics by Waruna Wanniarachchi
Oceanic and river ecosystems, like land ecosystems, comprise many living species, plants and corals. But rivers and oceans are heavily polluted by millions of tons of plastic. Global plastic production is estimated at over 300 million tons a year. Of this, marine plastic pollution is estimated to be 9.5 million tons, according to the South Asia Co-operative Environment Programme (SACEP). Of this, 1.5 million tons ends up in the ocean annually.
Plastic free rivers and seas
Recognising the important role South Asia has in tackling issues of plastic waste management, SACEP held its first National Consultation Workshop on its regional project 'Plastic-free Rivers and Seas for South Asia' in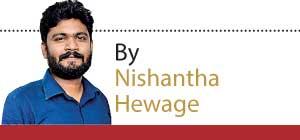 Colombo recently. SACEP is an inter-governmental organisation established by Afghanistan, Bangladesh, Bhutan, India, Maldives, Nepal, Pakistan and Sri Lanka in 1982, to promote and support protection, management and enhancement of the region's environment.
The workshop was jointly organised with the Ministry of Environment and Wildlife with World Bank (WB) funding. In 2019 SACEP endorsed its collaboration with the WB and development partners to build a regional project on plastic-free rivers and seas for South Asia. SACEP plans to implement the project in the eight-country bloc, including Sri Lanka.
The project aims to reduce plastic pollution in South Asian seas. SACEP's first National Stakeholder Consultation aimed to disclose many documents which addressed possible environmental and social impacts in implementing the project. Further, the workshop stressed the importance of participant feedback in identifying and mapping project stakeholders.
Four components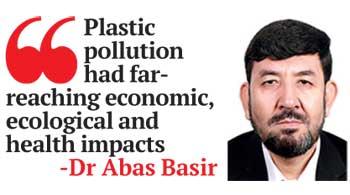 SACEP Director General Dr Abas Basir said they had adopted many activities in different aspects of environmental protection. He identified six priority areas: climate change, biodiversity, sustainable consumption of productions, air quality, marine environment and water quality and environmental governance. He added 'waste management' was a major area for SACEP which has identified solid waste as a major challenge due to rapid regional economic growth.
Dr Basir said plastic pollution had far-reaching economic, ecological and health impacts. He revealed the annual global damage of plastics to marine ecosystems was 13 billion US dollars per year. "Marine plastic waste has been acknowledged as one of the main global environmental challenges in recent years, and the movement to combat marine plastic litter has accelerated in 2019," he said.
Dr Basir mentioned four components. The first was Regional Competitive Block Grants to Reduce Plastic Waste. He said this component sought to communicate with civil society and other groups willing to formulate and implement innovative ideas to address plastic management issues. He noted SACEP would support such solution-based projects for plastic waste management.
The second component—Leveraging Private Sector Engagement and Solutions—would involve private sector engagement. Dr Basir noted it was difficult to properly address plastic waste management without private sector engagement. Therefore, SACEP was building contacts with the private sector to bring solutions to plastic waste management.
"It is very important to know how we can engage communities and the public in addressing plastic waste management," he said, referring to the third component—Promoting Educational Partnerships, Awareness, and Behavioural Change. Dr Basir noted it was necessary to change public lifestyle through public governance.
Explaining the fourth component–Strengthening Regional Integration and Project Management—he said strengthening SACEP's members was crucial. "This is a unique opportunity for SACEP's member countries to address persisting issues."
Plastic menace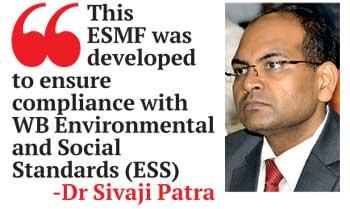 Representing the Sri Lankan Government, Mr Gamini Wijesinghe, Additional Secretary (Environment Projects and Education Planning) to the Environment and Wildlife Resources Ministry said daily plastic usage had risen tremendously, risking the biodiversity of marine ecosystems. He added plastic usage, both locally and globally, had become a menace. He echoed that private sector engagement was crucial to mitigating and eradicating the menace. "This workshop is a great opportunity for stakeholders belonging to both the government and private sector to contribute their best," he said.
SACEP Senior Programme Officer Mr W.K. Rathnadeera said the first aim of the workshop was to make public and private sector personnel aware of the project. He said SACEP expected to gather feedback from stakeholders who could potentially get involved in the project. Rathnadeera referred to an article by Sarah Hannan which showed data by the United Nations Food and Agriculture Organisation (FAO) that global plastic production had reached 322 million tons in 2015. There was an additional 61 tons of synthetic fibres the same year, and this figure is expected to double by 2025.
Project implementation
Introducing the key findings and recommendations of the Environment and Social Assessment (ESA) of plastic-free rivers and seas in South Asia, Rathnadeera clarified the SACEP objectives as follows:
Provide procedures for screening project activities (both TAs and grants) for environmental and social risks.
Establish procedure to screen available and proposed 3R technologies to screen out and put in the negative list non-environment-friendly and unsustainable technologies.
Establish procedure to assess the environmental and social risks and impacts of different methods of collecting, and hauling/transporting plastics to their final destinations of reuse and recycling.
Carry out Gender Based Violence (GBV) risk assessment focused on activities that will involve civil work.
Assess the E&S staffing and capacity of SACEP;
Develop an Environmental and Social Management Framework (ESMF) that will be used to screen E&S risks of TAs and grants that will funded.
Consult with and engage key stakeholders as identified in the stakeholder mapping exercise that will input into the separate Stakeholder Engagement Plan (SEP) for the project.
The discussion and the presentation of the ESMF was done by SACEP Senior Programme Officer (Regional) Dr Sivaji Patra. Dr Patra explained the ESMF provided general policies, guidelines, codes of practice and procedures for the project. He added this ESMF was developed to ensure compliance with WB Environmental and Social Standards (ESS) and environmental health and safety guidelines and rules and regulations of South Asian governments.
The SEP was presented by Ms Priyankari, of SACEP. She clarified the importance of the SEP as a prerequisite for WB approval. She explained 'stakeholders' were persons or organisations with a vested interest in the project, or anyone who had the power to impact the project implementation, and those who were affected by the outcomes of a project or initiative. Priyankari stressed stakeholders were participants in a collaborative process that guides the creation and execution of a defined scope of work. The following are some main stakeholders who are active in implementing this project:
Ministries and allied agencies
Private sector
Civil society organisations/NGOs
Academia and research organisations
Waste picker organisations/groups
Media who have presence across the region
UN agencies
The workshop finally requested stakeholders present to fully contribute their support to implement the programme. SACEP expressed its willingness to incorporate stakeholder ideas to make changes in the project as necessary.