---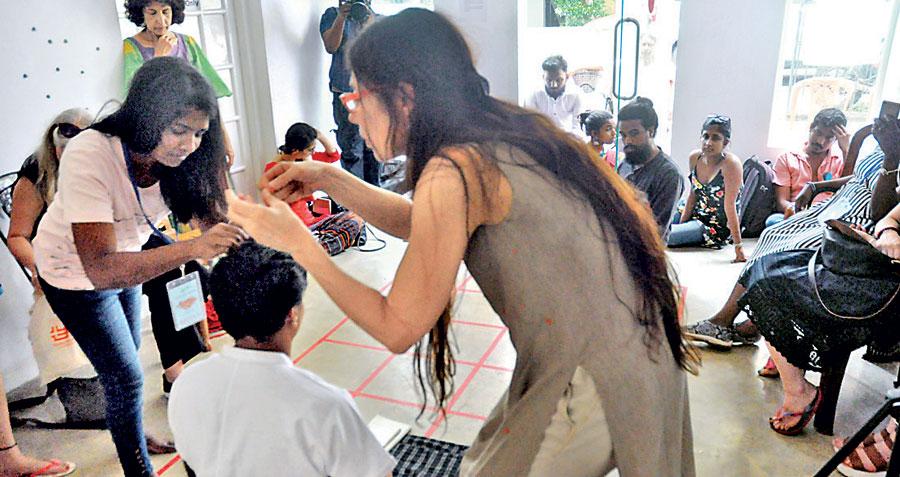 What a performance it was. From Saturday, March 17 to Monday, March 19, there were strange happenings at the Borella Junction and its environs.
There was a man with body paint (Canadian dancer Ian Mozdzen) contorting himself on the pavement, a silent young woman (Greek cross-disciplinary artist Fenia Kotsopoulou) grinding green leaves into a paste at a bus halt and another (artist and actor Omali Radhika) weaving herself into a cocoon with fine thread close by.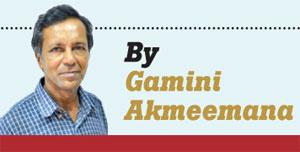 This was the third edition of the Theertha Performance Platform, with 39 artistes from twelve countries including Sri Lanka taking part. This is a new subject to Sri Lanka. It isn't taught as an art subject in our schools. The Theertha (Red Dot) Art Gallery based in Borella is the pioneer prime mover in performance art here and has done much to bring it into public consciousness and acceptance.

The international artists came from India, Bangladesh, Pakistan, Iran, Thailand, South Korea, Canada, Germany, Greece, India and Israel. Theertha Gallery, the epicentre of this artistic outpouring, was crowded, distended and full of contrasts during the three days – at times monastically quiet, at times slightly manic, or ready to implode or explode at other times.
Performance art may (or may not be) dramatic, but it certainly isn't drama and is bound to leave viewers baffled. People remember from the 2017 event the well-dressed man dragging a huge fish along the pavement and woman in what looked like a mediaeval suit of armour, covered with barbed wire, walking painfully. Then there was the girl who squeezed herself into a large black bag and began writhing on the ground.
This time, much of the drama was inside the Theertha Gallery tucked away inside a dead end lane along D. S. Senanayake Mawatha. What happened along the streets looked like a gentle introduction to performance art – Omali Radhika weaving herself into a cocoon of white thread near the same bus halt where, the previous evening, Fenia Kostopoulou sat with a mysterious smile as a helper ground green leaves into a paste.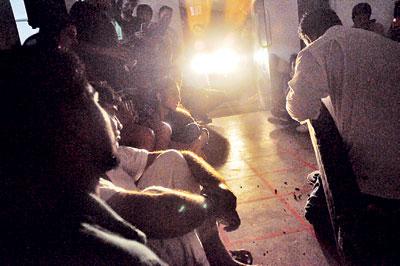 Performance art may be viewed as symbolic, where the artist and the objects he/she uses can be interpreted as symbols. Or it may be interpreted as metaphorical, even allegorical. The man dragging the big fish, for example, may be seen as an allegory, or a parable of modern life. But, no matter what the interpretation is, the impact upon the viewer, like much else in modern art, is multi-layered, drawing him or her indirectly (rather than directly, usually the case with realist art), into an unnerving, unsettling experience at odds with the realism the viewer experiences in daily life. The viewer is as much fragmented by the experience as the artist is.
This fragmentation which modern man and woman experiences daily is expressed in modern art.
Performance art is relatively new, originating in the US in the 1960s. It isn't uniquely a case of abstract expression.
"Sri Lankan society, usually regarded as very conservative and slow to change, is in a process of fragmentation and self-analysis"

While primarily emphasising expression with one's own body, sometimes with no movement at all, it includes poetry readings, dance, film and multimedia events as well.
This breadth of expressive scope (and the relative economy of means compared to painting and sculpture), has made it hugely popular all over the world.
Like other forms of modern art, and perhaps even more so, it is hardly limited to the West, as this aggregation of international performance artists at Borella during the
weekend demonstrated.
Bandu Manamperi, one of Sri Lanka's pioneers in this sphere, based his performance on a large piece of burnt wood, inside a darkened room lit by the glare of a motorcycle headlight. He ate pieces of charcoal-burnt wood and then offered pieces to the audience.
Nopawan Siriwejkul, one of the most active Thai performance artists, rolled a white cloth on to the ground, filled a wine glass and proceeded to drop marbles from her mouth into it until the glass cracked.

During her indoor performance, Sharker N. Toontoon From Bangladesh covered her body and face with tinfoil and then suspended herself from a fragile ceiling frame while cradling a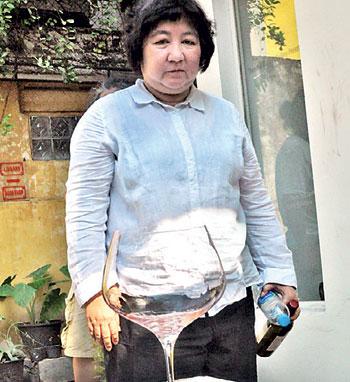 small foetus-like figure in her arms.
Janani Cooray painted herself in black and sat motionless against a wall for two hours, entwined in rope and in the pouring rain, too.
Jeetin Ranghir from Kerala, India, sat cross-legged and motionless inside a room while the audience was invited to remove strands of his hair.
Singer-songwriter Ajith Kumarasiri traced the origins of musical modes and scales to the Greeks during his performance with a broken guitar.
Passionate Indian poet Mamta Sagar, with three of her former students, recited sonorous Kannada poetry in a performance which invited viewers to participate by 'unravelling' handwritten verse pinned on the walls.
Kumari Kumarigamage used the traditional vocal melodies of incantation and ritualistic chanting to mock the use of established
religion to political gain.

Canadian dancer Ian Mozdzen engaged in a series of spasmodic writhing movements, upright and prone, in an outdoor performance akin to a series of silent screams.
G. R. Constantine's performance of lying down in between an encircling row of oil lamps had the intensity of an agonized ritual.
Among other performers were Beate Linne from Germany, who often uses her bare body as artistic material in outdoor performances, Azam Tababei from Iran who attempts psychological projections of her inner self due to her keen interest in psychology and philosophy, Ajay Sharma who is a multimedia visual artist from New Delhi, Diniz Sanchez, dancer, performer and actor from Portugal, Tamar Raban and Ernesto Levy from Israel, Fenia Kostopoulou, Greek cross-disciplinary artist currently working in the UK, Smita Cariappa from Bangalore who uses her body as a sculptural means of communication, Isuru Kumarasinghe, musician and experimental sound artiste, Imaad Majeed, poet and curator of Kacha Kacha, Jagath Manuwarna, theatre, TV and movie actor, Kirusan Sivagnanan, actor from Jaffna, Lalith Manage, poet and lecturer in visual arts, Priyanthi Anusha, multi-media artist, Susiman Rinoshan from Batticaloa whose artworks are deeply self-critical, and poet Krisantha Sri Bhaggiyadatta whose limerick entertained his audience hugely.
Sri Lankan society, usually regarded as very conservative and slow to change, is in a process of fragmentation and self-analysis.
In any society, artists are the first to grasp change and bring it about. Theertha's performance platform shows us, in a nutshell, the nature of these startling changes, not so obvious on the surface as images of daily life in the streets.