---
Rev. Fr. Harold Panditharatne was a teacher par excellence. He had obtained two doctorates, one from the Università Urbaniana on "Hegel's Concept of Indian Philosophy" and the other from the University of London on "The metaphysical problem of existence as involved in the dialectical and sense-datum analysis of sense-experience."
No wonder he was called 'ilfilosofo' – the philosopher – among his colleagues in Rome. He was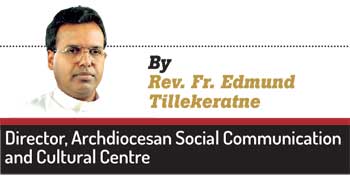 addicted to reading - not as only a hobby, but as an intellectual exercise. He once told that he goes on reading through the whole night and when the bell rings to wake up the seminarians, he realises he has not slept a single minute. One can imagine the love with which he would have read those books. Were those books mere love stories or fictions? One might wonder. They were highly intellectual books on Emmanuel Kant, or on Hegel, or on Symbolic Logic. He had the ability to grasp easily the highly-abstract concepts, and also to simplify them for us, his students.

A philosopher of our time
Why was it that Fr. Harold Panditharatne was called 'ilfilosofo' by his companions in Rome? He has not authoured any philosophical book, nor has he developed any unique system. Then, what makes him "the philosopher"?
Being a student of his and having taken up most of the subjects he taught to seminarians, I think I have some explanations. He was eager to read any philosophical material he came across and to scrutinise the text and arguments in it.
I had the privilege to go through some of the text books he owned. I noticed he had underlined several segments of the book with different colours. I marveled at the number of times he had read a particular book. In some books, he had made comments on almost every page, and they drew attention to some contradictory statements the author him or herself had made. In some places, he had shown the logical errors the author had fallen into. To our surprise, he would give the page number in which the author himself had fallen into contradiction.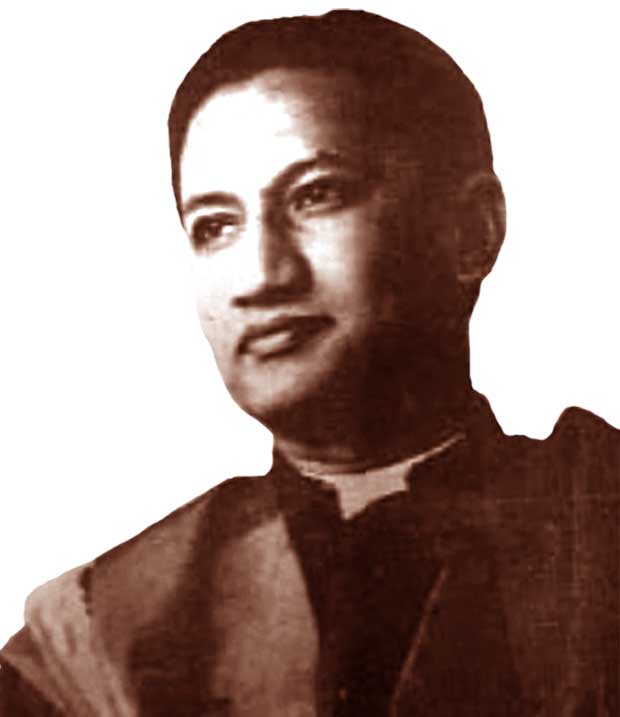 A philosopher is one who evaluates the arguments in any philosophical discourse and purifies the concepts involved in it, in the light of valid arguments. No philosopher from whatever school, be it Rationalism, Empiricism, Pragmatism or in the Analytic School can get away with making statements without proper logical basis. I remember that the famous book 'Problems of Philosophy,' authored by Bertrand Russell, had been read by him several times. Each time he had read that book, he had underlined some passages with a different pen and made some beautiful comments too.
Once he attended an international symposium on Hegel -- he was the only attendee from the East. Later, he gave the printed text to the students who opted to do the seminar on Hegel with him. I was one of them. To our surprise, at the end of the semester, he has gone through only one typed page, but in every paragraph he had read, he had brought the opinions of other philosophers and evaluated them in the light of Hegelian Philosophy. At the end of the semester he told us: "You write something on Hegel and bring it to me." We were reminded of the question put to Wittgenstein by his renowned professor when he wanted him to choose philosophy over Aircraft piloting. Fr. Panditharatne had the ability to explain abstract and difficult concepts in a simple language to his students.

Human person
Though he was someone who had obtained two doctorates on highly-abstract subjects and equipped himself with a vast knowledge in many fields, Fr. Panditharatne was a simple, very human and down to earth person.
When he was the Rector, it happened one day that those brothers made a lot of noise in the recreation hall, which of course was permitted by the time table. He thought it was the time for silence and reprimanded them thoroughly. When he was made aware that it was recreation time, he publicly apologised to the brothers saying: "Mea culpa, Mea culpa, Mea Maxima culpa" – which means my fault, my fault, my greatest fault.
Being a man of logical thinking, he used to get furious when anyone spoke illogically in a conversation. It was the Rector's day in the seminary. The brother who was in-charge of the notice board had put up a poster wishing him. The Brother had used the indefinite article in front of the word Rector. Father Panditharatne was furious about it, saying there were not many rectors in the seminary but only one.
Though Fr. Panditharatne had a clear mind in the field of Philosophy, he was absent-minded in practicality. Whenever he travelled, he either read or slept. One day, it happened that when he was returning to Kandy from Colombo, his car got stuck at Peradeniya because a huge tree had fallen across the road. When Fr. Panditharatne had inquired about the incident from the driver, he had explained the situation.
Very comfortably, he settled down to continue reading the book in the car. The tree was removed after an hour and the car reached the seminary at Ampitiya. When the driver opened the door and asked him to get down, he asked the driver: "Why? Has the tree been removed?" That was Fr. Panditharatne. I can go on narrating many similar stories about him which were enjoyed by us students and as lecturers in the seminary to show how human he was.

Last days
Towards the latter part of his life, Fr. Panditharatne lost his memory and was afraid to teach. He used to say he had not contributed much to society. Fr. Panditharatne expressed these sentiments in very strong terms. I think, he thought that he could have done more in his life. For us, he was the teacher par excellence, a Rector of high calibre, who had formed many Catholic priests in Sri Lanka. His training of clergy in philosophy was supreme.
Fr. Panditharatne, we remember you and your service to us and especially to the Catholic Church in Sri Lanka with much gratitude. To you we are 'sada nayagethi.' I am sure you are enjoying the bliss of the Heavenly Father which you taught us in a highly-philosophical language.