---
H. V. Perera QC Memorial Moot on International Commercial Arbitration – April 2018
The Victor's Moot, Sri Lanka's first ever international Moot Court competition will be organised by the Sri Lanka Law College, accommodating to fill a long-standing vacuum for international exposure to the enthusiastic law student community of Sri Lanka.
The International Moot Court competition will be based on the subject area of International Commercial Arbitration and is scheduled to be held on the 05th, 06th, 07th and 08th of April 2018. The competition is titled H. V. Perera QC Memorial Moot Court Competition more commonly referred to as the Victor's Moot.

This will be the first ever Moot Court competition hosted and organised by Sri Lanka on an international level.
Moot court is an extracurricular activity at many law schools in which participants take part in simulated court proceedings, usually involving drafting memorials or memoranda and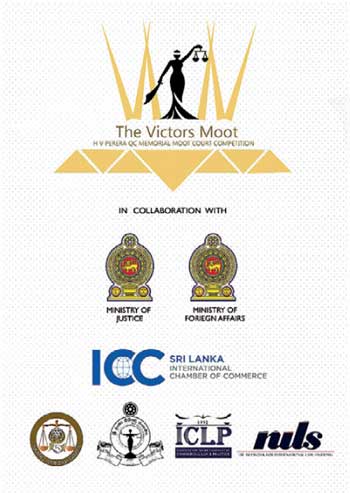 participating in oral argument.
So, as to make sure that a wholesome and fruitful learning experience will be delivered to the budding law enthusiasts, the Moot will be based on a very timely up and coming development of law in the island, which is - International Commercial Arbitration.
Arbitration, much more than Court Litigation, is a significant development in alternative dispute resolution (ADR) today and it will be critical for in-house counsel in commercial entities to be completely aware and be trained in arbitration skills. Thus, it is our vision to make this Moot Court competition a platform for law students to develop these skills which will eventually benefit the wholesome growth of this area of alternative dispute resolution in the island as well. As of now, The Victor's moot has entered into partnerships and is working closely with the following organizations: International Chamber of Commerce Sri Lanka, SAARC Arbitration Council, Bar Association of Sri Lanka, Ministry of Foreign Affairs Sri Lanka, Ministry of Justice, Sri Lanka, Institute for the Development of Commercial Law and Practice (ICLP), Network for International Law Students (NILS) in organizing this competition.
Furthermore, they are fully backed and are under the guidance of many iconic legal professionals here and abroad such as:
Mr. K. Kanag-Isvaran, PC, Faisz Musthapa, PC, Dr. Asanga Gunawansa (Chairman, Sri Lanka International Arbitration Center/ Arbitrator, Kuala Lumpur Regional Center for International Arbitration), Prof. Srilal Perera - (ICC Arbitrator, MIGA, ICSID), Prof. M. Sornarajah (National University of Singapore), Prof. Austin Pulle (Singapore Management University), Prof. Romesh Weeramantry (Clifford Chance LLP / ICSID World Bank), Prasantha Lal De Alwis, PC (SAARC Arbitrator), Avindra Rodrigo (F J & G De Saram), Thusantha Wijemanne (Emeritus DG of the SAARC Arbitration Council), Anthony Shanil Fernando (General Secretary, International Chamber of Commerce Sri Lanka).
These experts will be in the panel of judges too, in the moot rounds.
The overall vision of the Victor's Moot, is that it hopes to become a vital gateway to the law student community, to not only tone their skills of arbitration in practice but also of legal research, analysis, writing and oral advocacy. The simulation of a mock court atmosphere while arguing on a hypothetical matter of law, gives them the firsthand experience of functioning under pressure and with the intellectual flexibility required to be successful advocates in the future.
Sri Lanka Law College is the only gateway to enter the legal profession as an Attorney-at-Law in Sri Lanka and is functioning under the Incorporated Council of Legal Education (Under the Incorporated Council of Legal Education Ordinance No. 02 of 1900) to administer legal education to persons who desire to be enrolled in the BASL.
This esteemed institution is committed to fostering the knowledge as well as the skills of law students. Therefore this international mooting arena is organised with the aim of exposing the budding legal minds of the country to global factors and healthy competition, so that their hidden talents may be forged into creating the next generation of legal academics and professionals.