---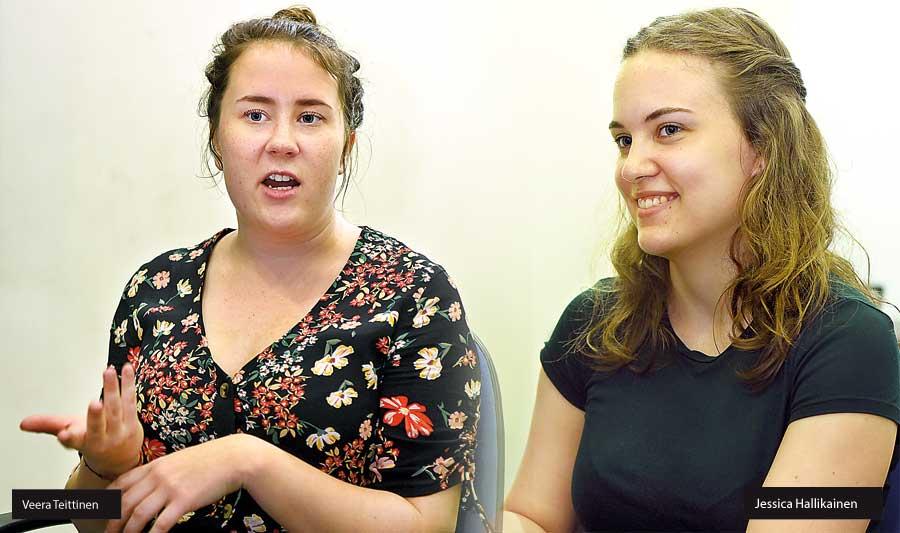 Jessica and Veera impressed by the community based health promotion system during their study in Sri Lanka
Jessica Hallikainen and Veera Teittinen, two Finnish students at the University of Gothenburg, Sweden arrived in Sri Lanka for their field placements just a few days after the tragic Easter Sunday attack. Apprehensive of what lay ahead, these young ladies were confident that they would navigate whatever obstacle they were likely to come across during their journey.

Jessica and Veera's coursework required a field placement in an international organisation. Their chosen organisation and destination was Plan International which is engaged in a number of healthcare initiatives together with the Health Promotion Bureau of Sri Lanka. Having studied human rights, child protection and social work at the University, the duo were eager to learn from Sri Lanka's exemplary healthcare platforms.
"On Easter Sunday, the attacks in Sri Lanka made headlines in Finnish newspapers" said Veera, when asked if she knew about the chaotic situation in Sri Lanka prior to her arrival. "We contacted our supervisor at the University and he reassured us that it would be okay for us to visit Sri Lanka, " recalled Jessica recalled adding "So we decided to stick to our plan."
Despite the concerned calls they received from their loved ones, Jessica and Veera were positive that they would continue with their field placement here. "We need to acknowledge the fact that these kind of things can happen anywhere in the world at present. Supervisors from our own university started to contact us saying that they were concerned about our safety. They asked us to think our plans through. But we believed that it was very unlikely that there would be further attacks in Sri Lanka. Because it's also important to show that you shouldn't be afraid of terrorists, since that's what they want," Veera opined.
"Jessica and Veera are to observe how health promotion activities are carried out in Sri Lanka"

Despite the Finnish foreign ministry advisory recommending its citizens to avoid unnecessary travel to Sri Lanka, Veera and Jessica were determined to continue with their travel plans. "We were going on a field placement, so we thought that it wouldn't be unnecessary," Jessica said with a smile.
The days which followed the terror attacks left a cloud of gloom over the island. Its citizens were shocked, traumatised and afraid. However upon their arrival on April 24, Jessica and Veera were pleasantly surprised by the caring and helpful nature of Sri Lankans.
"We have felt really safe during our stay here. Of course the recent incidents brought some difficulties in our field placements in general. We couldn't visit the field as much as we hoped to," Veera said, adding that their plans had to be changed owing to the security situation in the country.
"But we have been getting messages everyday, inquiring about our stay and well-being. People have been really helpful while we were travelling as well. We haven't had any problems," Jessica assured.
Close-knit communities
Veera observed that Sri Lankans seemed to be both shocked and afraid of what had happened, during the first few days of their stay. "Little by little, it's getting better. People seem to be really happy to see that we are here. A lot of people seem to be worried about the fact that tourists may have abandoned Sri Lanka. So I think it's really important for us to see that everything is still functioning as it should. When we return, it's important that we tell people, that regardless of what had happened, it's still safe to go to Sri Lanka."
During their field placement, Jessica and Veera are to observe how health promotion activities are carried out in Sri Lanka. "We attended some lectures at Rajarata University and our experience there has been great," they said.
Jessica and Veera were introduced to the close-knit communities of Sri Lanka and the health initiatives and campaigns designed for them. "In Finland, we have a very individualistic society. Since you have a more community based approach to health issues, it was really interesting to observe."
Asked about their unique experiences in Sri Lanka, Jessica explained that the power of community based health promotion was a key takeaway from their placement in Sri Lanka. "We don't have that same sense of community as you have here. We have been so impressed by how friendly the Sri Lankan people are. I have never been in such a friendly country in my travels. Everyone really cares about each other here, and I think that's very unique" Veera said.
"Despite the travel advisory Veera and Jessica were determined to continue with their travel plans"

During their visit to the Ministry of Health and the Family Health Bureau, Veera and Jessica were introduced to programmes designed to promote women's health in Sri Lanka. They also learned of the administrative aspect of Sri Lankan health services. Asked of the differences they observed between the health care services in their native country and Sri Lanka, Jessica said Finland doesn't offer as much health services in villages compared to Sri Lanka.
"Many issues have been addressed through the community here. For example alcoholism is a community issue here, whereas in Finland we would provide counselling for the individual." Veera said. The duo have travelled to Mihinthale, Anuradhapura, Trincomalee, Kandy, Sigiriya, Dambulla, and Ella and also plan to travel along the Southern coastal belt, during their stay. Temporarily housed at the Rajarata University hostels, Veera and Jessica have a few weeks left of their placement.
Jessica has been working as a kindergarten teacher as well in child protection services. Upon her return to Finland she wishes to work at a social work office for adults. The common issues she deals with involves homelessness and debt. "Almost any issue anyone comes across, we try to direct them to the right services."
Pix by Nisal Baduge