---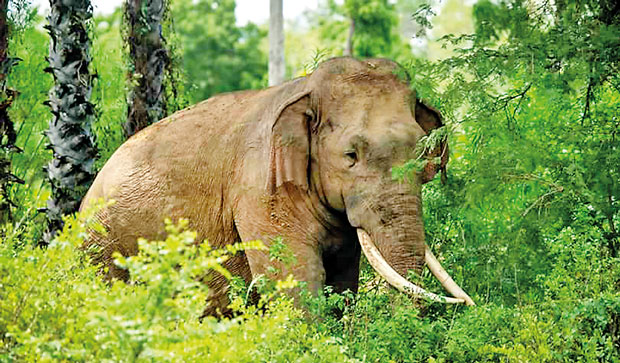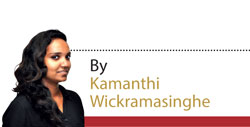 Elephants have begun to walk their path to extinction. Once a majestic being of the wild that every human feared could be shot dead in seconds today. With the recent killing of the Galgamuwa 'Dala Poottuwa' and another tusker in Karuwalagaswewa, the greed for prestige and a few million bucks has clearly surfaced.

According to legend, the first interaction of a man and an elephant in Sri Lanka dates back to the First Century BC which was recorded on an inscription in Navalar Kulam in Panama Pattu of the Eastern Province. The inscription mentions a religious benefaction by a prince who was designated by an AthAcharya or a Master of the Elephant Establishment. But with the introduction of peraheras (Pageants) during the Kandyan era, elephants became a symbol of prestige and fell prey to the elite.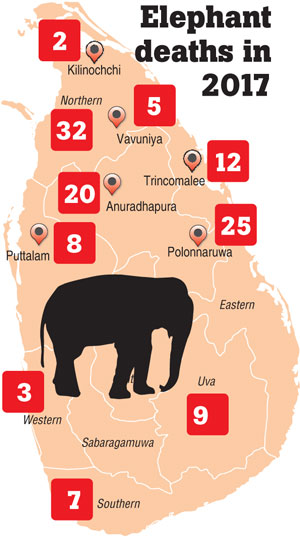 The human-elephant dealings lie on two extremes; the animals have been used during times of war by royal families or poached for their ivory. At present more elephants are killed than they are born and short term interventions implemented thus far will definitely not save an animal like the elephant who enjoys a lengthy lifespan. According to the Department of Wildlife Conservation (DWC), the number of tuskers in the wild remain as low as 55. This number will further drop if proper conservation methods aren't implemented.

Keeping this in mind, the Daily Mirror sheds light on the recent attack on the majestic 'Dala Poottuwa', state interventions and suggested conservation methods for elephants in Sri Lanka.

Galgamuwa 'Dala Poottuwa'
Also known as the 'Heritage of Wayamba', the Galgamuwa tusker was a well-built elephant of over 12 feet in height and is said to have been over 50 years old. The tusker was blinded in one eye following a shooting incident that had taken place several years ago. This was just six months before its tragic killing. Before the killing, DWC officials were treating this majestic being in Siyambalangamuwa. He had the habit of frequenting Kala Wewa and the Siyambalangamuwa forest reserves. According to area residents in Siyambalangamuwa, this tusker was known to be an innocent creature when compared to other elephants who frequented the village and caused damage.

The tusker started making headlines on November 23, 2017 when two tusks, with a unique curvature and similar to those of 'Dala Poottuwa', were found in Nikawewa, a remote village in the Moragollagama Grama Seva Division. Two suspects, a Grama Niladhari and a retired Police constable, who was in possession of these tusks and six ivory gemstones (Gaja Muthu), were arrested by the Walana Anti-Corruption Unit.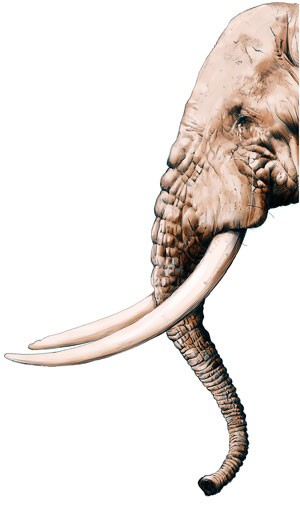 Following this find, a team comprising Special Task Force (STF) and five groups including DWC officials and Police commenced a search operation on November 27 to find the tusker, alive or dead. Following a tip-off, a plot of land in Thibbotuwawa too was excavated in several places in search of its remains. This land also belonged to one of the suspects in custody. Despite being futile, the search operations were continued. In the end the body was found in a forest reserve bordering SorowWewa on November 29. Upon discovering its body, officials were yet to confirm whether it was a killing. However, the body was in a rotten state as the elephant's remains were two-three weeks old.

The post-mortem was conducted on November 30 by two veterinarians namely, Dr. Tharaka Prasad and Dr. Chandana Jayasinghe from Colombo and Anuradhapura respectively. According to A. H Sumanasena, Assistant Director of DWC in Siyambalangamuwa, the observations confirmed that the body belonged to this tusker. The post-mortem revealed that the elephant had been killed as a result of being fired at with a shotgun. Ten (10) bullets were found in its head. Investigations further confirmed that the elephant would have died due to brain damage. A wound in its left hind leg, which was under medication a few months ago, further confirmed the identity of 'Dala Poottuwa.'

That night itself, five more suspects were arrested by Polpithigama Police following a tip-off received by the CID in the Nikawaratiya and Ambanpola areas. Two tusk cutting saws, part of a hand saw, two pendants made of ivory, one ivory talisman, part of an elephant tusk and organic ivory gemstone (Gaja Muthu) were found when the suspects were taken in to custody.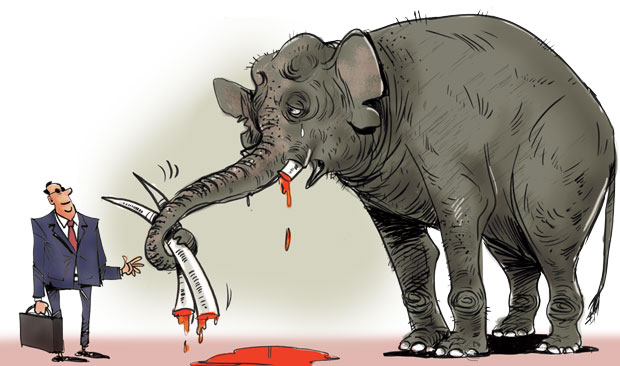 ---
"Perpetrators will be severely dealt with"
-Gamini Jayawickrama Perera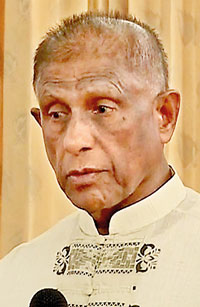 Subject Minister Gamini Jayawickrama Perera said that although five suspects have been arrested, investigations have now been handed over to the Criminal Investigation Department (CID). "The law is very weak and we have to change the entire act. There has to be strict penalties imposed in order to put these culprits behind bars. In order to ensure harmony between people and these elephants we have implemented many solutions, but people still consider them as threats. Earlier if a person died or got disabled or wounded in a Human Elephant Conflict (HEC) they were given only Rs.
200,000 but I raised this amount to Rs. 500,000. In terms of crop damage we also introduced insurance schemes for farmers. So under these circumstances I don't understand the reason behind these killings,"said Perera.
The law is very weak and we have to change the entire act. There has to be strict penalties imposed in order to put these culprits behind bars
Speaking about the Galgamuwa tusker's incident the Minister said that when the DWC officials visited the suspect's house they had been making jewelry items out of tusks. "In such instances people should give tip-offs and keep our officials informed. There's a shortage of manpower in the Department and it's a challenge for the officers to be travelling everywhere as and when they receive news. Sometimes they work day and night to ensure the safety of animals. Another worry I have is regarding the reports that there have been many incidents where baby elephants have been tied up for weeks. Several months earlier we saw elephants swimming in the sea. Therefore there are many organized groups aiming at keeping elephants in captivity for various purposes and these matters need to be probed. But we won't tolerate crimes of this nature taking place and the perpetrators will be severely dealt with,"said the minister.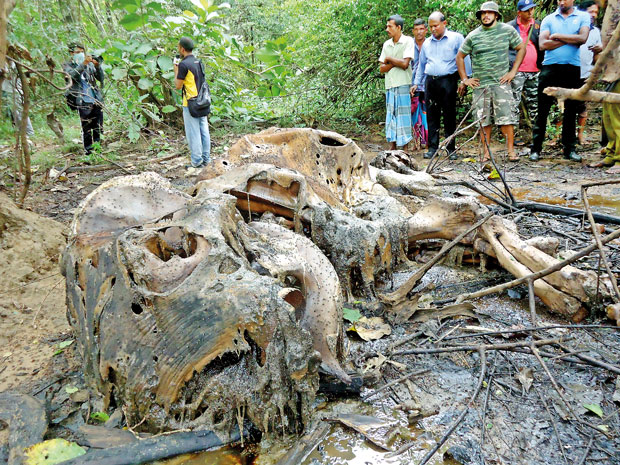 ---
"Nobody can get away with killing an animal"

-Jagath Gunawardena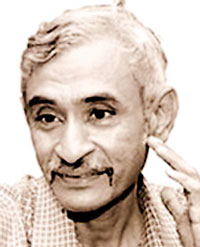 Speaking to the Daily Mirror, senior environmental lawyer and wildlife enthusiast Jagath Gunawardena said that elephants are a protected species under the Flora and Fauna Protection Ordinance (FFPO). "From Section 12 till 24, this fact is quite clear. Section 12 mentions that no one can injure or harm an elephant, while Section 22 (A) states that it's an offence to retain a tusk or part of a tusk of an elephant except in accordance to a permit. Those who illegally retain tusks in their possession could be punished according to the Public Property Act (PPA).
The illegal capture of elephants has been continuing for years and this issue of elephants hasn't been a single one. There are many aspects that must be considered. First we have to build a public perception that nobody can get away with after killing an animal. But if the law doesn't stand firm, people won't hesitate to kill an animal or do any crime for that matter and get away with.
First we have to build a public perception that nobody can get away with after killing an animal
"I have observed a lack of power, adequate facilities and low morality in people who handle these issues," said Gunawardena who is quite concerned about conserving these species. If the law could be that lenient to allow those in power to keep elephants in captivity in their houses for everybody to see, then killing a wild elephant is an act that anybody could get away with. Such impunity therefore is dangerous. In terms of trading, once again Section 24 states that nobody can retain parts of animals in their possession unless issued through permits. The DWC gets some information and sadly there's a delay in implementing the law and prosecuting the perpetrators," said Gunawardena.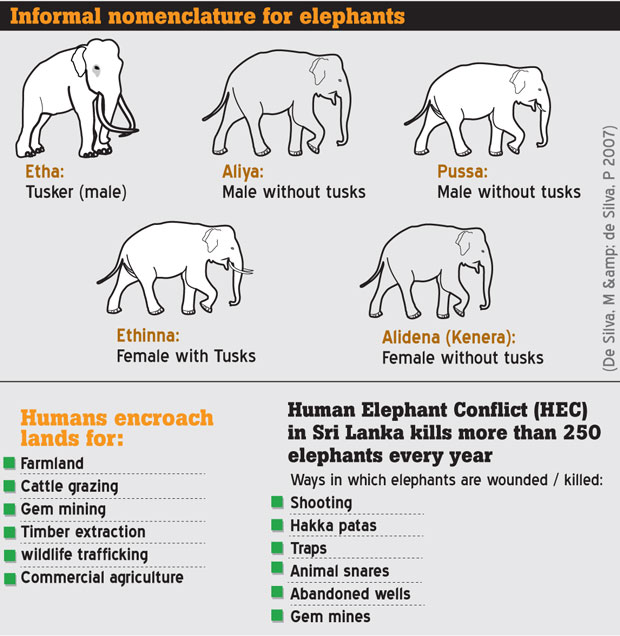 ---
"Only 5% of Sri Lankan male elephants have tusks"
- Dr.Prithiviraj Fernando
Airing his views on this regard, elephant researcher and Chairman of Centre for Conservation and Research (CCR), Dr.Prithiviraj Fernando said that biologically there is no greater difference between tuskers and non-tuskers. "In African elephants, both males and females have tusks. But in Asian elephants the males have tusks. The Sri Lankan elephant population has close to 5% of males that have tusks when compared to the elephant population in India where 95% of males have tusks. The reduction in our tusker population is mainly due to capturing them and taking them out of the wild. Culturally, people have a high regard for tusks and these practices have continued for years," he warned.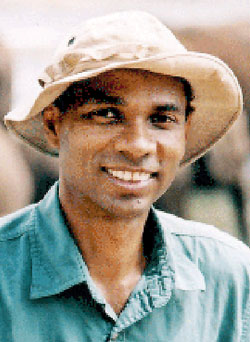 Voicing out his concerns on the aggravating HEC, Dr. Fernando further said that various activities are being carried out in terms of agriculture development. "Unfortunately most of these activities done are confrontational. As a result elephants become quite aggressive due to these confrontational practices and the matter has escalated over the past few months. Non-confrontational methods such as electric fencing need to be encouraged, but they can't be done single-handedly. It's important that we implement the law. If we don't do that, we will be encouraging people to commit more crimes. We shouldn't be encouraging illegal practices such as killing elephants for tusks,"affirmed Dr. Fernando. When inquired from U.L Thaufeeq, DWC Deputy Director for Elephant conservation, he said that those found guilty of killing an elephant or other animals protected under the FFPO, they will have to serve a two-year jail term and pay a fine of five lakhs.
"Only 5% of Sri Lankan male elephants have tusks"
"No temple needs tusks, elephants or GajaMuthu for prestige" says Ven. Ananda Sagara Thera
Keeping this in mind, the Daily Mirror spoke to the Convener of the National Environmental Guild, Ven. Pahiyangala Ananda Sagara Thera. Ven. Sagara Thera said that according to this new wave of Buddhism, it is a must to keep elephants and tusks in temples. "During the time of the Buddha when He couldn't persuade the monks in Kosambī from quarrelling, He left Kosambī alone to Pārileyyaka Forest. Here an elephant, who had given up communal life, attended to the needs of the Buddha. When Buddha left for Jethavanaya, this elephant and several other animals followed Him towards the boundary of that forest. Upon seeing his departure, the elephant died due to being broken heart. If Buddhism spoke about possessing elephants and tusks, this would have been an ideal occasion for the Buddha to preach the importance of keeping elephants and tusks in a temple. But He never preached on these lines. Elephants and other animals belong to the wild and they should die in their own habitats," the priest said.
But the regime change definitely hasn't helped this cause much. Surprisingly, the transaction of the tusks in this incident was also carried out at a temple in Nikawewa. Does this indirectly mean that temples are promoting the message of cruelty to elephants or any animal for that matter?

Ven. Sagara Thera further said that by preaching bana with two tusks on either side just promotes one thing and that is cruelty to elephants. "These practices will only encourage the inception of a cruel society. We say 'May All beings be free of cruelty' and then do the opposite. If you go to a temple, you see an elephant in the backyard, two tusks in the living room or the entrance of the temple and GajaMuthu in its relic casket. Doesn't these show how cruel this religion has become? I believe that a case should be filed immediately against everybody from that GramaNiladhari to the retired Police officer. All other suspects should be prosecuted. Several tusks have also been found from various places where other incidents took place. I believe that we should destroy them once again as was done some time back at Galle Face Green. No temple needs tusks, elephants or GajaMuthu for their prestige," Ven. Sagara Thera said.

"Indication of an illegal ivory trade taking root in Sri Lanka" says Manori Gunawardena
Commenting on this issue, ManoriGunawardena, Country Representative of Born Free Foundation, said that the arrest of persons linked to an organized network of ivory traders and poachers should not be considered an isolated incident. "It's an indication that an illegal ivory trade is taking root in Sri Lanka. The target killing of tuskers is worrying and it calls for increased vigilance and action among all law enforcement agencies,"said Gunawardena.

Will Sri Lanka and the world over, ever identify the value of elephants beyond ivory? (Pics by Sunil Kahagalla –Yapahuwa)