---
The common practice of putting a suffering animal to 'sleep' is permitted by law, but shrouded in mystery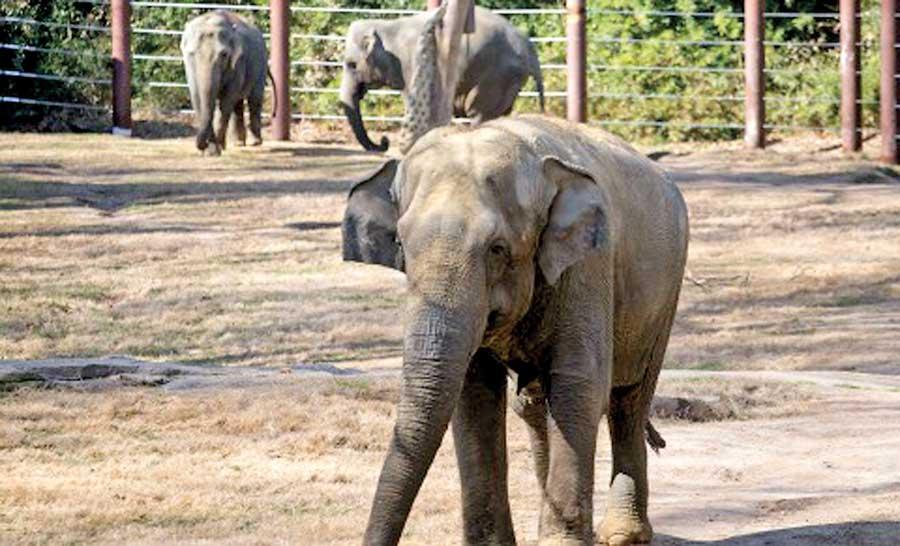 Shanthi (foreground) with herd mates Ambika (L) and Bozie (R) in the background
Smithsonian's National Zoo mourned the death of Shanthi; a gift received by United States from Sri Lanka back in 1976 when the elephant was only two years old. Acknowledged as the 'most studied elephant in the world' Shanthi has participated in numerous research studies during her 44-year long tenure at the

Zoo. However, Zoo officials claim that she had been diagnosed with arthritis at a young age that advanced with age. She was euthanised at 45 years of age to alleviate suffering from advanced osteoarthritis which is described as a degenerative condition. However, international animal welfare organisations speculate whether her condition was associated with how she was kept in captivity. In March this year, 72-year old Ambika, another Asian elephant at the Zoo, was euthanised due to irreversible health decline, raising the count to two Asian elephants euthanised at the zoo in a year. Ambika was one of Shanthi's herd mates. In January 2005, 40-year old Toni was euthanised after being diagnosed with severe arthritis.
Shanthi's journey
Having first arrived at the Washington Zoo in 1976, after living the first year of her life at the Pinnawala Elephant
A very ill Toni
orphanage, Shanthi had readily participated in numerous behavioural and biological research studies. According to the website of Smithsonian Zoo most zoo animals participate in the Association of Zoos and Aquarium Species Survival Plan (SSP) and scientists determine which animals to breed. This depends on their genetic makeup, nutritional and social needs, temperament and overall health. Back in 1996, Shanthi was the first elephant to be artificially inseminated using a novel technique with daily hormone monitoring. Shanthi's son Kandula was born via this method and it is said to be a process used globally to aid in conservation management. During Shanthi's 44-year long tenure she had made significant contributions to the conservation community's knowledge on biology, reproduction, diseases and ecology of this critically endangered species. Shanthi had participated in daily husbandry and medical procedures and had contributed to osteoarthritis research. Her blood samples were collected by Smithsonian Conservation Biology Institute to study her cortisol levels. Her eating habits, enrichment preferences and movements were cataloged by keepers to help inform best husbandry and management practices. She was also the first elephant of her kind to be given a protein serum to slow disease progression. It is said that she was quite close to Bozie, one of her herd mates. Both Bozie and Swarna were allowed to mourn her death.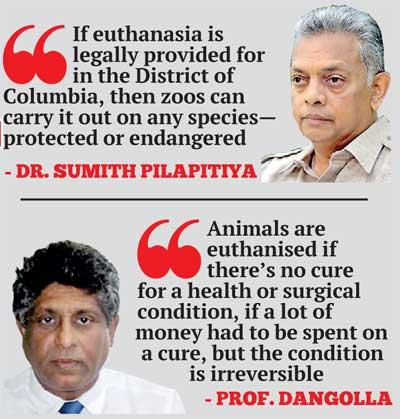 New research shows Mycoplasma can cause arthritis in elephants
The retirement age of Sri Lankan captive elephants should be determined
Euthanasia is a moral issue
Arthritis in elephants
According to Smithsonian officials, Shanthi was diagnosed with osteoarthritis during her teens. "This is possible if proper nutrition is not given," opined Prof. Ashoka Dangolla, veterinary surgeon who has had years of experience treating captive elephants. "It could also be due to lack of exercise since captive elephants walk on cemented floors. Another reason could be an autoimmune disease where the immune system reacts against the body. If this develops at a young age it aggravates and gets complicated, depending on the joint that is affected. However, arthritis is possibly

the commonest joint disease in elephants," said Prof. Dangolla.
Prof. Dangolla further said that if there are around 100 elephants in captivity, including those in Pinnawala, around 20 of them might be having arthritis. "We do not know the numbers in the wild. One problem is that there's no retirement age for captive elephants. Therefore it is a must that a retirement age is determined. Once an elephant is old, owners cannot manage them. According to a new research that we did we can now confirm that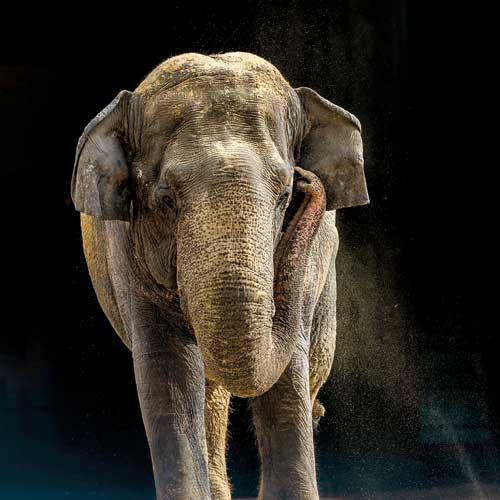 45-year old Shanthi
Mycoplasma too can cause arthritis in elephants."
When asked if it's common to euthanize animals, Prof. Dangolla said that euthanasia is a moral issue. "Animals are euthanised if there's no cure for a health or surgical condition, if a lot of money had to be spent on a cure, but the condition is irreversible or due to lack of resources to continue supporting the animal. Animals are given active euthanasia and not passive euthanasia as in the case of humans," he said.
Legalities of animal euthanasia
When asked about the legalities of euthanising a protected or endangered species, Dr. Sumith Pilapitiya, Wildlife conservationist and former Director General of the Wildlife Conservation Department said that since Shanthi was in the Washington Zoo she was governed by euthanasia laws in the specific state of the USA. "If euthanasia is legally provided for in the District of Columbia, then zoos can carry it out on any species—protected or endangered. Euthanasia is defined as "the painless killing of a person/animal suffering from an incurable and painful disease or in an irreversible coma." Euthanasia is practiced with animals, laws permitting.
'The Code of the District of Columbia, Section 3-1208.64. Certification of Veterinary Euthanasia Technicians; restrictions' provides regulations for euthanising an animal. If the Washington Zoo followed these guidelines, then they are in compliance with the law. As an animal lover, I would do anything to alleviate suffering from an animal. So personally, I do not disagree with euthanising an animal, if the animal is suffering from an incurable and painful disease. Personally, I would never do something to an animal that I would not do to myself.
If I was suffering from an incurable and painful disease, or I was in an irreversible coma, I would like to be euthanised, if euthanasia is an option available to me." he said.
Other animals euthanised at Smithsonian's National Zoo during 2019 and 2020 include a female sloth bear, a male harbor seal, a Bennett's wallaby, bison, white-cheeked gibbon, cheetah and Eld's deer due to deteriorating health conditions. However, many of them are also rare species.
(Image courtesy : Smithsonian's National Zoo)