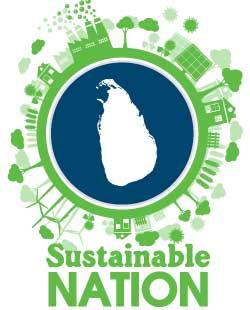 At the Daily Mirror, we believe that climate change is one of the greatest threats that we, as Sri Lankans, will face in the future. Therefore, we intend to provide our readers with local and international content with the objective to educate and inspire. We would also like to learn from our valued readers about any ongoing initiatives in making Sri Lanka a more sustainable nation.
We aim to explore sustainable ways of living that have the most positive impact on not just our natural environment, but also for humans and animals.
While topics such as global warming, pollution, and inequality are confronting, we believe it's time the media stopped shying away from these issues and became an active participant in finding solutions - and we hope you will join us.
---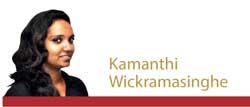 The 'lungs of the Earth' have continued to burn since July 2019. As fires rewriting the history books continue to rip through the southern swath of the Amazon Rainforest, Brazil has already declared a state of emergency. Military personnel have been deployed to combat blazes as speculation is rife over political hands encouraging farmers, land-grabbers and loggers to torch trees and clear forest areas for agricultural activities. According to Brazil's National Institute of Space Research, around 76,000 fires were burning across the Brazilian Amazon at the last official count. While the Amazon was burning in the West, the flora on the Ella rock was set ablaze on August 22. But there exists practical issues at times of disaster, owing to discrepancies in coordination and deployment of manpower to mitigate such situations.

Forest fires in Sri Lanka

Ella, a small town in the Badulla District, gained much popularity as a trending tourist destination over the past few years. Tourists started visiting Ella to go on hikes and bond with nature. Sites such as the Nine Arch Bridge and Little Adam's Peak gained much attention. The Ella rock fire happened at a time when tourism was once again rising from the ashes after the Easter Sunday attacks. The fire continued till August 23 and reached the Ravana Ella forest reserve before it was completely doused after much effort by the Sri Lanka Army and Air Force personnel. During the course of the Ella rock fire, another forest fire was reported from Maragala Kanda forest reserve the same evening, which was brought under control following a joint operation DMC and military personnel. Arson incidents were also reported from Horombuwa and Kurugama reserves in the Monaragala District and Kurulangala reserve in Wellawaya District. Environmentalists are of the view that all forest fires in Sri Lanka are manmade. During a time of disaster, the Disaster Management Centre (DMC) handles the disaster response process. They will handle, respond and coordinate activities to mitigate the disaster.

Cost of a helicopter depends on the distance travelled : Dharmasiri

According to W.A Dharmasiri, DMC Director General during the Ella fire, the weather stood in the way, thereby having to deploy troops from Sri Lanka Army and Air Force to douse the ravaging flames. The cost of a helicopter depends on the distance travelled. Sometimes they will have to refuel as well as refill water. For example during a recent forest fire that took place in Monaragala, the helicopter had to travel all the way to Ampara for refuelling. So in such instances, the cost is high. We usually deploy military troops to douse fires. Most of these disasters are manmade and forest fires can cause extensive damage."

Fines imposed as per the FFPO : Weragoda

Conservator General of Forests, W.A.C Weragoda said that many forest fires are manmade disasters that happen due to careless disposal of cigarette butts and lit matchsticks. "On the other hand it is difficult to manage these fires when they occur in mountainous areas. This time it was quite windy as well."

When asked about fines and penalties for perpetrators, Weragoda said that it could be done only if they are caught. "Fines are imposed as per the Flora and Fauna Protection Ordinance. During such an incident we seek support from villagers. We also conduct awareness programmes on how people should react during such instances."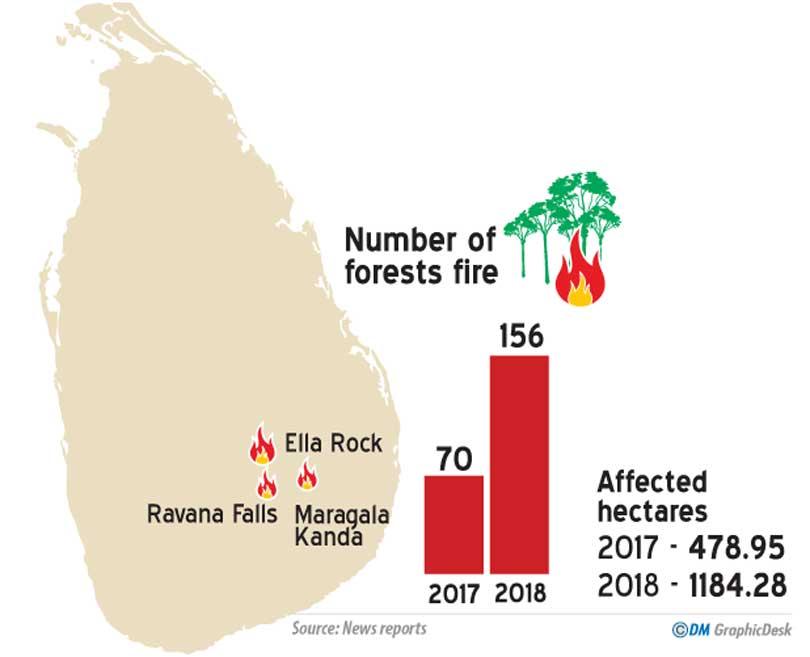 We were informed on the second day : Group Capt. Seneviratne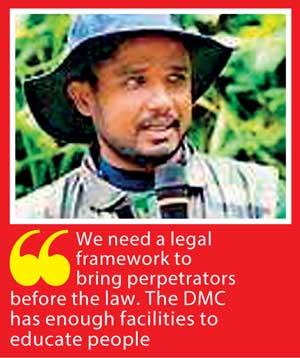 "The disaster response process happens under the purview of the DMC," said SLAF spokesperson, Group Captain Gihan Seneviratne. "In the case of deploying an aircraft we have to check if someone is playing a prank on us. This is why it is being coordinated by the DMC and the Civil defense office in the area. Initially the DMC would use its resources and inform the fire department and other regional departments. If those services aren't available they would contact the tri-forces. We have jungle rescue teams and other resources on standby. If requested we would deploy them. But before deploying a helicopter we also need to check on other logistical necessities. For that we send a crew on foot to check the area first and they would report to us if there's a practical issue. For instance we need water and there has to be a reservoir or a water body in close proximity, so that we could refill. On the other hand there has to be an Air Force camp nearby. With regard to the Ella forest fire the helicopter couldn't reach the site because the weather obstructed. In fact we were informed on the second day. Then the Air Force personnel from the Diyathalawa camp were deployed to douse the fire."

DMC doesn't seem to be doing a decent job : Wijesinghe

"We have failed to address forest fires and all natural disasters," said Jayantha Wijesinghe, Convener of Rainforest Protectors of Sri Lanka. "All forest fires in Sri Lanka are manmade. A natural forest fire occurs if two trees touch each other or due to lightning during a dry thunder season. But we don't have that sort of an environment here. We don't have dry thunder seasons either. We need a legal framework to bring perpetrators before the law. The DMC has enough facilities to educate people and enough provisions to get air support, stakeholders support etc., but we don't see them doing a decent job. This is the second time that this area was on fire. Last time our volunteers were there and it took them 5-6 hours to douse the flames with the support of the DMC and the Army. So the DMC could establish a mechanism where they could empower local stakeholders to deal with forest fires. This time our volunteer wasn't around. The area was too dry and windy and it wasn't a fire that people could easily douse. Once the DMC was informed, support came 3-4 hours later."

"Ella and Maragala are mountainous areas and what we observed was that the District DMC contact point wasn't competent enough to deal with these kinds of situations," he opined. "Those who light these fires know exactly which part they should burn and at which time of the year. Villagers also know the culprits behind these acts. But this time the DMC and the villagers failed in handling the disaster. In fact, people burn forests for hunting, poaching and agricultural purposes. Some others do it to collect beehives, tree felling and some ignorant travelers also contribute to burning these areas down. In terms of new reasons, we have found that people involved in sand mining burn down forests so that the sand loosens up and deposits in waterways. These areas include Maragala, Nilgala and other areas such as Ratnapura, Badulla, Moneragala, Kegalle, Kandy, Nuwara Eliya, Uva Province and Ampara.
Wijesinghe further said that in mountainous areas it is difficult to douse fires with the wind. "When you take an area such as Ella you need to take many things into consideration. These include everything from tourism to biodiversity importance. Once a forest fire occurs, forest species would be adapted to fire and subsequently the growth of a tree would be affected. It would also bring down the population of species in a particular variety of flora or fauna. The DMC could contribute to controlling forest fires by setting up guardian networks where they appoint five to 10 villagers and give them the responsibility of checking these areas, educating fellow villagers on the importance of safeguarding the forest ecosystem and also reporting on those behind these malpractices. Spreading awareness is another priority."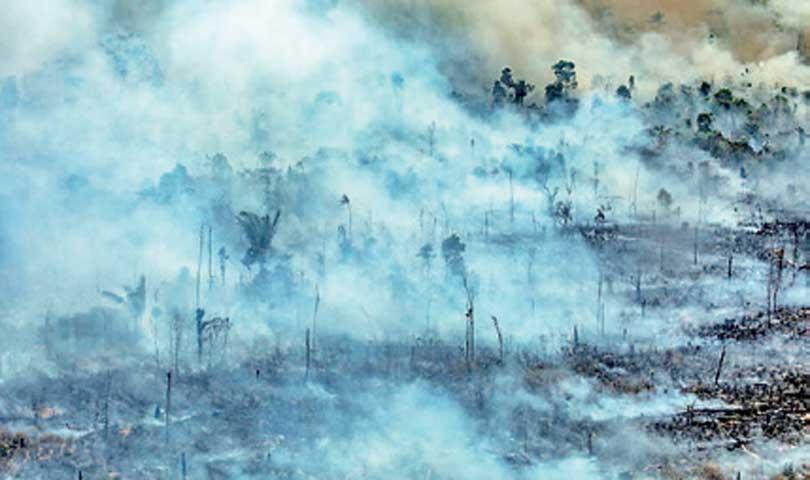 Smoke rises from a fire in the state of Para - pics courtesy Greenpeace Brazil