---
Our dad, the late Sherard de S. Wijeyeratne was born into this world with the blessings of almighty God on 10th April, 1919 and he received his call from Jesus on the 22nd of October 1987. It is exactly 30 years since he left his beloved wife Linnette and his twelve grieving children.

Even though he left us 30 years ago, it still gives me great joy to write a few words about our dad who was our greatest friend, mentor, guardian and role model.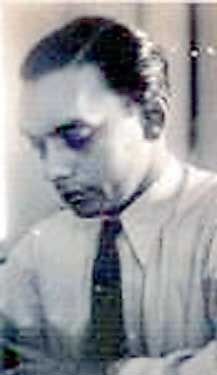 He was absolutely fond of his children and was proud to speak about their achievements; nevertheless he was a strict disciplinarian. He maintained a very high standard of discipline at home and always guided his children in the right direction.

He, together with our Mum always made sure that we got the right kind of education and more importantly that we learned the right values and obligations in life, but never forgot to encourage us to take part in sports. If anyone of us was taking part in a sporting event, be it cricket, soccer or athletics, he was always the first spectator on the field. He gave us confidence and lifted our spirits by cheering us to achieve success but also taught us to be graceful in defeat.

He lived a very simple life, practiced his religion and never forgot to help the poor. There were many instances where we could recall how he would help people in need, but the one that is etched in our memories to this very day is, when we were very small, travelling in our car to our estate in Puttlam, somewhere past Madampe,

Dad saw a small boy standing on the road beside a fallen man. Not many people were on the road but the few cars that were on the road just whizzed past this boy.

But dad immediately stopped and got down from the car, put his arm round the small boy and asked him "who is this fallen on the ground?" and the boy said that it was his father.

Down went dad on his knees and checked the pulse of the fallen man and spread some water on his face. After sometime the man was able to recover, open his eyes and speak to our dad. During the conversation this man said that he has not had a proper meal for three days and was walking with his son to the town and had suddenly fainted. Dad got both of them to get into the already crowded car, took them to the town and bought some food for them to eat. He also got more food for them to take home. Just before sending them off, dad asked the father of the boy whether he would give his son to him so that he can educate him, but the father of the boy said he has only one son and he wants him to be with him. Our dad gave our address to them and wished them well and sent them off.

This incident really surprised our small minds. Our dad had twelve children to look after but still he was asking for another child. We later realised that is the type of love he had for children and also that he would go out of his way to help the poor.

To our dad we wish to say this loud and clear
Could you come back and stay a while,
We want to hear your voice and see your smile,
We want to hold you tight and never let go,
And tell you how much we love you.
Years and years have gone by, since you left us,
But not a day has passed without your loving thoughts,
Each time we think of you we need to cry,
We always wish that you were still with us.

Eternal Rest Grant unto him O Lord, and let perpetual light shine upon him. May he rest in peace.
V.P. de S. W