The Hill Country Leopard Conservation Initiative held under the guidance of wildlife conservationist Dr. Sumith Pilapitiya, aims to spread awareness on the importance of quick communication, quick reaction, awareness on leopards and handling situations and removal of snares and traps. Separate workshops have been conducted for the estate managements as well as estate workers. According to Dr. Pilapitiya much more needs to be done to ensure a safe environment for leopards and wildlife in general.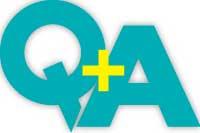 Q What sort of awareness programmes are required to educate communities on leopards?
Awareness programmes are required at different levels, suited for different audiences. Awareness programmes would be required for the management of plantation companies, estate management; field officers who directly manage labour, labour and other non estate employees residing on the estate. The programmes should be on: (i) the legal implications of snaring and poaching of wildlife; (ii) the responsibility of estate management to detect and remove snares; (iii) the role of estate management and labour should play in the event of the unfortunate situation of a leopard getting caught in a snare; (iv) how labour and others on the estate should act/behave if a leopard is seen on the estate—i.e., how not to provoke the leopard into attacking humans; and (v) the possible threat of zoonotic diseases when consuming bush meat. Different methods of training must be used such as in person training; visuals and printed materials and community based discussions. The DWC has embarked on a programme of awareness creating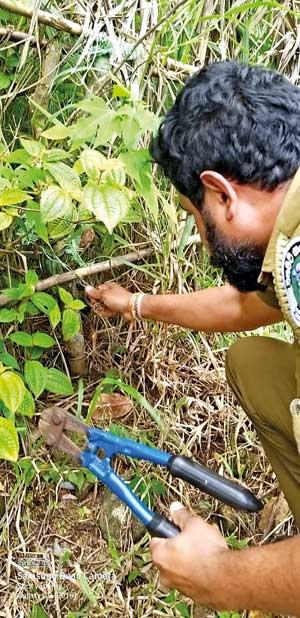 Removing wire snares in Haggala
under the Hill Country Leopard Conservation Initiative.DWC officials are being supported by like-minded conservationists in implementing this initiative.
Q Is language a barrier in disseminating the knowledge to them?
The training for labour, other non-employee residents of estates and field officers should be conducted in the language most used by them. In most estates, this would be in Tamil. Therefore, the training should be provided in Tamil. This is a constraint but not one that cannot be overcome. The Hill Country Leopard Conservation Initiative uses Tamil speaking conservationists to communicate with estate stakeholders. Potential trainers from the estate community will be identified for a "training of trainers" programme.
Q How can people respond if they spot a leopard?
People should not try to confront or chase a leopard. They should never run away or turn their back towards a leopard. A leopard by nature is prone to avoid humans and people must ensure that nothing is done to agitate or irritate a leopard. If a leopard is spotted, the best thing is to avoid going close to the leopard. The awareness training should ensure that the people are educated on how to respond when they see a leopard.
Q Are snares easily available or could they be made?
Most of the snares are made by people—not generally available in the open market. It is easy to make so if there are restrictions on the purchase of cables that are used for snares, the snaring can be reduced.
Q Leopards easily get caught to snares that have been laid to trap wild boar. By trapping wild boar it also deprives leopard of their prey which is why they come to prey on dogs. This is the same with the human-elephant conflict. How could the leopard issue be solved in this case?
Snaring is illegal, be it to catch wild boar or leopards. Persons involved in illegal acts should be detected and the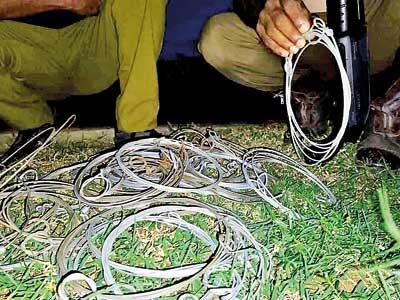 Wire snares found from Hambantota
law enforced on them. Without wild prey leopards will tend to come into human habitation in search of easy prey such as dogs. If there is adequate prey population for the leopards in the forested areas in the mountain ridges above tea plantations, the tendency for leopards to come for dogs as prey is reduced.
Q There's a suggestion to put up protection fences. How practical is it and what are the pros and cons for leopards as well as humans?
Snares are placed for two reasons. (i) capturing bush meat for consumption and/or sale; and (ii) to protect crops from wild boar/wildlife attacks. Tea is not a crop subject to wildlife attacks. So snares for crop protection are for protection of vegetable plots on tea estates and surrounding villages. So while such protective fences may reduce the need to place snares for crop-destroying wildlife, it does nothing to reduce the impact of snares laid for bush meat.
Change needs time
With recent incidents related to poaching and snaring, the Prime Minister recently requested the Wildlife Conservation Department Director General M.G.C. Sooriyabandara to submit a report. "Change needs time," Mr. Sooriyabandara said. "We have done many awareness programmes but if people's attitudes towards conservation don't change, there's nothing we can do about it. However much we ask them not to lay snares, they continue to do it. We have conducted awareness programmes for estate workers, estate employees etc., and we have continued these programmes."
DWC's efforts to remove wire snares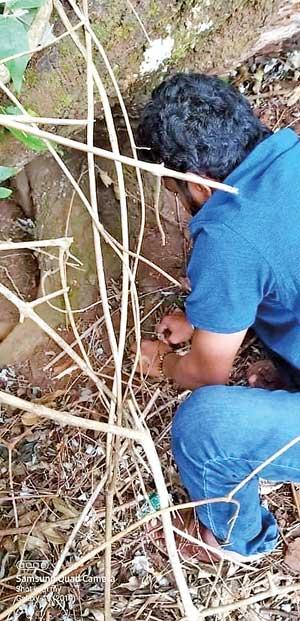 Removing wire snares in
Nuwara Eliya
During the first quarter of 2020, DWC officials have been able to remove wire snares in several parts of the country including Hambantota, Ravana Ella sanctuary, Kandapola in Nuwara Eliya District, Pussellawa, Lunugamvehera National Park, Angamedilla, Flood Plains National Park, Neluwa, Yatiyantota, Kinniya in Trincomalee District and Maskeliya.
According to DWC's official Facebook page, the Department conducts awareness programmes on how people could protect themselves from leopards, how to protect domestic animals from leopard attacks, legal issues in harming protected species, importance of alerting wildlife authorities among others. If a leopard is caught to a snare in Hill Country, the DWC has taken measures to deploy wildlife officials to rescue the animal immediately. A mobile app is also being created to include details of leopards as means of educating people. Plans are underway to equip wildlife officials with necessary resources during patrols. In addition to that the DWC is also drawing plans to deploy an additional rescue team in the event a montane leopard is caught to a snare.
During a recent visit to Hill Country, the Daily Mirror visited several estates in Nallathanniya (Delhousie) and Agarapathana to find out the troubles people face due to leopards. According to plantation workers, leopards prey on dogs and other domestic animals and they don't directly prey on people or pose a threat. As such, the dog population in many estates have reduced in numbers. Apart from that, almost all people have vegetable plots and people lay snares to keep wild boar and other species from destroying vegetation. We learned that during one awareness programme carried out in an estate, as many as 65 snares were removed. But with the recent leopard death in Nawalapitiya, it's quite evident that people continue to lay snares and catch animals, be it protected or not.