---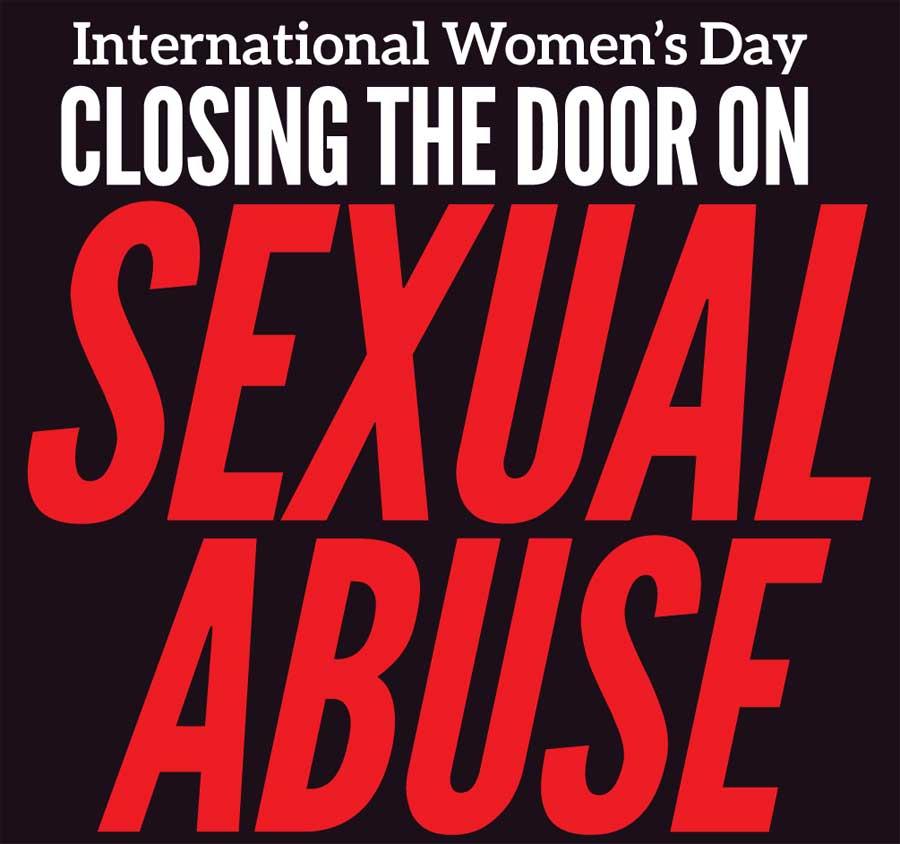 Sexual harassment on public transport is an everyday occurrence for millions of girls and women. I can recall the many horrible train and bus rides I have had in my life. Public transport is the only travel option for many women even though they are fully aware of the fact that the chances of being sexually harassed are extremely high.

In line with the International Women's Day, celebrated today, the first Sri Lankan train with exclusive compartments for women is to be flagged off in Veyangoda at around 6:30 am today by Minister of Transport Arjuna Ranatunga. However, gender experts branded this women-only transport system as merely a band-aid solution to the bigger issue. What should be done to tackle the real root of the problem which is sexual discrimination and assault? The Daily Mirror, spoke to a group of academics to discuss what should actually be done in order to achieve a better and lasting solution to the issue.
Although the legal definition varies from country to country, sexual harassment includes any unwelcome sexual advance, verbal or physical conduct or gesture of a sexual nature, request for sexual favours, as well as any other behaviour of a sexual nature that might reasonably be expected or be perceived to cause offense or humiliation to another.
A study conducted by the United Nations Population Fund (UNFPA) – reveals that 90% of women and girls in Sri Lanka have faced sexual harassment in public buses and trains. These numbers are worrying, especially because women are the main users of public transport. Even though under section 345 of the Penal code of 1995, sexual harassment is considered a crime and therefore punishable, this serious problem unfortunately and wrongly goes unnoticed. According to the UNFPA study, only 4% of those affected reported these incidents to the police.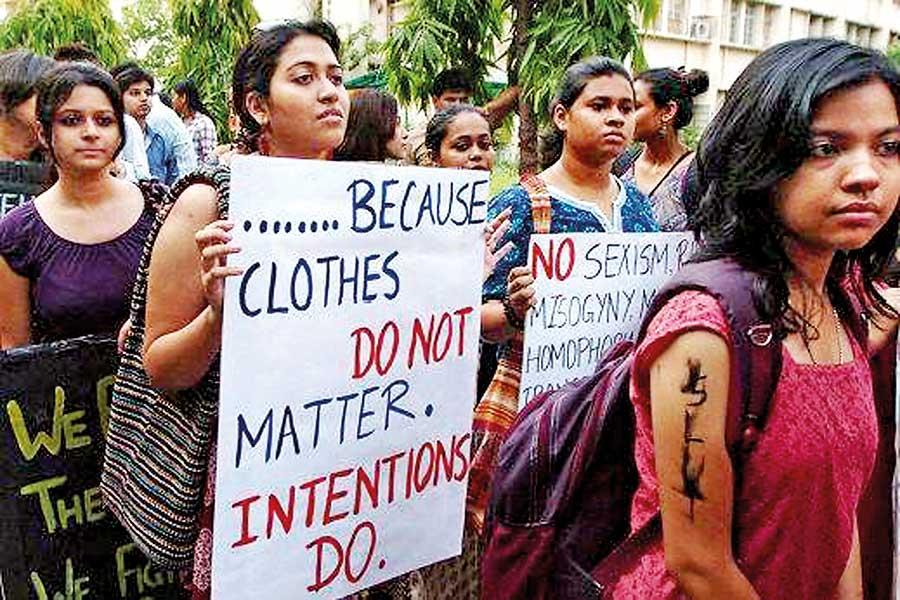 Women-only compartments- a band-aid solution
Many countries have taken action to combat groping of women in buses and trains which are often overcrowded. Tokyo was one of the most major capitals that introduced 'women only' trains in 2000. Women-only sections in public transport are also available in Manila, Jakarta, Kuala Lumpur, Delhi, and Cairo.
The Daily Mirror spoke to a group of women and obtained their opinions regarding the Government's decision to introduce women-only train compartments. The majority of the women say that they would feel safer in single-sex areas while on buses and trains. However, they also claimed that women-only initiatives are not likely to provide long-term solutions as they only segregate by gender and provide a short-term remedy instead of addressing more fundamental issues. They criticise these initiatives and state that they fail to tackle the problem at its root.
"In my honest opinion segregations is only a band-aid solution to the problem and it doesn't change the mindset of the harasser," a female daily train commuter said.
Sexual depression and hypocrisy among Sri Lankans
Sri Lanka is a country that boasts of a centuries old culture and traditions. A culture of a country directly impacts on the behaviour of its citizens. One reason people differ in their behaviour is that they have different cultures. Culture reflects the ideas and meanings they share. We spoke to Dr. Harini Amarasuriya, a Sociology Professor at the Open University to discuss how cultural aspects impact human behaviour in Sri Lanka and what kind of impact it makes on the sexual harassment issue.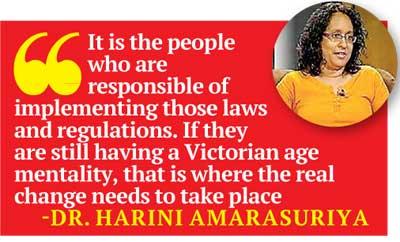 Travelling in public transport without fear of abuse or discrimination should be a priority for transport planning
-Prof. Hettige
She claimed that the majority of Sri Lankan men are sexually depressed due to the social and cultural limits and barriers. "Despite there are so many ways to address the issue of sexual harassment of women in Sri Lanka, ultimately it is the people who are responsible of implementing those laws and regulations. If they are still having a Victorian age mentality, that is where the real change needs to take place," she said.
She also said that there is a considerable level of hypocrisy – pretending to have qualities or beliefs that one does not really have – among Sri Lankans.
Attitudes towards sex provide us with an insight into how changing attitudes as a society may support efforts for social change. Dr. Amarasuriya said that Sri Lankans need a drastic change in their attitudes towards sex-related topics, politics etc. The root cause for issues like sexual harassment of women in public transport, workplace or anywhere is the bigger and unaddressed problem which is a combination of sexual depression and hypocrisy among people. Unless there are open and continuous public discussions about such topics with the participation of the general public, we cannot expect any change," she explained.

Lack of awareness and interest
Public order is defined as the quiet and orderly behaviour of people in public space. It involves people behaving sensibly and rationally, and respecting others. According to the Former Head of Sociology Department of Colombo University, Professor Siri Hettige, breakdown in public order of Sri Lanka is one of the main reasons for the prevailing issue of sexual harassment of women.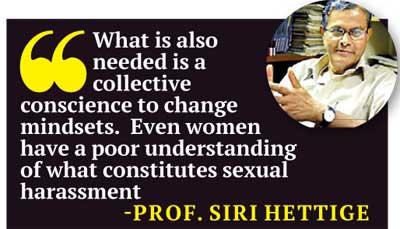 He said that even when there are laws, responsible institutions and resources in place, the authorities have failed to provide lasting solutions to the issue. "They have failed to highlight sexual harassment in public transport as a major issue. There is no public discussion on these issues. Creating awareness and providing gender sensitization training to all is essential. What is also needed is a collective conscience to change mindsets. Even women have a poor understanding of what constitutes sexual harassment. I think the first step to solving the issue is raising knowledge and awareness across the population," Prof. Hettige said.
He asked if the authorities can display 'No Smoking' signboards in public transport, why do they ignore putting up signboards condemning sexual harassment in public transport.
"Sri Lanka, like many more cities around the world, needs to take action to include gender–related transport needs in transport planning. Transit services and facilities must ensure the safety of women and girls. Travelling in public transport without fear of abuse or discrimination should be a priority for transport planning. It is a basic human right. Other than travelling safe in the night time, it is difficult for women to travel even during the day," he said.

Prof. Hettige opined that in order to put an end to this issue, it is important that the size and scope of the issue gains publicity and and people are made aware of it.
He also criticised so-called government and non-government women's affairs institutions which host gala events to mark International Women's Day annually without actually doing anything significant for the females of Sri Lanka. "They celebrate human rights, justice, and gender equality which are nonexistent in this country," he added.
Men and boys too have been sexually abused in public transport

SExual harassment at workplace also should be openly discussed

Sri Lankans need a drastic change in their attitudes towards sex-related topics, politics etc

Victims need legal support
In Section 345 of the Penal Code, Sri Lanka says "whoever, by assault or use of criminal force, sexually harasses another person, or by the use of words or actions, causes sexual annoyance or harassment to such other person commits the offence of sexual harassment and shall on conviction be punished with imprisonment of either description for a term which may extend to five years or with fine or with both and may also be ordered to pay compensation of an amount determined by court to the person in respect of whom the offence was committed for the injuries caused to such person." This includes unwelcome sexual advances by words or action used by a person in authority, to a working place or any other place, shall constitute the offence of sexual harassment.
We spoke to Prof. Prathiba Mahanamahewa, Former Human Rights Commissioner, who is at present working as the Dean, Faculty of Law, University of Technology Jamaica, West Indies. He was of the view that existing laws are not strong enough to address the crisis.

He believes that the penalties contemplated by local laws may not be an appropriate remedy for the damage caused to the victim or a true sanction for the illegal action committed by the harasser. Therefore, he suggests that the law has to be amended and the period of the jail sentence has to be raised from 5 years to at least 20 years along with a maximum fine.
Prof. Mahanamahewa also said that the procedure of providing evidence in sexual harassment cases needs change. "It will take years and years to provide evidence to court cases regarding sexual harassment. Sometimes only the victim is there to provide evidence. The Law has to be changed giving a high priority to these cases in order to halt the delay in prosecution. "
He said amendments should be made to the Evidence (Special Provisions) Act. No. 14 of 1995 -- act to provide for the admissibility of audio visual recordings, and of information contained in statements produced by computers in civil and criminal, proceedings and to provide for matters connected therewith.
"Technology is helping women stay safer and also increasing accountability. Today, we all have a powerful tool in our hands, the phone and we are quick to take a picture or record a video of a harasser. They need to use technology to raise awareness and keep themselves safe," the Professor said.
Meanwhile, he said that similar to the most populous cities in the US that have a huge network of closed-circuit television (CCTV) security cameras on streets and transit lines, Sri Lanka should also be able to invest in these kinds of projects which would give provide positive results in the long-term.
jail sentence should be increased from 5 years to 20 years in sexual harassment cases

don't remain silent. Speak up, intervene, and be the change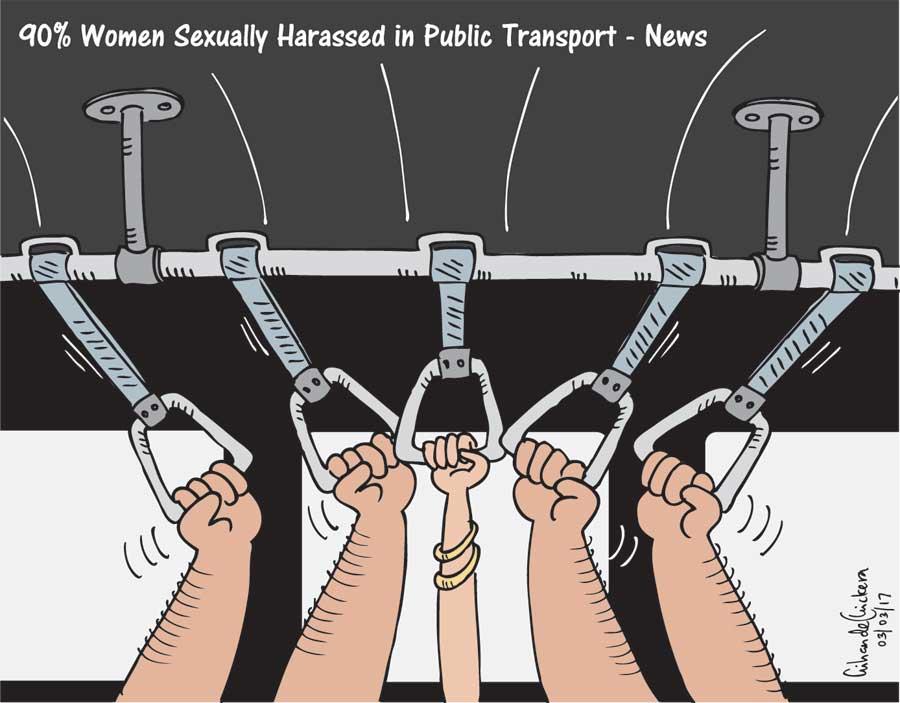 Men and LGBT people too face harassment
Despite the high levels of incidents, sexual harassment remains mainly unreported. Women tend not to report the majority of incidents, sometimes amid concerns that they would not be taken seriously. They are also worried about the issues they have to face in connection with the legal procedure which may take years to complete and bring the harassers to book.
Is it only women who face sexual harassment in public transport in Sri Lanka? Speaking to the Daily Mirror, LGBTIQ Rights Activist Rosanna Flamer-Caldera said that in every social circle, women and LGBTIQ people face severe discrimination. She maintains that due to the misinterpretation of laws, both females and LGBTIQ people in Sri Lanka are facing sexual harassment and discrimination in public transport.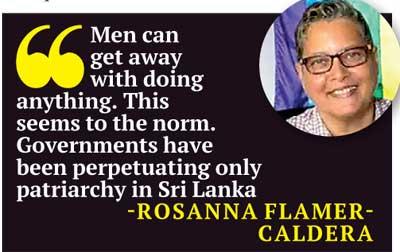 She said that people have erroneously made up their minds against females and the LGBTIQ community in Sri Lanka. She stated that there is too much impunity in Sri Lanka and there is no legal action being taken against those who harass women and LGBTIQ people which ultimately contributes to such incidents. "The culture is used to excuse such inhumane and discriminatory behaviour. Men can get away with doing anything. This seems to the norm. Governments have been perpetuating only patriarchy in Sri Lanka," she said.
She stated that it is time that Sri Lankans move away from laws that discriminate people because of their gender. "There is a breakdown in Law in Sri Lanka. If the Constitution of Sri Lanka says that all persons are born equal; there cannot be a law which excludes LGBTIQ people from the Constitution," she said.
She added that the Government is responsible for ensuring equality for all parts of the community regardless of race, gender, religions, etc. It's a pity that harassment of women on public transport is still seen as a minor offense and not sexual abuse, she said.
It should be noted that men and boys too have been sexually abused in public transport and that they experience the same effects of sexual assault as with women. Open discussions should be initiated regarding sexual harassment at the workplace. Women often have to face a wide range of sexual behaviours, from glances and rude jokes to demeaning comments based on gender stereotypes and even sexual assault and other acts of physical violence. As experts say, harassment, whether in the form of verbal or physical abuse, can have a negative effect on job satisfaction and psychological well-being too. It can be hard to tell someone that you have experienced sexual assault or abuse. You may fear that you will face judgment or not be believed. But, don't remain silent. Speak up, intervene, and be the change.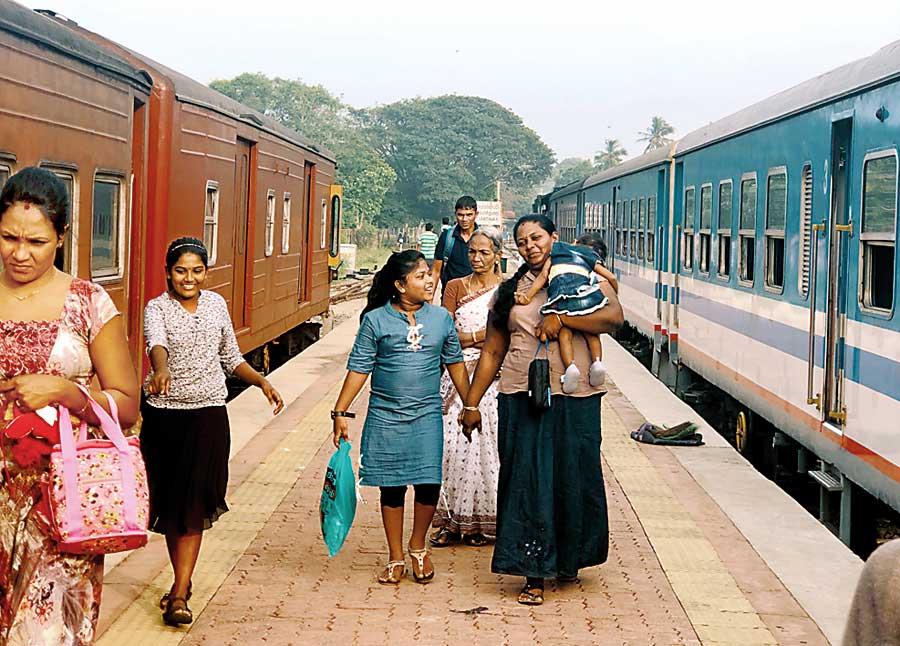 A study conducted by the UNFPA reveals that 90% of women and girls in Sri Lanka have faced sexual harassment in public buses and trains
pic by kalani kumarasinghe