---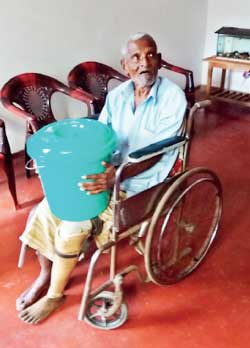 Every year Surol tries to bring a bit of happiness to the lives of more than 300 leprosy patients by gifting a hamper to each of them at Christmas time and during the National New Year. These hampers contain essential food stuff and personal items and not Christmas gifts or toys.
Surol cannot afford these luxuries because they are dependent on the generosity of those like you to provide them with at least the basics.
The cost of each hamper is about Rs.7,500 and Surol needs a total of Rs.2,500,000 to provide each of the families with hampers at Christmas time only, so please reach out and join Surol in this noble venture.
Your contribution could be made by cheque drawn in favour of Surol or by direct Bank transfer to Commercial Bank PLC Account No: 1190028908, Branch Code:7056019, Swift Code: CCEYLKLX
Contributions from overseas could also be made via Western Union Money Transfer with offices in more than 200 countries and territories worldwide, made payable to Rev Fr Neil Dias Karunaratne, Hony General Secretary, Surol.
Currently Surol supports about 300 plus disabled leprosy-affected persons with a monthly stipend and also offers financial assistance for other basic needs such as house and toilet repairs, digging of wells and for even buying crutches or other medical items.
In addition Surol gifts a hamper twice a year to every family during the festive seasons of Christmas and the National New Year