---
By Antoinette Thiruppathy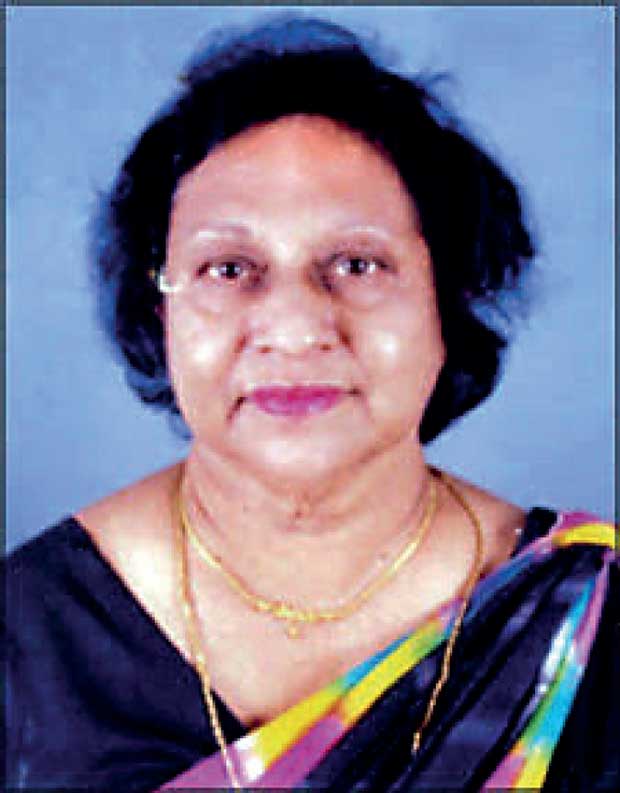 CHRISSY ALOYSIUS passed away on the evening of April 19th, leaving behind the love of her life, Dr. Dennis J. Aloysius, our much-loved family physician of almost 20 years. Among the bereaved are her children - Rohini, Ranjini, Ranee and Rohan. Her daughter, Ruwani, predeceased her.

Chrissy and Dennis celebrated their Diamond Wedding Anniversary in 2016 and in all that time they had been separated for just five days. I am indebted to her son-in-law, Campion Fernando, for this cameo:
"At Mummy's 80th Birthday party in Sydney, she only spoke of her husband Dennis until Ranee (her daughter) reminded her that she also had 5 children! This leads me to the point of this inseparable love and attachment that is only 4 weeks short of 61 years. Guess what, they have been physically apart from each other only for 5 days in the 61 years!"

Chrissy ran her husband's medical clinic and his life with a gentle yet bossy hand. Chrissy called herself a Practice Manager, a combination of receptionist, secretary, research assistant and counsellor.
If I could characterise Chrissy with one word – it is "effervescent". She loved life and shared with us

Hers was the voice on the telephone when we wanted an appointment. Hers was the final "bye", when we left clutching the medicines from their little pharmacy. Hers was the homespun advice and counselling dispensed with so much love.
If I could characterise Chrissy with one word – it is "effervescent". She loved life and shared with us memories of happy times – whether it was a medical ball, a fund raiser or some special project. Galkissa-Ratmalana occupied a special niche in her heart for it was her husband's medical constituency. Over the years she raised funds to provide toys to tsunami-affected children in the coastal areas, reading glasses to a number of needy women and children and many such benevolent activities.

A founder of the Doctors' Wives' Association of Sri Lanka, Chrissie had steered the Association as its President since 1987 and claimed in an interview on the eve of its 25th anniversary, that so far, Sri Lanka remains the only country in the world where doctors' wives have got together to form an Association such as theirs.

Chrissie won a Golden Clef Award for the lyrics of her song, "This land belongs to you, this land belongs to me" – a popular musical rendition by Sunil and the Gypsies. But that's not all; Chrissie also wrote and produced comic skits to perk up the Association's get-together.

Speaking at her induction ceremony, the new President of the SLMA, Dr. Chandrika N Wijeyaratne, commented on the award of Honorary Membership to Dr. Dennis J. Aloysius who had guided the SLMA for over five decades and in a singular tribute to Chrissie, she said:

"We also felicitated another very special person, for her untiring dedication to the SLMA, and that is none other than Chrissy, c/o Hon. Member Dennis Aloysius. Her support to enliven the 'family of doctors' over 33 years through her stewardship of the Doctors' Wives' Association is greatly appreciated."

Though related by marriage to the illustrious Casie Chetty clan, Chrissie Aloysius favoured no airs and graces. Instead her very simplicity and open heartedness endeared her to all who crossed her path. She was indeed a truly good and blessed human being.

Chrissy had no patience with the digital age. While at first glance, her patients' records looked disorderly and out of sync, there was actually a method in the madness. So long as you remembered your number, which she inscribed on a small card, Chrissie would access the file. One day, when I had failed to bring this card she chided me saying that I should treat it with the same care as my National Identity Card. Anyhow, taking down a dusty, dog-eared CR register, she painstakingly went through hundreds of entries until she traced my name and number. She was so delighted that I couldn't help but cheer!

On my last visit to the Clinic about three or four weeks prior to her death, I found Chrissy in a very happy mood. There were no other patients in the waiting room, so, while I was with the Doctor, Chrissy entertained my daughter with details about her romance with Dennis - a campus love story, but above and beyond, an inspiring story of how their love had triumphed over racial barriers. Their common faith in Christianity had probably helped the process of mutual reconciliation.

When I wished Chrissy goodbye that day at the clinic, she remarked, "We should meet again for a long chat, Antoinette. You can come in the morning and stay for lunch." That was never to be. Her sudden death has left us all shocked and bereft.

God keep you in his tender care, Chrissy, and may perpetual light shine upon you and may you Rest in Peace. Amen.