---

Scarcity of fresh water giving rise to conflict is no longer a theme in sci-fi narratives. Today, for most living in arid parts of the world, it is a daily reality. Nearly one billion people in the developing world do not have access to fresh, clean water. Yet, we in Sri Lanka, an island of abundant resources, take the availability of freshwater for granted. Unbeknown to us with drought threatening livelihoods in the dry zones of the country, unregulated utilisation of groundwater is also threatening the availability of this precious resource.

What is groundwater?
Potable water resources are mainly identified as surface water or groundwater. Unlike surface water bodies such as rivers, lakes and tanks which are usually exposed to harmful human activity, groundwater is less affected as it is the water that is held underground. In other words, groundwater flows through porous media in a paced, slow dispersal and is stored under the topsoil or in pores and crevices found in rock. Because it is hidden beneath and protected from human activity, groundwater is one of the safest and reliable sources of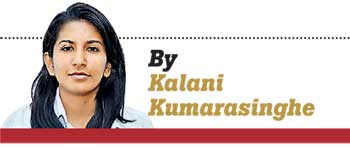 drinking water.
In Sri Lanka, almost 80% of the rural population depend on groundwater sources for their day-to-day needs which include drinking and sanitation needs. It is also a vital source of water supply to hundreds of farmers and cultivators who depend on groundwater sources in the form of agro-wells scattered across the island. Considering the significance of this gift of nature, it is alarming that little attention has been paid to risks of exhaustion and contamination of groundwater sources. The need to protect these valuable sources of water arose when reports emerged early this year that Coca Cola was eyeing Sri Lanka for a bottling plant after having exhausted groundwater resources in India.
80% of the rural population depend on groundwater sources for their day-to-day needs

Health implications associated with contaminated sources should be considered seriously

Little attention paid to risks of exhaustion and contamination of groundwater sources

Over-use threatens water table and surface water bodies

Poor management of resources threatening water bodies

Use of groundwater
Groundwater resources are widely used for domestic, commercial and industrial purposes, small-scale irrigation and water supply schemes. The Water Resources Board (WRB) states that about 80% of the rural domestic water supply needs are met from groundwater by means of dug and tube wells. Most of the local industries depend heavily on deep wells where groundwater is safe and of good quality. It is manifest that the demand for groundwater supply is increasing, particularly in urban areas in addition to rural water supplies and irrigation of agriculture. As highlighted during the past few months, the rapid expansion of commercial projects is exerting pressure on the available groundwater resources.
Groundwater is a main water source for irrigation by small farmers, especially during drought periods when tank storage is inadequate. Small farmers, particularly in the areas of North Western and North Central provinces, use large – diameter agro-wells. In coastal sand aquifer areas like the Kalpitiya Peninsula in the Northwest and Nilaveli in the East coast, there has been intensive use of the shallow groundwater for agriculture during the last three decades.

Over-use and depletion
The U.S. Geological Survey compares the water stored in the ground to money kept in a bank account. If the money is withdrawn at a faster rate than new money is deposited, there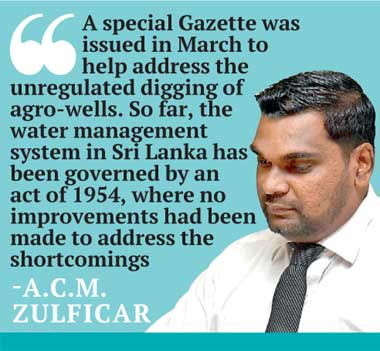 will eventually be account-supply problems. Pumping water out of the ground at a faster rate than it is replenished over the long-term causes similar problems. Groundwater pumping, a saviour of dry zone cultivators in Sri Lanka, is the primary cause of groundwater depletion. This in turn can lower the water table where the well is no longer able to reach groundwater. As the water table lowers, pumps must reach farther in the ground, consuming more power and thereby invoking more costs. Little known is the fact that surface water will not exist without groundwater. Depletion of groundwater tables threatens the water supply to surface water resources such as rivers and lakes. Ultimately, over pumping also threatens to collapse layers of soil causing what is known as land subsidence.

Threats of contamination
According to the Head of the Bio-systems Engineering Department, Wayamba University Dr. D.S.P. Kuruppuarachchi, some aquifers in Sri Lanka are already contaminated with poisonous chemicals in intensely cultivated areas. An aquifer is an underground layer of permeable rock, sediment or soil that yields water. The pore spaces in aquifers are filled with water and are interconnected, so that water flows through them. This means that sandstone, unconsolidated gravel and porous limestone make the best aquifers.
Nitrate is a common Nitrogenous compound found in the natural processes of the Nitrogen cycle. In Sri Lanka, researchers have uncovered that concentrations of the compound have greatly increased, particularly in groundwater; the key reason of contamination being the application of Nitrogen-rich fertilizers in agricultural processes.
"Studies in coastal sand aquifers revealed that the build-up of Nitrate was quite dramatic and estimated at 1–2 mg-N l-1per annum, which is certainly unacceptable both in terms of water quality deterioration and waste of valuable crop nutrients," Dr. Kuruppuarachchi cites in his research.
"As groundwater is the main or probably the only source of potable water in aquifers where intensive agriculture is practised, health implications associated with high intake of Nitrate should be considered seriously and appropriate management plans should be implemented in order to enhance the sustainable and efficient use of the groundwater resource," he warns.
As Dr. Kuruppuarachchi notes, agriculture in many developing countries including Sri Lanka is increasingly dependent on chemicals, mainly due to cost and yield concerns in organic cultivating. As the land available for crop production and water for irrigation is meanwhile becoming increasingly limited, increased food production to meet the demands must use intensive agriculture methods.
According to Dr. Kuruppuarachchi, in many areas, intensive crop production occurs on soils directly overlying shallow aquifers used for potable water supply as well as irrigation. The threat to groundwater quality and the risk to potable supplies are growing, mainly due to the intensification of irrigated agriculture and accompanying increase of the use of fertilizers and pesticides.

Unregulated agro-wells
Even without a drought threatening the island, the supply of water has constantly been a problem for the intermediate and dry zones of Sri Lanka. Research suggests that 90% of these zones are on hard-rock aquifers, where agro-wells have been installed in place of hard-rock aquifers. However, the lack of guidance and a general unawareness have resulted in a spring of unauthorised agro-wells.
At present, a farmer can (at free will) exploit his private land and use a resource of water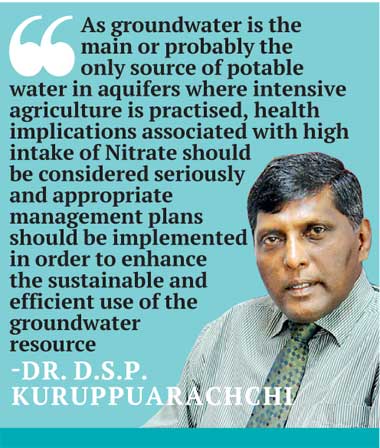 that is in fact a resource belonging to all. When reviewing the use of groundwater sources, it is apparent that development of agro-wells has taken place in a rather haphazard and chaotic manner sans the expertise of the relevant authorities. So far, government authorities have only been able to offer technical services and offer financial aid for the installation of agro-wells.
When questioned of this flaw in resource management, Water Resources Board (WRB) Chairman A.C.M. Zulficar said prompt measures were underway to address the issue.
"A special Gazette was issued in March to help address the unregulated digging of agro-wells. So far, the water management system in Sri Lanka has been governed by an act of 1954, where no improvements had been made to address the shortcomings. However, the new Gazette addresses three main issues in groundwater, namely water contamination, over extraction and misuse of natural springs," Zulficar explained.
When questioned as to why such action was delayed, the WRB Chairman responded saying no authority had taken interest in the matter all these years.
"I was appointed Chairman during the latter part of 2015 and began to implement these procedures. We are now formulating a programme to raise awareness on the proper use of groundwater resources. For this purpose, we are building a network including the Divisional Secretariats, District Secretariats and our zonal officers. This joint programme will be launched in the coming weeks to educate the public on the proper use and management of groundwater resources," he said.

New regulations
According to the Gazette issued on March 15 under the Water Resources Board Act No. 29 of 1964, any individual, government or private institute seeking to utilise natural water springs or groundwater for any purpose or project, should obtain written permission from the WRB and it should be carried out under its supervision.
The construction of agro-wells with diameters more than four metres, dug and tube wells for commercial purposes utilising natural springs, and those engaged in the construction of tube and dug wells must be registered with the WRB prior to drilling. The safe yield of the well should be assessed under the supervision of the WRB.
A flow metre should be fixed by the industry owner to monitor the amount of water pumped from the well daily and the data on daily pumped water capacities should be maintained.
Data in respect to all tube wells constructed by the above registered parties must be submitted to the WRB every three months.
If any individual or organisation is engaged in water bottling industry, beverage industry and uses water from springs or groundwater for their manufacturing purposes, a water sample should be analysed once in every six months from a chemical laboratory.
A perimeter protection report should be taken from the WRB of those who extract groundwater amounting to more than 30,000 litres per month for commercial agriculture or industry. The WRB states that it will use these records to maintain their database and employ the information in groundwater management and planning in future. The Daily Mirror 's attempts to contact officials of the National Water Supply and Drainage Board to query their strategies in accordance with the new regulations to tackle the management issues of groundwater resources resulted in failure.